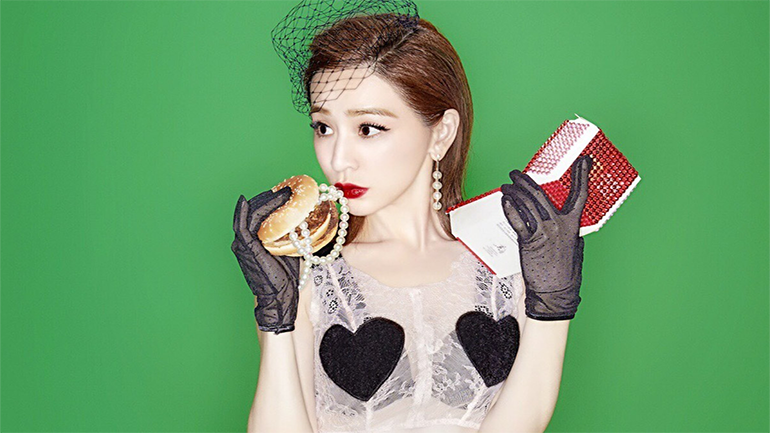 The phrase "主要看气质 (zhǔ yào kàn qì zhì)", meaning "focus on aura", goes viral on the internet overnight. Even the once serious people would post funny selfies about making faces, flaunting themselves as the "most beautiful people" and emphasizing "主要看气质" in particular.
"主要看气质"一夜之间席卷朋友圈,好多平时一本正经的人开始在朋友圈发自拍照,扮鬼脸的、搞怪的、标榜自己"最美丽"的……千姿百态,还要强调一句:"主要看气质。"
"主要看气质" becomes a popular internet catchphrase because of the Taiwanese singer Wang Xinling. On November 24th, she released an album with a cover photo of her eating a hamburger, which confused netizens a lot. Then, Wang explained: 主!要!看!气!质! (Focus on aura). Immediately, netizens follow suit by posting selfies titled "主要看气质".
"主要看气质"这个"梗"原来出自歌手王心凌。11月24日,王心凌发新曲,在宣传中用的是吃汉堡的复古造型,如此造型让网友表示无法理解。随后王心凌在与网友的互动中回复:"主!要!看!气!质!"于是引发网友火速跟风,在发自拍照的同时都要配上一句:"主要看气质。"
And this has become a relay game: after Friend A posts a selfie titled "主要看气质", if any friend comments or 点赞 (diǎn zàn, click "LIKE" button), then he/she falls into the trap. He/she has no other choice but to do the same as Friend A did or sends Friend A a red envelope. In this way, the game continues and the phrase "主要看气质" goes viral.
网友火速跟风引发了接力游戏:朋友A发出一张自己的照片,标题为"主要看气质"。如果有朋友点赞或回复,就是中招。继续游戏有两种选择,要么在朋友圈接着发"主要看气质"的照片,要么给A发红包。不愿发红包的人只能重复同样的动作,贴上自己的自拍照片,然后打出:"主要看气质"。这样,不断有人加入游戏,"主要看气质"就火了。