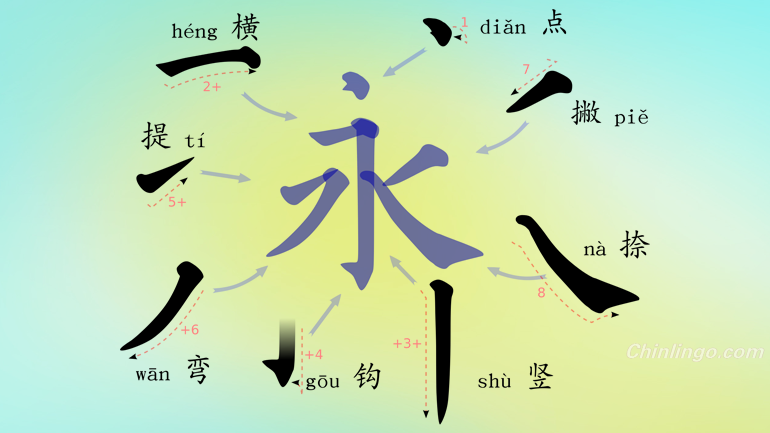 Chinese characters have their roots in calligraphy, so stroke order is vital in writing Chinese. Having the wrong stroke order would cause ink to fall differently and make Chinese cursive literally indistinguishable.

中国汉字扎根于书法,因此笔画顺序在书写汉字的时候非常关键。写错顺序会导致不同的落笔以及中文草书无法识别。
Follow these basic 7 tips and you'll be on your way to better Chinese handwriting!
遵守下面的7个准则,你将会掌握更棒的中文书写。
TOP TO BOTTOM 从上到下

When a Chinese character is "stacked" vertically, like the character "立 (lì)", the rule is to write from top to bottom.
当汉字是垂直堆砌时,如"立"这个字,原则就是从上到下书写。
LEFT TO RIGHT 从左到右

When a Chinese character has a radical, the character is written left to right. The same rule applies to characters that are stacked horizontally. Take a look at the example "吃 (chī)".
当汉字有部首的时候,需要从左到右书写,汉字是水平堆砌时也是同样的原则。看看"吃"这个字如何书写。
SYMMETRY COUNTS 先中间后两边

When you are writing a character that is more or less symmetrical, the general rule is to write the center stroke first. Check out the character "小 (xiǎo)".
当你书写一个或多或少对称的汉字时,一般原则就是先写居中笔画。看看汉字"小"如何书写。
HORIZONTAL FIRST, VERTICAL SECOND 先横后竖

Horizontal strokes are always written before vertical strokes. Check out how to write the character "十 (shí)".
横笔画总是先于竖笔画书写。看看如何书写汉字"十"。
ENCLOSURES BEFORE CONTENT 先外后里再封口

You need to create the frame of the character before you fill it in. Check out how to write the character "日 (rì)".
你需要在填写内容时先写出汉字的外框。看看如何书写汉字"日"。
CLOSE FRAMES LAST 大囗最后封底

Remember this step as, "You need to fill the closet before you close the door." After you write the middle strokes, close the frame, such as in the character "回 (huí)".
注意步骤就类似于"你需要在关闭柜门之前先填充好柜子"。写完中间笔画之后,再闭合外框,比如汉字"回"。
CHARACTER SPANNING STROKES LAST 切分汉字结构的笔画放最后

For strokes that cut across many other strokes, they are often written last. For example, the character "半 (bàn)". The vertical line is written last.
对于切分其他笔画的笔画,通常它们都是最后书写。例如汉字"半",竖笔画就是最后才书写。
However, there are always exceptions to everything. In order to truly master stroke order, you need to increase your Chinese skill on a whole and be exposed to new vocabulary.
不过,凡事总有例外。为了真正掌握好笔画顺序,你需要加强总体的中文技巧以及多接触新的词汇。
Translated from: tutorming