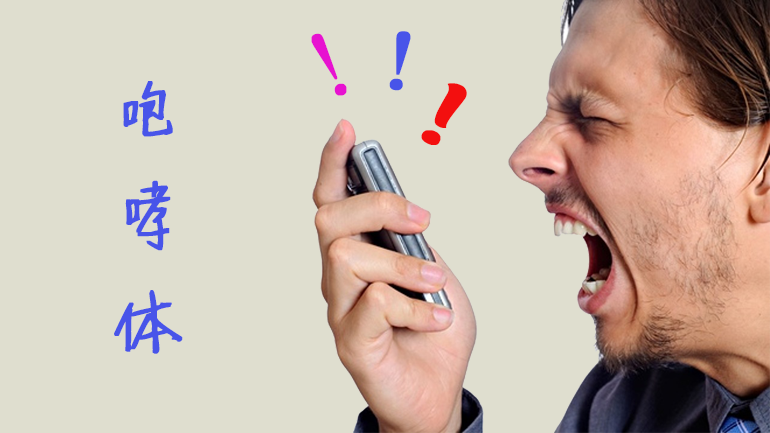 The all-caps rage of Western commenters has finally been translated into Chinese with the emergence of the "shouting font" (咆哮体 páoxiàotǐ).
在西方,网友在发表评论时,会通篇使用大写字母以表达内心的愤怒。随着咆哮体(páoxiàotǐ)的出现,这种文体终于可以被译成中文了。
Font is a rhetorical style. Every sentence is an exclamation (or an indignant rhetorical question) and all sentences end with exclamation points (even if they're questions). Sometimes, characters are even mistyped intentionally to convey the impression that the author is so caught up in their frustration and anger that they're typing carelessly. This has led to the creation of "new words" like "有木有" (instead of 有没有).
"体"指的是一种修辞手法。每个句子都是感叹句(满是愤怒的反问句),所有的句子后面的标点都是感叹号(即使是问句也是如此)。有时,作者会故意打错字以表明他们如此沮丧愤怒以致于字都打错了。因此,有些新词如"有木有"(正确的写法为"有没有")就被创造出来了。
Many rants also include the phrase "伤不起," which is used in sentences like "学法语的人你伤不起啊!" to indicate that the subject can't bear the results of something.
像"学法语的人伤不起"等句子一样,很多咆哮体都包含"伤不起"这个词,以表明主体难易承受某件事情的结果。
The meme originated from a rant about studying French that caught on, and soon, people all over the Chinese internet were yelling their throats out — virtually. It's gotten so big that even newspapers are reporting on it now. In case you're wondering what it looks like, here's a sample of that original French rant:
这一文体来源于一篇关于学习法语的帖子。该咆哮贴发布之后便流行开来。短时内,中国网友在这虚拟世界纷纷咆哮起来。咆哮体的影响力如此之大,连报纸都对其进行了报道。以下是关于学习法语的咆哮帖子的原始版本,以便你对其有所了解:
Original:
老子两年前选了法语课!!!!!!!!于是踏上了****不归路啊!!!!!!!!!!谁跟老子讲法语是世界上最油煤的语言啊!!!!!!!!****听的哪个外太空的法语啊!!!!!!!!!!!跟吐痰一样一样一样的啊 有木有!!!!!!!!!谁再跟老子讲法语是世界上最油煤的语言 老子一口浓痰咸死你啊!!!!!!!!!!!!!!!
Translation:
TWO YEARS AGO I DECIDED TO TAKE FRENCH CLASSES!!!!!!!!!!!!! AND THEREUPON SET MYSELF ON A **** UNCHANGABLE COURSE!!!!!!!!!!!! WHO TOLD ME THAT FRENCH WAS SUCH A BEAUTIFUL LANGUAGE!!!!!!!!!! IT'S A **** ALIEN LANGUAGE!!!!!!!! IT'S JUST LIKE SPITTING OVER AND OVER AND OVER AGAIN ISN'T IT!!!!!!!!! WHOEVER DARES TELL ME NOW THAT FRENCH IS THE WORLD'S MOST BEAUTIFUL LANGUAGE, I WILL COUGH PHLEGM ON THEM UNTIL THEY DIE!!!!!!!!!!!!
Doesn't reading it just make you feel angry about something? Try writing a "shouting font" rant about it to amuse your Chinese friends. Just be sure you don't skimp on the exclamation points!!!!!!!!!!!!!!!!!!!!!!!!!!!!
读完这个文本之后,你是否感受到作者愤怒的情绪?你可以试试写一段咆哮体文字让你的中国朋友乐一乐。但是千万记住,别忘了加感叹号!!!
Translated from: theworldofchinese.com