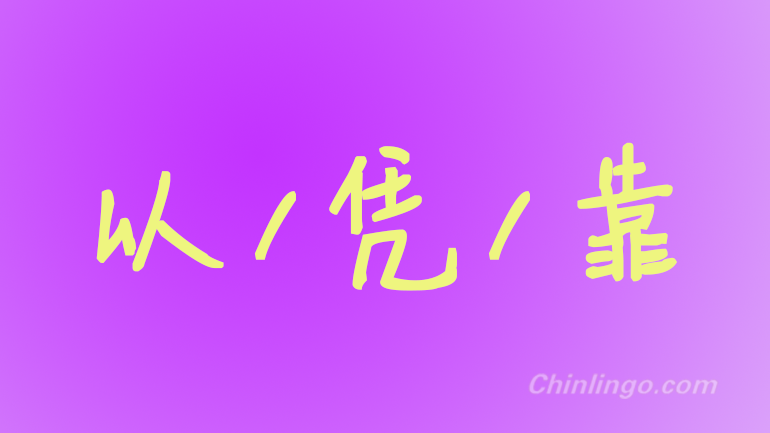 1) When they are used as prepositions, both "以" and "凭" mean "with, by or according to". However, "以" has a wider range of usages in general. In most cases, "凭" can be replaced by "以", but "以" cannot always be replaced by "凭". For example,
1)"以"和"凭"作介词时,都有"按照"、"根据"的意思,但相对来说,"以"的用法更多,所以一般用"凭"的情况可以换成"以",用"以" 的不一定都能换成"凭"。例如:
凭/以你的汉语水平,完全可以去参加"汉语桥"比赛。
(With your Chinese proficiency level, you are totally qualified to join the Chinese Bridge competition. )
请各位参赛选手以姓名音序出场。(凭)
(Would the contestants please present their names in alphabetical order)
我要以感恩的态度来对待曾经帮助过我的人。(凭)
(I will be grateful to those who have ever helped me.)
When "凭" is used as an equivalence of "凭借", it cannot be replaced by "以" generally. For example,
另外,当"凭"用作"凭借"时,一般不能换成"以"。例如:
这个公园不是免费的,需要凭票入场。(*以)
(This park is not free to enter. Admission is by ticket only.)
在食堂是凭卡吃饭的。(*以)
(In this canteen you pay by card.)
2) "以" is a preposition, while "靠" is a verb. Thus, "以" is often followed by an object to form a "preposition + object" phrase, which acts as the adverbial in a sentence , while "靠" acts as the predicate in a sentence. For example,
2)"以"是介词,"靠"是动词,所以"以"常带宾语组成介宾短语,在句中充当状语,而"靠"在句中用作谓语。例如:
刚毕业的大学生要以一个正确的心态去找工作。
(The fresh graduates should look for jobs with the right attitude.)
我们要以严格的纪律要求自己。
(We should discipline ourselves strictly.)
夏天动物园里的大熊猫靠吃"水果冰"降温。
(The pandas in the zoo eat iced fruit to cool themselves in summer.)
中国有句俗话:"在家靠父母,出门靠朋友。"
There is an old saying in China, "Rely on your parents at home, and your friends outside".
3) Both "凭" and "靠" mean "rely on" or "by virtue of". They differ mainly in their collated words. "凭" is usually followed by an abstract noun as its object, while "靠" can be followed by either an abstract noun or a concrete one. For example,
3)"凭"和"靠"都有"依靠"、"凭借"的意思,两者的不同主要表现在词语的搭配上。"凭"后面的宾语多为抽象名词,而"靠"后既可以跟抽象名词,也可以跟具体名词。例如:
他凭/靠自己的努力得到了这次升职的机会。
(This time he got the promotion opportunity by his own efforts.)
凭/靠你的能力,找份好工作没问题。
(Based on your ability, you can find a good job easily.)
爷爷正靠着沙发看电视。(*凭)
(Grandpa is reclining on the sofa watching TV.)
靠湖边有一座大楼。(*凭)
(There is a tall building beside the lake.)