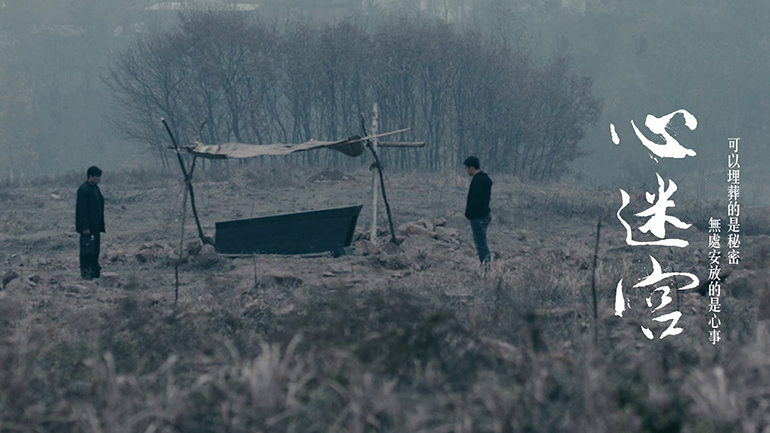 With a booming film market at home, many of the younger Chinese indie filmmakers are trying to make films that stand a better chance of being screened in Chinese theaters, in a departure from their older counterparts, whose films have often pushed the envelope for censors.
随着国内电影市场的繁荣,许多年轻的中国独立电影人正试图拍摄更有可能在中国影院放映的电影,这与他们的前辈们不同,后者的电影经常会挑战审查者的极限。
"The Coffin in the Mountain," an award-winning film noir, grossed a little more than 10 million yuan ($1.57 million) after its release in theaters last month, impressive for a film with a 1.7 million yuan budget and starless cast.
影片《心迷宫》10月在影院公映后取得了1000多万元的票房,对于一部预算为170万元且没有明星出演的影片来说,这是了不起的成绩。
Unlike in Hollywood, where indie films generally refer to productions made mostly or completely without major film studios, many Chinese indie films have political overtones, including overt government criticism, and thus get blocked from local theaters.
在好莱坞,独立影片一般是指基本或完全没有大电影公司参与制作的影片。与此不同的是,许多中国独立电影具有政治含义,包括对政府的公开批评,因此会被国内影院拒之门外。
But Xin Yukun, the film's 31-year-old director and a fan of Universal Studio's "Jurassic Park" franchise, said he decided early on to make an independent movie for broad Chinese audiences.
《心迷宫》的导演、31岁的忻钰坤是环球影业《侏罗纪公园》系列电影的粉丝。他说早就想为广大中国观众拍一部独立影片。
The movie also received wide critical recognition. The film, about a murder in a remote village, was picked up by the Venice Film Festival's Critics' Week last year, and later won the Grand Prix at the Warsaw International Film Festival.
这部影片也获得了重要认可。这部讲述偏远山村一起谋杀案的影片入选去年威尼斯电影节影评人周单元,并获得了华沙国际电影节大奖。
Censors did have some requests. Mr. Xin was asked to make a number of changes to the film, including making it clear the bad guys were punished; the original had left it open.
审查者确实提出了一些要求。忻钰坤被要求对电影作出一些改动,包括明确指出坏人受到了惩罚;而最初的结局是开放性的。
He also changed the film's Chinese title into the "The Maze of the Heart", as he was told by both censors and the film's distributors that the word "coffin" in the original title sounds too ominous to Chinese audiences.
他还将电影的中文名字改为《心迷宫》,因为审查者和电影发行商都对他说,最初的名字《殡棺》对中国观众来说太不吉利了。
Another film by a young indie filmmaker that recently opened in Chinese cinemas is "My Original Dream", about a boy's first love. Hao Jie, the film's 34-year-old director and screenwriter, gained fame by his award-winning directing debut "Single Man" (2010), which deals with sexual repression among single elderly men in the village where Mr. Hao was born.
最近在中国影院上映的另一部年轻独立电影人的作品是《我的青春期》,讲述了一个男孩的初恋。电影的导演、34岁的编剧郝杰凭借获奖处女作《光棍儿》赢得了声誉。这部电影讲述了郝杰出生的乡村中老光棍的性苦闷。
The film finally got approval to screen nationwide on China's Singles' Day last week, and has raked in over 12 million yuan so far.
这部电影最终获准于中国的"光棍节"在全国上映,票房收入已经超过1200万元。
Productions of China's senior indie masters, or the so-called "Sixth Generation" of Chinese filmmakers, usually zoom in on the dark side of China's economic boom. Jia Zhangke, the acclaimed Chinese director, has only managed to get three of a dozen of his films to screen in China over the past decade. However, an increasing number of recent indie films by young filmmakers are getting nods from the country's censors, focusing increasingly on personal-life or family issues.
中国资深独立电影导演、即所谓的"第六代"中国电影导演的作品通常会放大中国经济繁荣背后的阴暗面。十年来,备受赞誉的中国导演贾樟柯的十多部作品中只有三部在中国公映。但是,越来越多年轻电影人的独立电影获得了中国官方的首肯,因为这些影片越来越关注个人生活或家庭问题。
"Instead of snarling at the dark side of society, we find young directors prefer to discuss inner self and self-growth with a mild touch in their films in the past two years," said Wang Fei, a member of selection committee of FIRST International Film Festival, which is based in Xining, the capital western Qinghai province.
FIRST青年电影展遴选委员会委员王飞说:"过去两年,我们发现年轻导演更愿意用一种温和的手法讨论自我和自我成长,而不是痛斥社会阴暗面。"