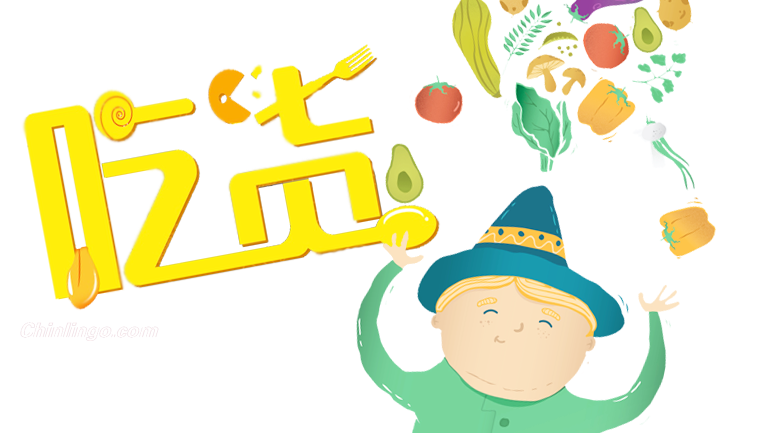 "吃货 (chī huò, foodie)", in Chinese, refers to those people who are fond of eating and able to eat a lot. Normally it is a neutral word, but it can be a derogatory term depending on different situations.
"吃货",指的是那些特别爱吃、特别会吃的人。在一般情况下属于中性词,但也有贬义,依据情境而定。
Nowadays this Chinese buzzword "吃货 (chī huò, foodie)" has several different meanings due to the local history, culture and dialect. "吃货 (chī huò)" is not really a product of the Internet culture, but it got widely spread and shared by everyone because of the Internet.
当下,"吃货"一词随各地历史文化和方言有着各种解释。"吃货"并不算网络文化的创造,但受益于网络时代的传播和共享。
The popularity of Weibo in recent years has made the word "吃货 (chī huò)" spread widely among food lovers who use it to distinguish themselves and others. In 2012, "吃货 (chī huò)" has been frequently used in the CCTV-9 released documentary 'A Bite of China'. In general, those who are crazy and picky about food use "吃货 (chī huò)" to denominate themselves, and this word is much more often used than another common word "吃客 (chī kè)".
随着近几年的微博流行,"吃货"一词被广大美食爱好者广泛传播,用于自称和互称。在2012年,随着央视记录频道推出的美食记录片《舌尖上的中国》,该词的使用达到高点。一般来说,爱吃美食同时还挑剔的美食爱好者一般自称为"吃货",这比一般的说法"吃客"来得更具人情味。
"吃货 (chī huò)" can be a joking title for food lovers to be called amongst themselves. Rather than just meet the physiological need, they will comment a lot on the food they eat. "吃货 (chī huò)" can satisfy themselves in street food stalls, and enjoy the food served in Michelin restaurants as well.
"吃货"可以说是美食爱好者对自己的戏称。"吃货"会对自己所吃的东西发表很多对食物的看法,而不单单为了生理需要。"吃货"一定下得了大排档,上得了米其林。
"吃货 (chī huò, foodies)" often eat a lot, and, they prefer refined food. Unlike the professional gastronomes, "吃货 (chī huò)" always follow their passion when it comes to eating. They don't mind having street food either, as long as it tastes good..
"吃货"往往很能吃,但是他们更求精。与专业美食家不同,他们随性而吃,即使是街边小吃,他们也会品味到其中的美味。
Here is a list of the things you need to call yourself a foodie "吃货 (chī huò)":
以下是"吃货"的鉴定条件:
Must understand food – Knows how to eat
必须懂吃;
Must be a food lover
必须爱吃;
Doesn't limit his food choices
必须对吃没有限制;
Crazy about novel food
对新奇的吃食有着狂热;
Seeks for food from time to time
时时搜罗各地美食;
Always has food on his mind
心里想的就是吃;
A foodie is never completely full.
字典里永远没有饱这个字。
So, are you a foodie? Are you one of the "吃货"?