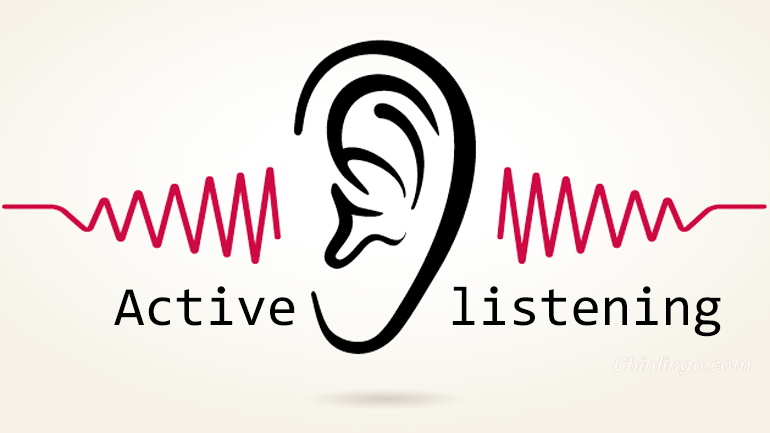 Participate in a challenging conversation – Having a conversation slightly above your normal level is definitely active listening. The transformation involved occurs when you're supposed to take what you hear and transform it to some kind of meaning in your head and then give it back to the other person in an engaging manner. Conversing with people on a level slightly above your current is the best way of learning, but since this is sometimes not practically possible, here are lots of other ways of achieving the same results.
加入挑战性的对话。加入稍高于自己正常水平的对话无疑是积极倾听的一种方式。当你的头脑接收听到的内容并转换为某种意思反馈给对方时,转换就产生了。与稍高于自己水平的人对话是最好的学习方法,但是这种方法有时不切实际,所以这里介绍其它一些方法,可以获得相同的效果。
Transcribe audio – Simply choose something which is reasonably difficult and do your best to transcribe what you hear, either using characters or pinyin. Try to choose a source which has transcripts, because otherwise you'll have to ask people for help if you fail to transcribe a certain section. You can use a program that allows you to see the audio file, which will enable you to select specific passages to play again.
音频抄录。选取一些难度适中的材料,听录音,尽量抄录听到的内容,可以使用汉字或拼音。尽量选择那些附有音频文本的材料,这样,碰到听不懂的地方,你就不必向别人求助。使用那些让你看得到音频文件的的软件,便于选取并重复播放其中的某一部分内容。
Expanding transcription – You can transcribe anything you want, including films, cartoons, TV shows, music, podcasts and what you hear people say around you if you live in a Chinese-speaking environment. TV, film and music work very well, because they are almost always transcribed already. Cover up the subtitles, create your own and compare.
扩展抄录。你可以抄录任何你想要的材料,电影、卡通、电视节目、音乐、播客,甚至如果你生活在一个中文环境,还可以包括周围人所说的话。电视、电影和音乐几乎都已经有文本了,非常实用。遮住字幕,自己先抄录再进行对比。
Take notes and/or write a summary – Pretend that you're attending a lecture and that there's going to be a quiz or test after it has finished. Take notes that cover the main points of what you hear. After you've finished listening, take you're notes and write a summary. Give the summary to someone and get corrected.
做笔记、写总结。假设自己将参加一个讲座,结束之后还会有一场测验。用笔记记下你听到的内容要点。讲座结束后,根据笔记写一份总结,并请人帮你修改。
Translate what you hear – You can either try to write it down, in which case you'll need to listen a few times unless you have mad typing skills, or you can translate orally. If you want to judge the outcome, try recording what you're saying as well.
翻译所听到的内容。你可以试着记下你听到的内容,但是这样你要听很多遍,除非你打字速度超快。或者,你也可以采用口头翻译。如果你想评估翻译的效果,可以试着录下你所说的内容。
Translated from: hackingchinese