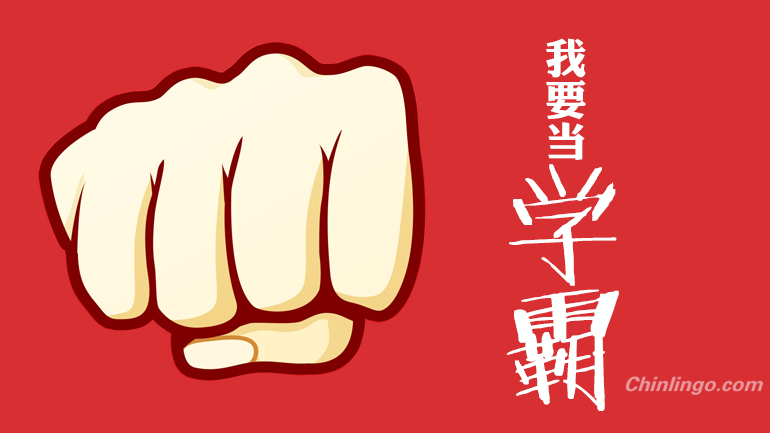 The word 学霸 (xué bà) originally referred to a personage who has had or has a great influence in academic circles, such as Einstein. 霸 (bà) in Chinese has the meaning of extremely powerful or authoritative. Nowadays 学霸 (xué bà) is an internet term and refers to someone both intelligent and diligent, someone with extremely good results at study.
"学霸"这个词,原来是指在学术界很有影响的人物,比如像科学家爱因斯坦这样的人。"霸"在汉语中是非常有权力、权威的意思。现在,"学霸"是一个网络词汇,它指的是既聪明又勤奋、学习成绩非常好的人。
The reason that 学霸 (xué bà) has become popular on the internet is because many 学霸 (xué bà) have grabbed people's attention on the internet. For example, recently two 学霸 (xué bà) twins have become famous on the internet. Both of them are students at Tsinghua University. The video of their oral defense of the application for a university scholarship went viral on the internet and caused many netizens to cry out 'wow' in awe because they not only have excellent results but they have shown themselves to be outstanding in many other fields besides study.
"学霸"这个词是在网络上流行起来的,这是因为很多学霸通过网络受到了人们的关注。比如,前段时间,有一对双胞胎学霸姐妹,通过网络出了名。她们都是清华大学的学生。姐妹俩申请奖学金的答辩视频,在网络上流传开来,使很多网友惊呼"太牛了",因为她们不仅学习成绩很好,在很多其他方面的表现也非常优秀。
There is another 学霸 (xué bà) who has become hot news on the internet. He's also a Tsinghua University student. He also became famous through his video of his scholarship application. It is a fact that in China students need to sit a university entrance examination called the 'gaokao'. The student with the best mark in the 'gaokao' is called the 'zhuangyuan'. This 学霸 (xué bà) was once the 'zhuangyuan' in his province. At high school he received many awards in mathematics and physics. At university this 学霸 (xué bà) studied for two degrees at the same time. In the twenty subjects that he took, except for 1 score of 98 and 4 scores of 99, in the other subjects he attained the maximum score of 100. His successes led netizens to worship and admire him, with everyone calling him 学神 (xué shén) (study god), a meaning about the same as 学霸 (xué bà).
还有一位在网络上火起来的学霸,也是清华大学的学生。他也是通过申请奖学金的视频而出名。中国的学生进入大学前,都要参加大学入学考试,叫做"高考"。考试成绩第一名的人叫做"状元"。这位学霸就曾经是一位省高考"状元"。在高中期间,他就在数学和物理方面获得了很高的奖。在大学期间,这位学霸同时读两个学位。在他的20门学科中,除了一门98分,4门99分,其他各门课都是100分满分的成绩。他的成绩让网友们非常崇拜和羡慕,大家都叫他"学神",和"学霸"的意思差不多。
There is another word that has become popular on the internet, called 学渣 (xué zhā). The opposite of 学霸 (xué bà), 学渣 (xué zhā) refers to someone that doesn't love study with relatively poor results. I suppose all of you have met quite a few 学霸 (xué bà) and 学渣 (xué zhā)?
还有另外一个在网络上流行起来的词,叫做"学渣"。与学霸相反,"学渣"指的是不爱学习、成绩比较差的人。大家是不是见过不少的"学霸"和"学渣"呢?