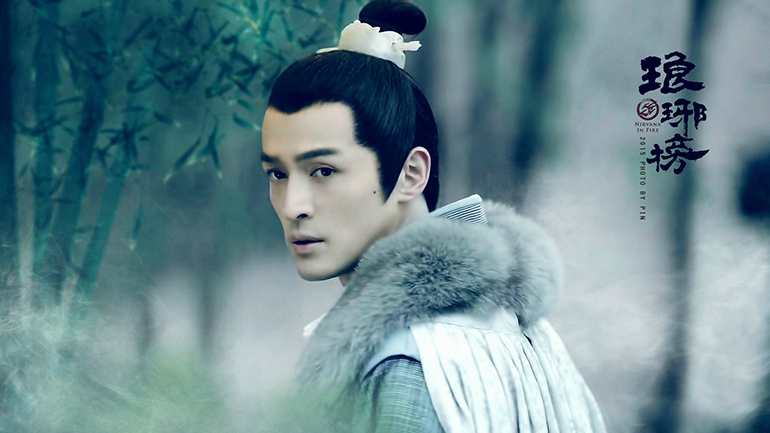 Just two months ago, Hu Ge was still best known as the dashing hero Li Xiaoyao, a character that audiences remembered from the decade-old fantasy series Chinese Paladin (《仙剑奇侠传》)
两个月之前,胡歌最为人熟知的角色还是十年前的奇幻电视剧《仙剑奇侠传》中的帅气侠士李逍遥。
But since then, he has redefined himself, by adding two new, iconic roles to his repertoire. Hu recently played the bubbly, patriotic agent Ming Tai in The Disguiser (《伪装者》) and the resourceful strategic adviser Mei Changsu in Nirvana in Fire (《琅琊榜》).
不过在近期的两部剧中,他用两个全新的标志性角色重新定义了自己。最近胡歌在电视剧《伪装者》中饰演了阳光、爱国的间谍明台,还在《琅琊榜》中出演了足智多谋的谋士梅长苏。
Getting the role of Li Xiaoyao was affirmation of his success as an actor, Hu told the Beijing Evening News. But he worried that he would be stuck playing the same kind of character for the rest of his career. "The scariest thing for an actor is being typecast."
胡歌告诉《北京晚报》,出演李逍遥一角是对他作为演员取得的成功的肯定。但他担心这会限制自己以后的戏路。"其实演员最可怕的地方,就是被过早地定型。"
To escape that fate, Hu has taken roles outside of the mainstream. He acted in modern dramas, and he even disappeared from the screen entirely, to devote himself to stage acting for one year.
为了摆脱被定型的命运,胡歌接拍了许多非主流的角色。他出演现代剧,甚至从荧屏上彻底消失,跑去演了一年的话剧。
But his efforts to be taken seriously as an actor were to little avail, until he received the script for Nirvana in Fire. The role of Mei Changsu was different from the mostly one-dimensional characters that Hu had previously played in a string of period dramas.
不过他希望观众认真对待自己演员身份的努力收效甚微,直到拿到《琅琊榜》的剧本。梅长苏这个角色和胡歌之前扮演的一系列电视剧中的单一类型角色有很大差别。
"Mei Changsu is a man who is ill and weak. I could not make many physical gestures or dramatic expressions. All of his expressions had to be subtle and nuanced," he told The Beijing News.
"长苏体弱多病,他很多时候的表演都是受限的,因为没有太多的肢体动作,甚至没有太多很激昂的情绪,所以表达都是隐忍的、克制的,"他告诉《新京报》。
Playing the role was difficult, but the character resonated with Hu.
这个角色有相当的难度,但它和胡歌产生了共鸣。
In 2006, Hu was severely injured in a car accident. After several operations and about 100 stitches on his face and neck, a visible scar still remains near the corner of his eye.
2006年,胡歌在车祸中严重受伤。经历了数次修复手术,脸和脖子缝了百余针后,他的眼角旁留下了明显的疤痕。
This experience helped Hu to better understand the role. "Definitely. An actor's greatest inspiration will always be his life experiences," he said.
这次经历帮助胡歌更好地理解了角色。他说:"演员的养分和土壤是生活和经历。"
Hu's pretty face was once a stepping-stone for his success, and the scar traumatized him for a long time.
曾经胡歌的俊颜是他成名的敲门砖,而这疤痕却折磨了他很久。
But in recent years, Hu has become more confident about revealing his full face, the scar included.
不过近年来,胡歌越来越自信了,他敢于露出自己的整张脸,毫不掩饰脸上的疤痕。
"If I myself am not bothered by it, no one else will care. I have to move past it. Otherwise, how can I continue my acting career?" he said.
他说:"你心里越在意,别人才会在意,你自己不把它当回事,别人也不会把它当回事。这是我必须要过去的一个坎儿,如果过不去的话,那就没必要再做演员了。"
Hu's increasingly sophisticated roles have earned him critical acclaim. But Hu doesn't see himself as an actor in transition.
越来越多丰满的角色为胡歌赢得了不少褒奖。但他却并不认为自己是转型中的演员。
"A transition seems like a complete repudiation of your past… I just turned around to let viewers see another side of me," he told Beijing Evening News.
他还对《北京晚报》说:"转型好像把过去都否定……我只是转了一个身,让大家看到了另外一个我。"