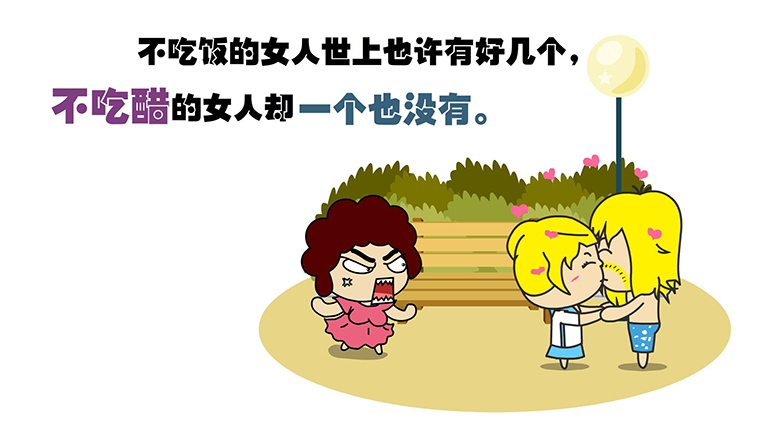 The Chinese phrase 吃醋 (chīcù) literally means "to eat vinegar". "吃" means "to eat", while "醋" refers to vinegar, a kind of sour seasoning. However, the word "吃醋" also has a figurative meaning of "feeling jealous". This phrase is usually used between a couple.
"吃醋(chī cù)"的英文字面意思为"to eat vinegar"。"吃( chī)"相当于英文中的"to eat"。"醋"则是指一种酸味的调味品。"吃醋"比喻产生嫉妒情绪,多指男女关系方面。
There is a story about this idiom.
关于吃醋有一个典故:
Supposedly, the story happened in the royal court of Tang Dynasty. It goes like this:
Emperor Taizong (唐太宗, táng tài zōng) decided to choose a concubine for his premier Fang Xuanling, in order to win Fang's loyalty. But Fang's wife, being extremely jealous, opposed bitterly to the emperor's decision and would not compromise at all. The emperor had to challenge her by ordering that she should end up with either drinking a cup of "poisonous wine" or accepting the arrangement. Unexpectedly, Mrs. Fang was such a strong-willed woman that she tossed off the wine without any hesitation. The "poisonous wine", however, turned out to be thick vinegar tasting sweet and sour. Since then, "吃醋" has been figuratively referred to as jealousy.
据传这个典故出自唐朝的宫廷里,唐太宗为了笼络人心,要为当朝宰相房玄龄纳妾,大臣之妻出于嫉妒,横加干涉,就是不让。太宗无奈,只得令大臣之妻在喝毒酒和纳小妾之中选择其一。没想到房夫人确有几分刚烈,宁愿一死也不在皇帝面前低头。于是端起那杯"毒酒"一饮而尽。当房夫人含泪喝完后,才发现杯中不是毒酒,而是带有甜酸香味的浓醋。从此人们便把"嫉妒"和"吃醋"融合起来,"吃醋"便成了嫉妒的比喻语。
For a couple, if either party is attracted by or flirting with someone else, the other party can say "我吃醋了"(Wŏ chī cù le, I am jealous of your relationship with him/her).
在男女关系中,若有一方被异性吸引或和异性调情,另一方就可以说"我吃醋了"。
例句:
Example:
dāng tā fā xiàn tā tā ài shàng bié rén de shí hòu ,tā chī cù le
当他发现她爱上别人的时候,他吃醋了。
He felt jealous when he found that she fell in love with someone else.