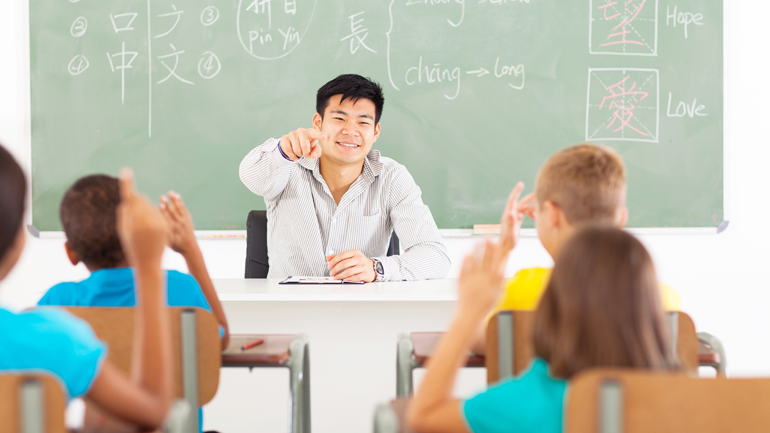 In the first part of this article, we looked at the things you need to do before you get in touch with a teacher or school. Then, in second part we looked at how to evaluate a teacher or school to see how they fit your needs. In the third part, we looked at factors to take into account when choosing what teacher to hire or class to enrol in. In this fourth and final part, we're going to look at some more factors to keep in mind.
Handwriting versus typing
Do you need to learn to write or to type characters? Again instructors will have strong views on this question. The answer goes back to your personal goals. What do you need to do? Write letters or type and text? If you live in the U.S., the Advanced Placement Chinese exam may provide an answer – it is a typewritten exam and students must know how to type in Chinese to sit for the exam. If you live in Australia, handwriting is required as part of the national curriculum and associated exams. If you want to take the HSK exams, handwriting will be required.
Online versus in-person classes
Your needs will change over time.
You will find that in-person instruction is essential for young children. Online classrooms will not provide the essential environment and interaction needed for a pre-school to elementary age child.
For older children and adult students online teachers may provide the best option to meet your individual goals. However, online one-to-one instruction will not provide group learning opportunities. Social/interpersonal learners need group interaction in order to learn more effectively.
Many families attend language school in order to establish cultural connections with a community, to make friends with other families, and spend social time with those who share a language and culture. These factors are also important but may impact the achievement of language learning goals.
If the program or teachers in a school do not fit your personal learning goals but the social goals are important, you may be able to remain in that program for extra-curricular programs and pursue language instruction online or with a private teacher.
Native versus non-native teachers
A non-native teacher can be more effective than native speakers at the beginning and intermediate levels.
Unlike native speakers, teachers who have been second language learners understand the process and particular challenges their students face.
One of the most important criteria for selecting beginning or intermediate level teacher is teacher training. Is the teacher familiar with the American Council for Teachers of Foreign Language (ACTFL) standards and current research on teaching and assessment methodologies? If you plan to take the U.S. AP Chinese exam, is your teacher trained by the College Board and intimately familiar with the exam? If the HSK is a goal, is your teacher familiar with the structure of this exam and how to prepare you for it?
For high intermediate and advanced learners, working with multiple native-speakers is essential. Mandarin Chinese is characterized by significant regional pronunciation differences, an expansive literary tradition that infuses all advanced written material, and multiple cultural centers of learning.
One instructor, particularly a non-native teacher cannot address these complexities. At the advanced level, you may have highly specific needs and goals. You can work with native speakers who are not trained teachers but have specialized knowledge. If you understand your needs in a sophisticated way, you can help non-teachers provide they type of instruction that will benefit you. Therefore, working with multiple instructors over the course of learning is important.
Conclusion
Finally, go with your gut. If you don't feel right about a teacher, program or product, don't buy it. Try something else. It may take a while to find the right fit, but in the end it will be worth it. Remember, no teacher, program or product is right for every student. You will need a mix of resources to meet your goals. You will also need to change direction throughout your learning journey.