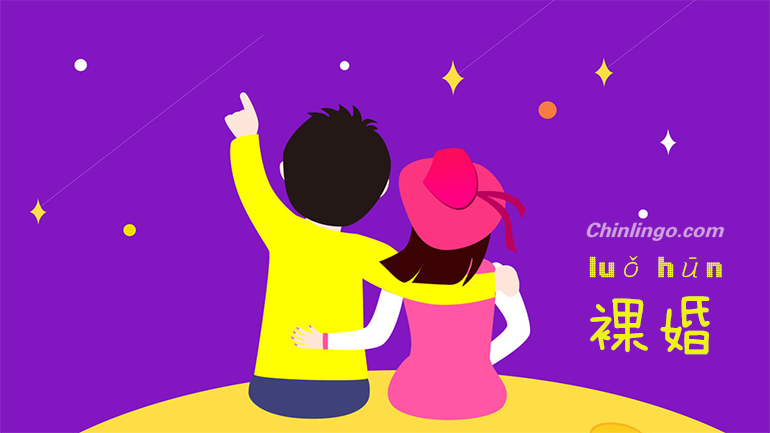 裸婚 (luǒhūn), literally meaning "Naked marriage", is a Chinese slang, coined in 2008 to describe the growing number of marriages between partners who do not yet own any significant assets.
"裸婚(luǒhūn)"的英文字面意思为naked marriage,是于2008年流行起来的网络热词,指越来越多的情侣在没有任何财产的情况下进入婚姻。
A very popular television drama at the moment in China is called 裸婚时代 (luǒhūn shídài) which means "Era of Naked Marriage"; it can be found on Youku and other video-streaming sites. Before you are mislead to think these are nuptial vows performed by nudists, a "naked marriage" (裸婚; luǒ hūn) in China refers to a situation in which both bride and groom are entering a marriage without having first procured a house, car or any financial savings. It is used both as a noun and as a verb. It refers to a kind of simple marriage in which the new couple skips the traditional ceremony and customs by getting their marriage license directly.
当时有一部非常受欢迎的电视剧叫《裸婚时代》。在优酷以及其他的视频网站均可播放。你可别以为"裸婚"就是指新郎新娘在婚礼上身体全裸地讲婚礼誓词。在中国,"裸婚"实际上是指新郎新娘在结婚时没房、没车、没存款。"裸婚"既可以作名词也可以作动词,指情侣没有举办传统的婚礼仪式而直接领证结婚的结婚方式。
While this is common for other cultures, Chinese traditionally prefer to only enter a marriage when it is financially comfortable to do so, usually after many years of working to earn a house, car and nest egg. This trend influences other aspects of Chinese life: as he must earn the financial stability required for a marriage, Chinese men often marry later, usually around 30 years of age; and as child-rearing is important, Chinese women are often not the same age as their husbands but younger in their prime child-birthing age, usually before 30.
虽然"裸婚"这种情况在国外很常见。但是,在中国,传统观念认为要有房、有车、有存款之后才可以结婚。这种观念影响了中国人生活的其他方面:因为婚前要有稳定的经济基础,中国男人通常结婚较晚。他们通常要到30岁左右才会结婚。然而,因为抚养孩子非常重要,中国女人则通常在黄金生育年龄结婚,通常是30岁之前。
In modern China, the age range of those young people who are enthusiastic to "裸婚(luǒhūn)" is generally 20 to 30 years old, most of whom belong to the post 80's generation. There are mainly two reasons for their choice. On the one hand, it is because of heavy living pressure, such as that caused by the rising costs of housing and commodities. On the other hand, many modern people emphasize the freedom and independence of marriage. They pursue "genuine love" not influenced by material conditions, and they also care less about the traditionally significant wedding. As a result, "裸婚 (luǒhūn)" has become the most fashionable marriage option among the post 1980's generation.
现在,在中国热衷于"裸婚"的年轻人一般年龄为20到30岁之间,其中80后居多。他们选择裸婚的原因主要有两种。第一是随着房价、物价上涨,他们的生活压力越来越大。第二是他们更强调婚姻的自由与独立。他们追求真爱,抛开物质和传统婚礼的影响。因此,裸婚成为了80后最新潮的结婚方式。
Translated from: ninhaochina.tumblr.com
echineselearning.com