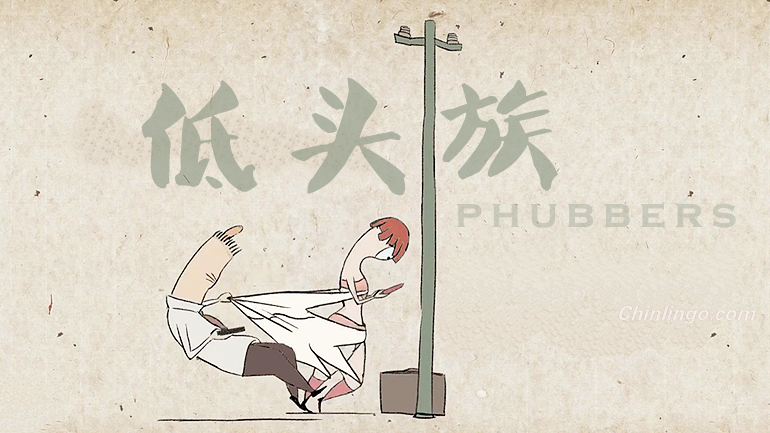 Have you ever been looking at your smartphone instead of paying attention to your friends while chatting, just because you need to reply to a text message? If yes, you are one of the "低头族 (dī tóu zú, phubbers, or smartphone addicts)" in the 21st century.
你有没有过这样的经历,跟朋友聊天的过程中忍不住想看手机,然后很抱歉地暂停你们的对话,因为你实在忍不住要回个短信?如果有,那你就是21世纪"低头族"的一份子,英文里称之为"phubber"。
The word "phubber" is the combination of the words "phone" and "snubber", referring to the people who lower their heads looking at their smartphones or tablets all the time and snub people around them. This behavior is called "phubbing". The word "phubbing", together with its related derivative words, first appeared in 2012, formed from a blend of the noun "phone" and the verb "snub". 'Snubbing someone' is growing as more and more people are getting addicted to a smartphone or tablet.
"phubber"是"phone"和"snubber"的复合词,指那些喜欢低头看手机或平板而冷落了其身边人的一族。Phubbing一词及其衍生词最早出现在2012年,由名词phone和表示"怠慢"的动词snub组合而成。"冷落他人"的情况越来越常见,因为越来越多人只顾着低头看手机或平板设备。
"低头族 (dī tóu zú)" can't leave their digital devices aside when surrounded by others on a party or a night out, and they get even more addicted when they are alone. "低头族 (dī tóu zú)" either check their screens, or use tablets or laptops to surf the Internet, play games and watch videos. They try to fill their free time by staring at the screen.
低头族聚会时离不开电子设备,一个人时更是如此。低头族们无论何时何地,有的看手机,有的掏出平板电脑或笔记本电脑上网、玩游戏、看视频,他们通过盯住屏幕的方式把零碎的时间填满。
Most of these "低头族 (dī tóu zú)" are young people. They often appear in the subway and the bus, or on the streets and alleys in urban areas.
"低头族"以年轻人为主。他们主要出现在城市的地铁上、公交车上,甚至大街小巷里。
As smart mobile devices such as smartphones and iPads become more and more popular, every moment in our life can get taken over by these digital devices.
随着智能手机、平板电脑等智能移动产品的普及,日常生活的每一个缝隙,都有被数字产品"侵蚀"之势。
One-to-one conversation is the most frustrating situation when one person just stares at the phone, making the other person feel as if the partner is not interested in him/her or the conversation itself. Traveling with others in a car or using public transport, however, is considered as the most acceptable situation in which phubbing usually takes place.
一对一的谈话中,若一方低头看手机,是最让人崩溃的状况,因为受害方会觉得对方对自己或他们的谈话内容不感兴趣。同别人乘车或公共交通工具出行时则是"低头症"最易被接受的场合。
For some young people, it is quite common to live in that way, while for others, it is rather impolite to focus on the phone all the time and ignore people around you, which ruins the beauty of everyday life.
对于一部分年轻人来说,这种生活方式很正常,但在另一部分人看来,一直盯着手机、不顾身边人的做法很无礼,甚至破坏了生活的美感。