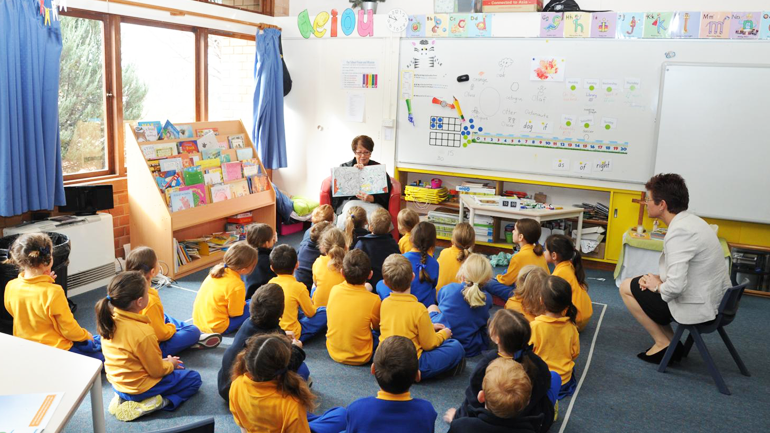 Education Minister Joy Burch announced the recipients on Thursday as she launched the ACT government's "Mandarin Blueprint", a document outlining plans to boost language development and cultural ties with Australia's largest trading partner.
周四,首都领地教育厅长伯奇推出了政府的"普通话蓝图",该文件概述了推广汉语和加强澳中文化联系的方案。
The successful groups will receive up to $5000 each to boost language training, cultural promotion and learning.
拨款接受者的名单也在此公布,每个团体将获得最高达5000澳元的拨款加强语言培训,促进文化交流和学习。
The funding mandates that recipients work within the priorities outlined in the blueprint, which range from boosting sister school ties between the ACT and China, to creating informal "conversation meetings" between Mandarin and English speaking residents. The blueprint was developed with the help of a working group established in 2014 under former chief minister Katy Gallagher, shortly after she visited Beijing.
这一拨款规定,接受者得在蓝图列出范围内工作,解决那些头等大事,比如加强ACT和中国之间的姐妹学校的联系以及在说汉语和说英语的居民之间创造非正式的"会谈"机会。一个工作组帮助政府制定了这一蓝图。工作组的领导者是前首都领地首席部长加拉赫,她在2014年访问北京后不久就成立了这个工作组。
Ms Burch said the goals outlined in the document would build upon the language education opportunities available to Canberrans.
伯奇称蓝图中勾勒的目标将基于堪培拉人可以获得的语言教育机会。
"It is important that, through education including language, we continue building the capability of students to develop the skills and knowledge to enable them to be active global and regional citizens," she said.
"重要的是,通过教育包括语言培训,我们继续培养学生的能力,让他们掌握学习技巧和知识,成为积极的全球和地区公民。"她说。
ACT Education already has a Memorandum of Understanding with Shanghai Normal University that allows student exchange programs between public schools.
首都领地教育厅已经与上海师范大学达成了谅解备忘录,允许公立学校之间进行学生交流。
Speaking at the official launch of the blueprint at Lake Tuggeranong College, a successful grant applicant, Ms Burch said fluency in Mandarin would become increasingly important as ties strengthened between Australia and China.
塔格龙湖中学是拨款接受者之一,在该中学正式推出"普通话蓝图"之时,伯奇称随着中澳之间的联系越来越紧密,中文也会变得越来越重要。
The 2011 Census found Mandarin was the most commonly spoken language other than English in the ACT, with 1.9 per cent of residents speaking it at home.
2011年的人口普查发现,中文是除了英文以外在首都领地使用最普遍的语言,大约有1.9%的居民在家说中文。