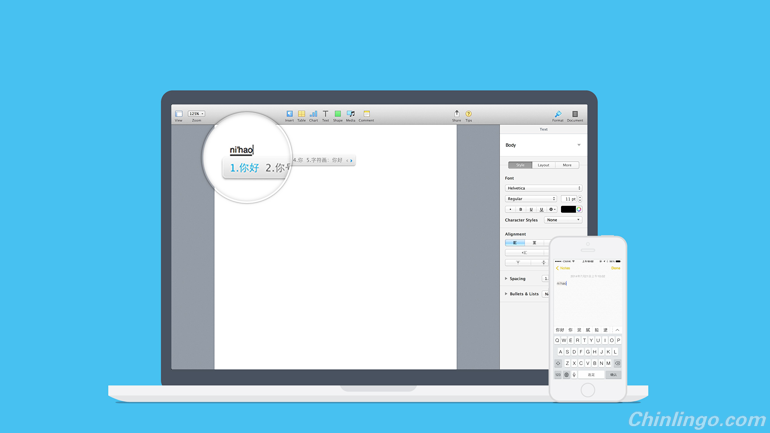 One of the best ways of learning a language is through immersion. This means that you should surround yourself with as much Chinese as possible. Of course, this is easier to do if you live in a Chinese-speaking environment, but that's not a prerequisite, you can create an immersion environment in your home as well.
学习一门语言的一个最好方法是浸入式学习,这意味着你应该将自己尽可能地置于中文环境中。当然了,要是你住在汉语的环境里是比较容易做到的,不过这不是先决条件,你也可以在家中创造浸入式环境。
There are many ways of increasing your daily dose of Chinese, one of them involves switching your computer's language to Chinese.
有许多方法可以增加你日常的中文学习量,其中之一就是将你的电脑切换为中文语言。
Using a computer in Chinese the first time can be scary. If you're already familiar with the computer you're using and the programs installed on it and have already acquired basic reading ability, switching your computer to Chinese is the natural next step.
初次使用一台中文语言的电脑比较可怕。如果你已经熟悉你所用的电脑以及所安装的程序并且掌握基本的阅读能力的话,将电脑切换为中文语言是迟早的事。
Here are some benefits with setting your computer's language to Chinese:
You get used to reading Chinese characters every day, all the time
你会习惯每天阅读中文字词,从不间断
You learn common words without really studying, review comes automatically
你会不自觉地学到常用字词,并且自然而然地进行复习
You won't feel lost when you use computers in China
你在中国使用电脑时将不会迷茫
You will be able to talk about computers and software in Chinese
你将有能力用中文描述电脑以及软件
You gain access to lots of programs and applications that are only available in Chinese
你会接触到许多只有中文版本的程序及应用
For this to work, you need to have already learnt some Chinese, otherwise it will simply be too hard. However, with basic reading ability and some extra time, you should be able to overcome most problems.
为了达到这样的目的,你需要先掌握好一些中文,否则这只会徒增困难。不过,有了基本阅读能力和空余时间的话,你应该可以克服这些难题。
How to switch your computer to Chinese
This will obviously depend on what operating system you're running, but on most computers it's easy to change language settings. You can simply search for the name of the operating system plus Chinese language support will give you dozens of excellent guides.
这显然取决于你所运行的操作系统,但是将大部分电脑设置为中文语言还是很简单的。你只需搜索一下系统名称和中文语支持,这便会找到一大堆很棒的指南。
A little bit of studying does it
One of the advantages with switching your computer to Chinese is that it allows you to learn new things without actually studying. This is true, but only up to a point. If you study a little bit, you will learn more than if you don't. If you don't understand what something means, look it up and write it down! However, be careful, you shouldn't look everything up. An operating system contains thousands of words and most of them aren't very common. Only look up words that you actually need.
将电脑切换为中文语言的一个好处是能让你在不知不觉中学到新东西。的确是这样,但是不完全如此。要是你学了一点点,比你完全不学还能多学一些。要是你不理解某些含义,查阅一下并写下它。不过,需要注意的是你不应该什么事情都去查阅。一个操作系统涵盖了上千个字词且大部分都不是常用的。你只需查阅你真的需要的字词。
Staying focused on the language
If your computer is set to Chinese, it's likely that you will find yourself in the following situation after a while: You don't actually read the characters. You know which button is save, which one is copy and which one is paste, perhaps because of the ordering in the menus or the icons displayed.
要是你已经将电脑设置为中文的话,过了一段时间很可能你会发现自己处在一种境地:你并没有真正地读到那些字词。你知道哪个按键是"保存",哪个是"复制"和"粘贴",或许因为你知道了菜单的顺序或者图标的显示。
To force you to learn Chinese, you can try using your computer in Chinese aloud. Yes, read everything you do aloud. Say "复制 (fùzhì)" when you copy something, "粘贴 (zhān tiē)" when you paste and so on. Of course, you can't do this all day, but do it now and then when you feel like it. This is derived from the general concept that vocalizing helps you process the language more actively.
为了推动自己学到中文,你可以试着使用电脑的时候大声说话。是的,大声读出每个操作。当你复制东西的时候就说"复制",粘贴的时候就说"粘贴"等等。当然,你不用一整天都这样做,现在试一下,然后想做的时候再做。这个方法来源于一个总体概念:语音发声有助于更有效率学习语言。