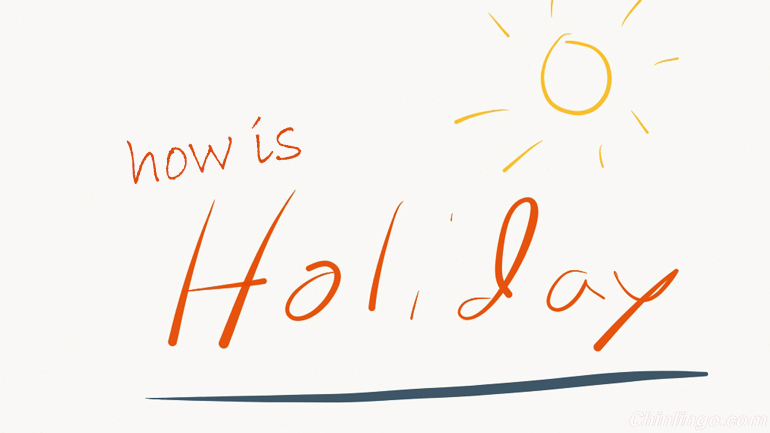 China's National Day Holiday "Golden Week" (October 1-7) has just come to a close.
十一黄金周 / Shíyī Huángjīnzhōu (or 十一 / Shíyī for short) is observed in celebration of the establishment of the People's Republic. It's a week when hundreds of millions of Chinese return home or go traveling.
So how about when the holiday is over and everyone's back to work? How do you discuss your vacation and ask friends or colleagues about their break?
Below are some suggested questions and answers for when you want to catch up with friends or neighbors, or make small-talk in the office elevator.
POST-HOLIDAY QUESTIONS:
十一玩得怎么样?
shíyī wán de zěnmeyàng?
How was your Golden Week holiday?
十一去哪儿玩了?
shíyī qù nǎ'er wán le?
Where did you go for Golden Week?
十一去哪儿吃了?
Shíyī qù nǎ'er chīle?
Where did you go eat during Golden Week?
十一做什么了?
shíyī zuò shénme le?
What did you do during Golden Week?
去看家里人吗?
qù kān jiālǐ rén ma?
Did you go see family?
休息得怎么样?
xiūxí de zěnmeyàng?
Did you rest and relax OK?
POST-HOLIDAY ANSWERS:
我跟朋友们去新疆旅游了。太好玩了!
wǒ gēn péngyǒumen qù xīnjiāng lǚyóu le. tài hǎowán le!
I went traveling with friends. We went to Xinjiang Province. It was great!
我去了湖南石牛寨国家公园的好汉桥。太刺激了!
wǒ qù le húnán shíniúzhài guójiā gōngyuán de hǎoHàn qiáo. tài cìjī le!
I visited the new "Brave Man bridge" in Shiniuzhai Park in Hunan. It was amazing!
时间过得太快了!
shíjiān guò dé tài kuài le!
The time past too quickly!
我回老家看家里人了。你呢?
wǒ huí lǎojiā kān jiālǐ rén le. nǐ ne?
I went home to see family. And you?
机场里的人那么多!乱七八糟的。
jīchǎng lǐ de rén nàme duō! luànqībāzāo de.
The airport was so busy! It was chaos.
飞机晚点了,真烦人!
fēijī wǎndiǎn le, zhēn fánrén!
My flight was delayed. Really annoying!
我买了这些小吃送给你们。是本地制作的。试一试吧!
wǒ mǎi le zhèxiē xiǎochī sòng gěi nǐmen. shì běndì zhìzuò de. shì yī shì ba!
I bought some little snacks as a gift for you guys. They are locally made. Try it!
我就宅在家里了,好好休息了一下.
wǒ jiù zhái zài jiālǐ le, hǎohǎo xiūxíle yīxià.
I just stayed at home and relaxed.
Feel free to plug in the name of other holidays instead of 十一 when asking about a vacation. These small-talk phrases are fit for all occasions!