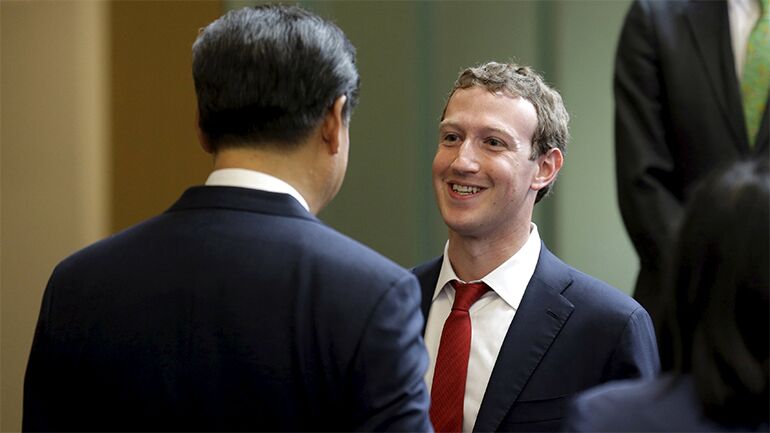 NEW YORK, Sept 28 — It's no secret that Facebook CEO Mark Zuckerberg has made a concerted effort to be the perfect son-in-law — by learning Mandarin to better communicate with the family of his wife, Priscilla Chan.
纽约,9月28日- Facebook CEO马克·扎克伯格为了能增进和他妻子(普莉希拉·陈)家人的交流,一直努力学习汉语,希望能成为完美的中国女婿。这已是一个公开的秘密。
In fact, his mastery of the language has reached such a level of proficiency that he conversed with President Xi Jinping of China entirely in Mandarin during their meeting on Wednesday.
实际上他的汉语水平已经非常熟练了。星期三,在与中国主席习近平会面时,他全程用中文进行交流。
Zuckerberg later wrote on his Facebook wall, "Today, I met President Xi Jinping of China at the 8th annual US-China Internet Industry Forum in Seattle."
扎克伯格在Facebook上写道:"今天,我在西雅图第八届中美互联网论坛上会见了中国主席习近平。"
"On a personal note, this was the first time I've ever spoken with a world leader entirely in a foreign language. I consider that a meaningful personal milestone. It was an honour to meet President Xi and other leaders."
"就我个人而言,这是我第一次全程用外文和外国领导人谈话,这对于我来说具有里程碑意义。能会见习近平主席以及其他领导是我的荣幸。"
Slate reported yesterday that this isn't the first time that Zuckerberg has showed off his Mandarin language skills in public.
据昨日Slate报道,这已经不是扎克伯格第一次在公共场合秀他的中文了。
Last year, he conducted his entire 30-minute Q&A session at Tsinghua University in China in Mandarin.
去年在清华大学,他全程用中文完成了30分钟的问答环节。
Then, on Chinese New Year, he shared a video in which he speaks in Mandarin. However, one could also say that it is a savvy business move on Zuckerberg's part.
春节期间,他还分享了一个他讲中文的视频。然而,这也可以看作是他的一种精明的商业策略。
Although currently blocked in China, the 1.3-billion-strong market is one that Facebook will want to get into one day.
虽然中国现在屏蔽了Facebook,但Facebook将来肯定会进入中国这个拥有13亿人的巨大市场。