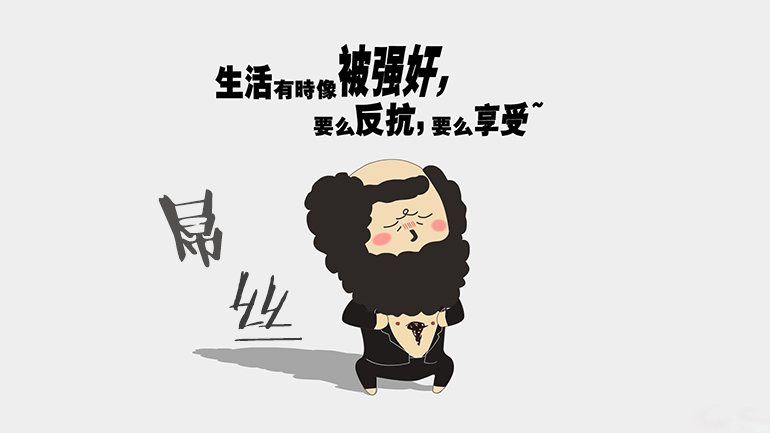 The dispossessed working class are cruelly frowned upon the world over. In the UK they are maligned as "chavs", in China they form the "diaosi". Diaosi (屌丝,diǎo sī) is a term that has long been popular amongst Chinese netizens. The loose translation of the word is "loser" or something similar. Though, it is not necessarily quite as negative as it sounds in English–for some it is even a lifestyle choice (though one which most are not really happy with). Some have even requisitioned the word, almost, as a badge of honor.
全世界都对一无所有的工人阶级极为不满。在英国,这些人被称为"chavs(衣着低俗没文化的年轻人)",而在中国这些人被称为"屌丝"。"屌丝" 这一词长期以来备受中国网友青睐,意译为"loser"或类似的词语。然而,该词并不像英语中的"loser"那么消极,对有些人来说这甚至是一种生活方式(尽管大部分人并非真的喜欢)。有些人甚至争领这一称号。
Diaosi defines those who haven't succeeded in life, and they are often signified as those who reject the material world, probably because they don't have much access to it. Diaosi may seem like a strange and vague term to understand for outsiders, but everything is labeled in China and the diaosi can be systematically quantified and understood, an exercise attempted by a Beijing University recently.
"屌丝" (diǎo sī)是指那些没有成就并拒绝物质世界的人(或许是因为他们根本就没有物质条件)。"屌丝"一词对局外人来说可能会比较奇怪、模糊。 但是在中国,任何事情都有其自身的标志,因此,为了使人们了解"屌丝"一词,北京大学试图将该词系统量化。
Using a questionnaire and a huge sample of 210,000 people, the Beijing University Marketing Department created a profile for you to understand the lives of the so-called diaosi, reports QQ News.
据腾讯新闻报道,为了了解所谓的"屌丝"的生活,北京大学营销系制作了一份问卷并调查了21万人。
One of the things that define diaosi is their salary. On average, a diaosi makes a salary of 2,917 RMB per month, far below the Beijing resident average of 5,793 RMB. They have under 100,000 RMB in savings, and with such small earnings it is clear they do not own a home of their own, and sixty percent say they aren't able to get overtime pay.
定义"屌丝"的一个因素就是低薪资。他们的月平均工资为2917元,远低于北京市居民月平均工资5793元。他们的积蓄不超过十万,工资低,自然也就没有自己的住房。60%的人称他们没有加班工资。
Half of all diaosi spend less than 500 RMB per month on rent. They usually pay 39 RMB per day for three meals, while 7.8 percent pay 10 RMB for all three meals. Half of them spend less than 500 RMB a month on vacations, and most spend all their time at home, reports The Nanfang.
有一半的屌丝每月房租不超过500元,一日三餐通常是39元。7.8%的屌丝三餐只花10元。据南方报报道,有一半的人每月假期的花费不到500元,大部分人周末都是在家里度过。
While 70 percent of diaosi live far away from their hometowns, they give their family an allowance of 1,076 RMB a month on average. With half of them single, the diaosi are usually between 21 and 30 and don't have higher education.
70%的屌丝都远离家乡,平均每月给家里寄1076元补贴家用。屌丝通常是指年龄在21-30之间没有受过高等教育的青年,其中有一半人是单身。