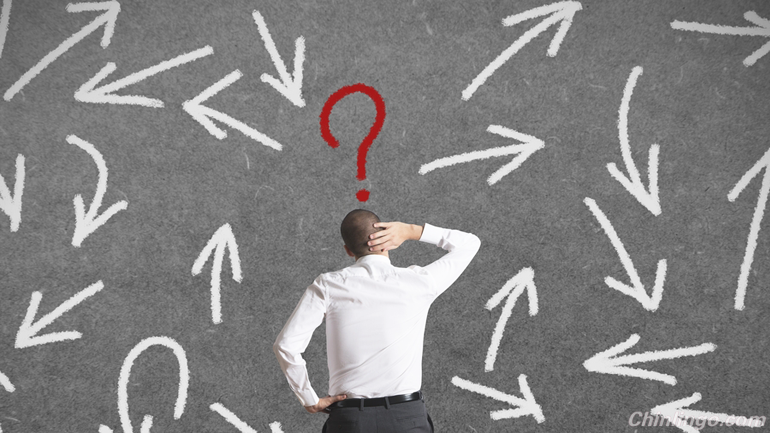 Asking for directions is an important and very practical skill, useful for tourists and business people alike. Successfully finding your way to somewhere not only includes being able to ask questions, it also requires you to understand the answer.
问路是一项关键且实用的技能,对于旅游和做生意的人而言同等有用。成功找到去某地的路线不仅需要会提问题,也需要你能听懂回答。
Basic vocabulary and sentence requirements
There are a few basic words that you simply have to know:
以下有一些你需要知道的基本字词:
Straight
一直 / 直-yī zhí / zhí, straight ahead; continuously
一直走 / 直走- yī zhí zǒu / zhí zǒu, go straight ahead
Turn
转-zhuǎn, turn
往-wǎng, toward
右-yòu, right
左-zuǒ, left
往右转-wáng yòu zhuàn, turn right
往左转-wáng zuǒ zhuàn, turn left
To…
到-dào, to a place
快到了-kuài dào le, almost arrived
停-tíng, stop
到了-dào le, have arrived
好 / 好的-hǎo / hǎo de, Okay
Landmarks
红绿灯-hóng lǜ dēng, traffic lights
路口-lù kǒu, intersection
公园-gōng yuán, public park
火车站-huǒ chē zhàn, train station
车站- chē zhàn, bus station
旅馆-lǚ guǎn, hotel
Here are some sentences than include most of the common vocabulary:
一直往前走
yìzhí wǎngqián zǒu
Keep walking straight forward.
经过书店往右转
jīngguò shūdiàn wǎng yòuzhuǎn
When you have passed the bookshop, turn right.
到地铁站左转
dào dìtiězhàn zuǒzhuǎn
When you arrive at the subway station, turn left.
在第二个路口往前走
zài dì'èr gè lùkǒu wǎngqián zǒu
At the second intersection, walk straight forward.
在第三个红绿灯停
zài dì sān gè hónglǜdēng tíng
Stop at the third traffic light.
旅店就在你的左侧
lǚdiàn jiù zài nǐ de zuǒcè
The hotel will then be on your left.
Practice makes perfect
These simple expressions make them look easy, but the truth is that practising this for half an hour won't be enough. It's hard to learn to understand spoken Chinese and the only strategy that really works is to do it a lot.
这些简单的表达看起来非常容易,但事实是花上半小时训练也是不够的。学会听懂中文口语很困难,而唯一有作用的策略就是反复练习。
Asking and receiving directions in Chinese is harder than it looks; don't think you know how to do it just because you've covered that chapter in your book. Go out there and practice! Get lost on purpose, ask the way to places you already know where they are and, most importantly, don't use a GPS and a map, use the Chinese you know to ask real people. It won't be as quick, but you'll learn more Chinese that way!
用中文问路和接收方位信息看似简单实际很难,不要学完参考书的相关章节就认为自己懂得如何操作。出门开始练习吧!你可以故意迷路,询问你事先知道的地方的路线,最重要的是,别借助GPS和地图,而是用上你知道的中文去真人求助吧。虽然不会很快成功,但用这个方法你会学到更多中文!