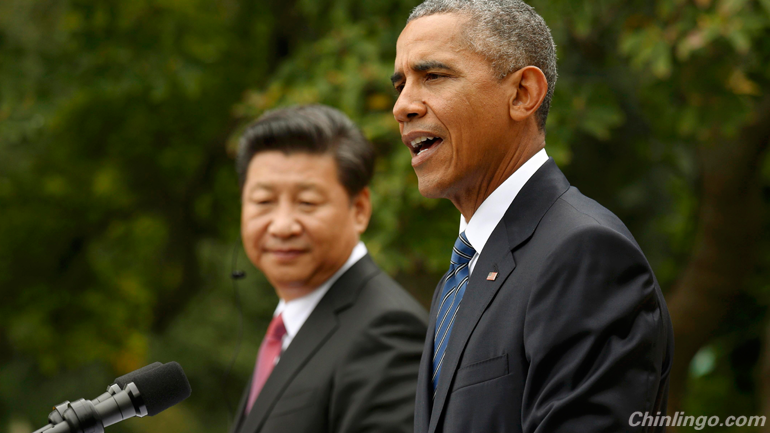 When U.S. President Barack Obama announced the 100,000 Strong Initiative in November 2009, setting the goal of sending 100,000 American students to study in China by 2014, it seemed like a lofty aspiration. In the 2008-2009 academic year, only 13,674 American students studied abroad in China. But that number rose steadily over the next five years, with help from private donations and Chinese government scholarships, and in July 2014 that the goal had been met.
当美国总统奥巴马2009年11月宣布"十万强"计划,提出到2014年派10万美国学生到中国学习时,这听起来像是一个遥不可及的目标。2008到2009学年,只有13674名美国学生到中国学习。但接下来的5年,在私人捐助和中国政府奖学金计划的帮助下,这个数字稳步攀升,2014年7月美国宣布这一目标已经实现。
Now the American president's back with an even bigger goal and one closer to home. On Sept. 25, in a joint press conference with Chinese President Xi Jinping, who is wrapping up an official state visit, Obama announced the launch of "1 Million Strong," an initiative that aims to bring the total number of stateside learners of Mandarin Chinese to 1 million by the year 2020. "If our countries are going to do more together around the world," said Obama, "then speaking each other's language, truly understanding each other, is a good place to start."
现在,奥巴马又提出了一个更远大的目标,而且也更贴近国内。25日,在与即将结束对美国国事访问的中国国家主席习近平召开的联合记者会上,奥巴马宣布准备启动"百万强"计划,目的是争取到2020年实现100万名美国学生学习中文。奥巴马说:"如果我们两国准备在全球各地采取更多行动,那么一个最好的开端就是学对方的语言、真正了解对方。"
The new program, administered by the 100,000 Strong Foundation, a nonprofit that also oversees the 2009 initiative, recognizes the growing importance of the U.S.-China relationship and aims to prepare a new generation of U.S. leaders to engage effectively with China. Increasing the number of American students who study Mandarin will "create a pipeline of China-savvy employees in a range of fields" and, Tanner remarked, will "ensure our trade relationship with China continues to benefit the American economy and that the future generation of American entrepreneurs, business owners, journalists, engineers, scientists, doctors, as well as government officials at both the national and state levels, understand China."
由负责2009年计划的非营利组织十万强基金会管理的这一新项目承认美中关系日益增强的重要性,希望培养能积极地和中国打交道的新一代美国领导人。十万强基金会首席运营官特拉维斯·坦纳说,增加学习中文的美国学生的数量"将在各行各业培养一批中国通",将"确保我们与中国的贸易关系继续惠及美国经济,而且美国未来一代的企业家、记者、工程师、科学家、医生以及政府官员了解中国"。
The importance and practicality of mastering Chinese has lately become more apparent. When Facebook founder Mark Zuckerberg met with Xi during the president's recent visit to business and technology leaders in Seattle, the founder held a conversation with the Chinese president entirely in Mandarin.
掌握中文的重要性和实用性变得越来越显而易见。当习近平在此次国事访问中会晤西雅图商界和技术界领袖时,脸书网站创始人马克·扎克伯格完全用汉语与习近平对话。
"This is such an inspiring example of how important linguistic and cultural understanding is to enrich U.S.-China relationships in business and beyond," said Jessica Beinecke, founder of Chinese-language learning platform Crazy Fresh Chinese. "Zuckerberg's a busy guy. If he has time to learn Mandarin, so do American high school students."
美国中文学习平台"疯狂新鲜汉语"的创始人杰茜卡·拜内克说:"这是一个鼓舞人心的例子,说明了语言和文化了解对于丰富美中在商业和其他领域的关系是多么重要。"她说:"扎克伯格是一个大忙人,如果他有时间学习中文,那么美国的学生也都有时间学习。"