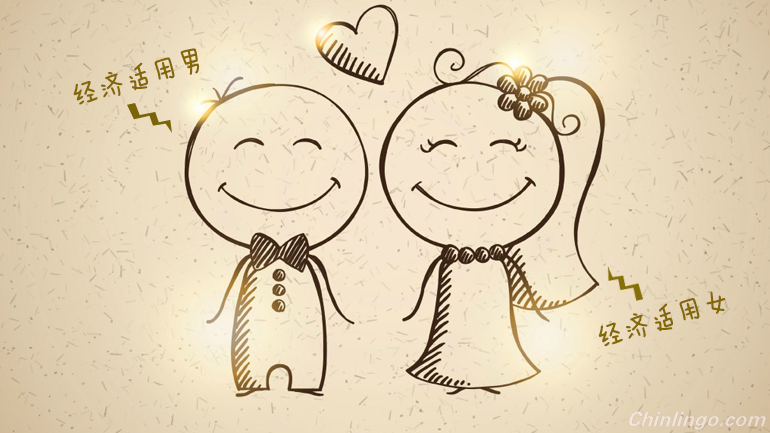 Despite the name, being a budget wife — or "经济适用女(jīng jì shì yòng nǚ)" in Chinese — is harder than it seems. According a list published by an anonymous Web user on Sina Weibo, China's most popular micro-blogging platform, to qualify as one, you must:
光听名字可能觉得挺简单,但其实想要符合标准成为"经济适用女",比想象中的要难。根据中国最流行的社交网络平台新浪微博上一位匿名用户发表的标准,想做一个经济适用女,你必须满足下面的条件:
Be between 5'2" and 5'8"
身高 158-172cm
Weigh between 100 and 120 pounds
体重 45-55公斤
Have long hair that trails over shoulders
披肩长发
Be warm and mild in personality
性格温和
Have B- to C-cup size breasts
胸围 B-C罩杯
Not be a "gold digger"
不败金
Not be a flirt
不花痴
Not be horny
小闷骚
Earn between roughly $500-$1000 per month
月薪3000-6000元
Have a BA or above
本科以上学历
Know how to cook and wash clothes
会洗衣做饭
Be responsible and sympathetic
有同情心和责任心
Speak appropriately
谈吐得体
Be educated and reasonable
知书达理
This newly coined term used to be a trending topic on Sina Weibo, with 5.6 million mentions.
这个新词曾一度成了新浪微博的热门话题,共有560万条微博提及。
"Budget wife" is the female counterpart of "budget husband," or "经济适用男(jīng jì shì yòng nán)", a concept introduced at least six years ago. The 2009 publication of the book Me and My Budget Husband popularized the term, and its 2012 transformation into a TV drama series fueled the term's further spread.
前有"经济适用男",后有"经济适用女"。"经济适用男"的概念其实在六年前就已经有了,2009年小说《我和我的经济适用男》发布让"经济适用男"这个词火了,2012年由该书改编的同名电视剧播出,也让这个术语更深入人心。
The word "budget husband" originates from the word "budget housing" (经济适用房-jīng jì shì yòng fáng), government subsidized public housing for low-income households. As the name implies, budget husbands' economic power trails that of "diamond husbands" — intelligent, educated, rich, and well-mannered men from respectable families. Nonetheless, a budget husband is, according to Baidu, the new ideal among Chinese female white-collar workers.
"经济适用男"这个词源自政府补贴为低收入家庭修建住房的"经济适用房"一词。从名字上我们就能看出,"经济适用男"们经济实力当然不如传说中的"钻石王老五":钻石王老五指的是聪明、受过良好教育、富有、举止得体且出身较好的男性们。但根据百度信息显示,"经济适用男"现在是中国女白领们最理想的对象。
One of the main characteristics of a budget husband is that he be "normal." Not ugly but not too handsome; neither poor nor rich. In short: mediocre.
"经济适用男"的主要特征之一就是"普通":不丑也不太帅,不穷也不会太有钱。简而言之计就是一个词儿:平庸。
But this mediocrity promises stability. Budget husbands are reliable, both financially and emotionally. They will loyally stay at home and take care of the house; they will not go out to bars or have extramarital affairs.
因为这种平庸就代表着稳定。"经济适用男"很可靠,不论是经济上还是情感上都非常值得依赖。他们会老实待在家照顾家人,不泡吧不搞婚外情。
The criteria of a budget husband are as follows:
"经济适用男"标准如下:
Between 5'8" and 5'11"
身高172cm-182cm
Weighs between roughly 145-190 pounds
体重65-85公斤
Normal haircut and appearance
发型普通
Warm and mild personality
性格温和
Does not smoke, drinks little, doesn't love frequenting bars
不吸烟少喝酒,不爱泡吧
Has a BA or above
本科以上学历
Earns between $500 and $1,600 per month
月薪3000-10000元
Knows how to cook
会做饭
Has filial piety and refined manners
有孝心,举止斯文
Patient, loving, keen to advance forward, modest, earnest, magnanimous, absolutely devoted and loyal,
有耐心、有爱心、有上进心;谦虚、稳重、大方,对待爱情忠诚不二
ready to shoulder responsibility
有担当