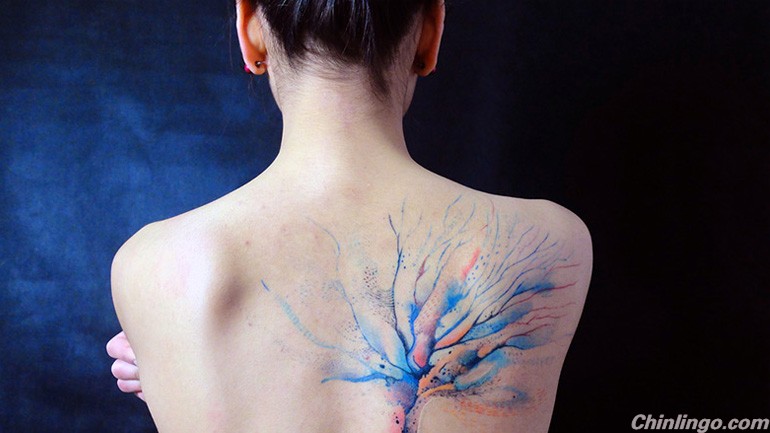 Tattoos have a long history in China. But for most of that history they were stigmatized, associated with prisoners, vagrants and the criminal underworld.Thanks in part to the influence of celebrities and sports stars, tattoos have become much more socially accepted in the past decade. It's a trend driven by a younger generation that isn't afraid of standing out but also by the sophisticated skills of China's tattoo artists.
纹身在中国有着悠久的历史。但是大部分时间,纹身都受到歧视,被看作与罪犯、盲流以及黑社会有关。由于名人以及体育明星的影响,过去十年间,纹身越来越能被社会认可。年轻一代标新立异,纹身师技术炉火纯青,共同驱动了这个趋势。
Getting inked is one way for young people to forge their own identity and mark life experiences.
对年轻人来说,纹身是塑造自己身份、铭记生活经历的一种方式。
"I think a tattoo is a sign of myself, like your name. It's the most special part of your body, it makes you different. Shows your mind, your world," says Wang Zi, 28, a fashion designer. She has a tattoo of a hot air balloon on her shoulder blade, a design she drew herself to cherish a childhood dream of flying in one.
"我觉得纹身是自己的一种标志,就像你的名字。它是身体最特殊的部分,让你感觉与众不同,展现自己的内心和世界。"28岁的服装设计师王梓说道。她的肩胛上有一个热气球纹身。该图出自王梓之手,代表珍惜儿时乘坐热气球的梦想。
Just as Chinese characters are a popular choice in the West, in China some people like tattoos of English words and phrases. Popular words include "love,"and "forever." Others choose song lyrics or quotes from the Bible.
就像西方人喜欢将汉字作为纹身一样,中国很多人喜欢英文字母或短语。最受欢迎的单词是"love"和"forever"。还有人选择歌词或者从《圣经》引用句子。
Asia has long had its own tattoo culture. China is starting to develop its own unique styles, drawing on both ancient and modern inspiration.
纹身文化在亚洲有很长的历史。中国根据传统或者西方的灵感,逐步发展其自身的风格。
Qiao Zhengfei is a 20-year-old tattoo artist who opened up her own studio in her native Xiamen before moving her business to Beijing. She specializes in "blackwork," an intricate form based on a style of embroidery. The former art theory student likes the fact that tattoos are a living embodiment of her work.
20岁的乔征飞(音译)在家乡厦门开设了自己的工作室,之后迁往北京。她尤为擅长"黑白纹身",即基于刺绣的一种复杂纹身。这位艺术学学生表示很高兴纹身成为自己作品的活化身。
In China, some parlors are cubicle affairs, a small square room with a curtain and heavily tattooed proprietors. Others boast large studios with art adorning the walls. The Chinese tattoo artists I spoke to shied away from calling their work an art form, viewing it as a trade.
在中国,一些纹身店只是一间小房子,挂着窗帘,业主身上纹满了纹身。其他一些较大的纹身店中,作品挂满了墙壁。我采访的中国纹身艺术家并不将自己的工作看做是一种艺术形式,而将其视为是一种交易。
Eight years ago, Zhao Liang graduated from teaching college after majoring in art and planned to find a teaching or civil service job. "But they both were not well paid jobs. Since I have to support my family I thought I should find a job that can earn a living." One day, he saw a poster advertizing tattoos for 50 yuan each and thought about giving it a go. "Then I started doing (it). I just thought life is going to be better and better."
八年前,主修艺术的赵亮(音译)从师范学院毕业,打算找个教学或者公务员的工作。"但那些工作工资很低。而我需要养家,因此想找个能养家糊口的工作。"一天,他看到一张宣传纹身的工作,每个纹身50元,就决定尝试一下。"随后我就走上了这条路。我只觉得生活越来越好了。"