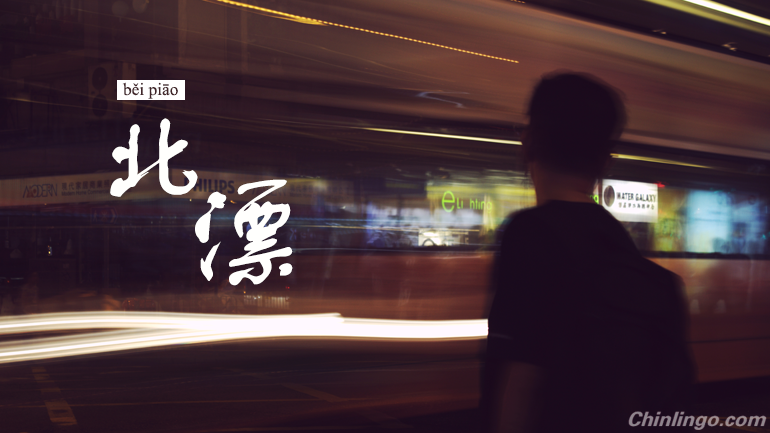 Although "北漂 (běi piāo)" is not a new word any more, it has been a popular topic discussed by the people. "北 (běi)" in this word refers to Beijing, while "漂 (piāo)" means moving around, like floating on the water surface, without a fixed destination. Among the bigger cities in China, especially Beijing, there is one kind of people whose living conditions are just like "floating" in this city without a fixed destination. These people are called "北漂 (běi piāo)" in Chinese.
北漂,这已经不是一个新词了,但是人们还是在一直谈论。"北"当然是指北京;"漂",就像浮在水上一样,到处游,没有固定的地方。在中国的一些大城市,特别是首都北京,有这样一群人,他们的生活状态就是这样,没有固定的房子,像漂在这个城市一样。这些人也就被称为"北漂"。
But what kind of people are called "北漂 (běi piāo)"? Most of them are young people who come to Beijing to pursue their dreams. In their opinion, Beijing is abundant with opportunities for personal development and career advancement. However, the young people from outside are being offered few opportunities. Generally, they have to start with the lowest jobs which offer a low wage. In order to save money, many people choose to live in the suburbs around the city, sharing accommodation with friends or even a group of people. These "北漂 (běi piāo)" work at the fancy office buildings in the daytime and spend one or two hours squeezing into the subway or buses at night to reach "home". They just buy some street food when they get hungry. Although it is rather hard, many of them still believe their dreams are slowly coming true.
那么,什么样的人会成为"北漂"呢?主要是年轻人,他们为了梦想,来到了北京。他们觉得,在这里,到处充满着个人发展和职业提升的机会。然而,对于来自外地的年轻人来说,他们的机会其实并不多。他们一般只能从底层的工作开始做起。工资也比较低。为了省钱,很多人选择住在城市的郊区,和朋友合租,甚至是群租。北漂们白天在高档的写字楼里工作,晚上钻进拥挤的地铁或者公共汽车,花一两个小时回到自己的住处。饿了,就在路边随便买点吃的。虽然很辛苦,很多人仍然相信自己的梦想就要到来。
However, the cruel reality makes more and more "北漂 (běi piāo)" leave Beijing. The main reasons are the hefty rent prices and living costs. For Chinese people, a house means safety. It they can't afford their own houses after striving for 10 or 20 years, it makes no sense to live far away from their parents. In addition, the traffic jams in Beijing are horrible. It make "the drifters" exhausted to take at least two to three hours to commute to work everyday. The living cost is also high, followed by class gatherings and company activities bringing much pressure and costs for these people with lower income.
不过,事实的残酷让越来越多的北漂们决定离开北京。理由主要是房子太贵,生活太贵。对中国人来说,有房子才有安全感,如果想到自己奋斗10年20年也买不到一个房子,那么在一个远离父母的地方生活,没有意义。另外就是北京的堵车实在是太严重了,每天在路上的时间至少两三个小时,甚至更多,让北漂们身心疲惫。生活的成本也比较高,同学的聚会,公司的活动,对本来就工资不高的他们来说更是承担不了的压力。
In fact, the term "北漂 (běi piāo)" also includes foreigners who live in Beijing, but they have different living conditions compared to the Chinese citizens.
其实外国人在北京也是"北漂",不过和中国人的"北漂"有着不同的生活状态。