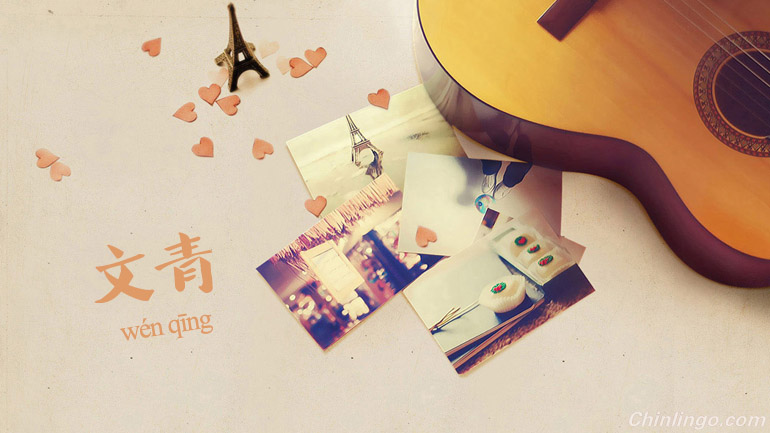 "文青 (wén qīng)" is short for "文艺青年 (wén yì qīng nián, youth interested in art and literature)". "文艺 (wén yì)" refers to: literature and art. On the internet there are many ideas about and definitions of "文青 (wén qīng)". This article will talk about what "文青 (wén qīng)" is.
"文青"是"文艺青年"的简称,文艺指的是:文学和艺术。网络上有很多关于文青的概念、定义,本文将说一说"文青"是什么样的。
In general, "文青 (wén qīng)" like reading and like reading novels. For example many "文青 (wén qīng)" like the novels of the Japanese writer Haruki Murakami, such as 'Kafka on the Shore' among others.
"文青"一般都喜欢阅读,喜欢读小说。很多"文青"都喜欢日本作家村上春树的小说,比如:《海边的卡夫卡》。
A hobby related to reading is watching movies. The ones they watch aren't ordinary movies but mostly really sad underground films.
和阅读相关的爱好,就是看电影,他们看的不是普通电影,多数是小众的电影,忧伤的电影。
They also like to travel, and like the feeling of being 'on the road'. There's a saying that really accurately describes the "wenqing" group: 'Body and soul, one of these is always on the road'. Souls on the road refers to reading, body on the road refers to travelling. These past few years it has been quite popular to go to Yunnan and Tibet to travel, or travel abroad.
他们还喜欢旅行,喜欢"在路上"的感觉,有一句话很好地形容了"文青"这个团体:灵魂和身体,总有一个在路上。灵魂在路上说的是阅读,身体在路上指的是旅行。这两年比较流行去云南、西藏旅行,或者出国旅行。
Apart from reading and travelling, "文青 (wén qīng)" also like photography. This is actually very easy to understand, because travelling is invariably connected with photography. If you have a young friend near by who loves literature and art, you can see the pictures they have shared on social network sites of their own trips, or they share pictures of the flowers and plants around them, also blue skies and white clouds, things like that.
除了阅读和旅行,"文青"还喜欢摄影。其实这也很好理解,因为旅行总是和摄影联系在一起的。如果你身边有朋友是文艺青年,你就可以在他们的社交网络上看到他们晒自己出去旅行的照片,或者晒身边的花花草草、蓝天白云,等等。
"文青 (wén qīng)" that like coffee are in the majority and some of them even like tea. Many "文青 (wén qīng)" have a dream: to open a coffee shop. In the coffee shop there would be a book-case with lots and lots of books. As for themselves, they would be the boss of the coffee shop, and when they're not busy they can read books and write articles.
喜欢咖啡的"文青"居多,有的也喜欢茶。很多"文青"都有一个梦想:开一家咖啡馆,咖啡馆里面有一个书架,放很多很多的书,自己呢,就可以在咖啡馆里当老板,闲时看书写文章。
In China, apart from coffee shops being gathering places for "文青 (wén qīng)", the Douban website is as well, and there are many young people interested in arts and literature on there, especially female ones. On Douban they share the books which they have read, films they have seen, articles they've written, places they've visited, and also things they like.
在中国,除了咖啡馆是"文青"的聚集地,豆瓣网也是,那上面有很多文艺青年,特别是文艺女青年。他们在豆瓣网上晒自己读的书,看的电影,写的文章,去过的地方,还有喜欢的东西。
Many "文青 (wén qīng)" are self-employed. Because they like to read and watch films, and many like to write. They use writing to record their feelings after reading books or watching a film. Being self-employed implies that they can more freely organise their own time, so they have even more time to go traveling.
很多"文青"是自由职业者,因为他们喜欢阅读和看电影,不少都喜欢写作,他们用文字记录读书、看电影之后的感受。自由职业者意味着可以更自由地安排自己的时间,就有更多的时间去旅行。
There are still many more defining characteristics of the "文青 (wén qīng)", such as listening to classical and underground music. How about you, are you a "文青 (wén qīng)"?
"文青"的特点还有很多,比如喜欢听古典音乐、小众的音乐,就不一一举例了。你呢,你是"文青"吗?