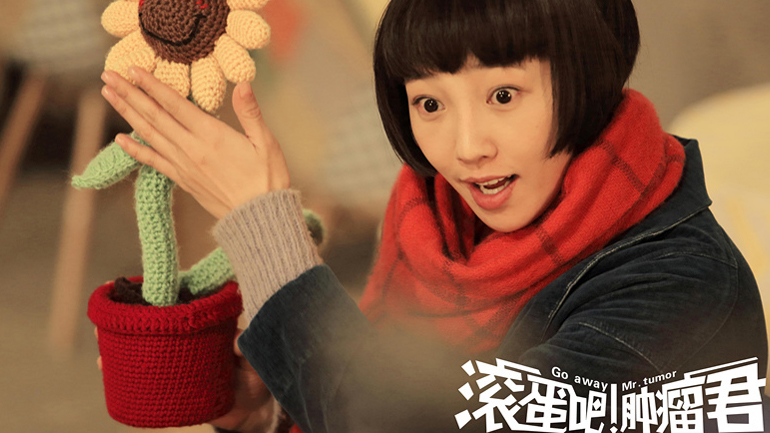 Life is full of unpredictability. All we can and should do is cherish every single day. We're all aware of this, but it's more convincing heard from someone with limited days to live.
世事无常。我们能做的,也应该做的就是珍惜每一天。我们都知道这个理儿,可是当它被一个时日不多的人说出来时,似乎更有说服力了。
This is the theme Go Away, Mr. Tumor takes head on. The film is based on comics artist Xiong Dun's true experience fighting a malignant tumor during the last days of her life. But surprisingly, the subject is handled in a light and amusing way.
这就是电影《滚蛋吧,肿瘤君》要表达的主题。这部电影改编自已故漫画家熊顿的真实经历——她在生命最后的日子里对抗恶性肿瘤的故事。
For the most part the film can be enjoyed as a comedy. It brings Xiong's wild imagination to life – one moment, she fights valiantly against zombies like the heroes in her favorite US TV series Walking Dead, and the next she and her dreamy Mr Right share a heartfelt embrace while hit song You're My Destiny from popular South Korean TV drama You Who Came From the Stars plays in the background. The movie avoids moments that seem forced or sensational.
这部电影大部分都可以被当成喜剧来观赏。它将熊顿各种天马行空的幻想用画面呈现出来:女主角时而像她最喜欢的美剧《行尸走肉》里的英雄们一样英勇地和僵尸搏斗,瞬间画风一转,又在韩剧《来自星星的你》的主题曲《You're My Destiny》应和下,和她的白马王子深情相拥。(并没有太多我们想象的悲情气氛)电影刻意避免了那些让人不适和煽情的镜头。
Some say the tone of the story seems too lighthearted for a film following the last days of a young woman fighting against terminal cancer.
有人质疑这个故事的基调太过欢快,这样的画风并不适合一部表现女主角在生命最后时光与病痛作斗争的电影。
But if you've read Xiong's comic series of the same name or glanced over the posts on her micro blog, you know that the film's archetypal character is just an unbelievably optimistic woman full of positive energy.
但是如果你读过熊顿《滚蛋吧,肿瘤君》的同名漫画,或者浏览过她的微博,你就会知道电影的原型就是这么一个乐观到难以置信、随时充满正能量的女性。
On the talk show A Date With Luyu, which was shot just a dozen days before she passed away, Xiong laughed as she shared her experience in the hospital, saying she had only cried once over her illness. Her optimism and courage have inspired millions of people, and the film is consistent with her spirit.
去世十多天前,熊顿参加了《鲁豫有约》的录制。她在节目中笑谈自己住院期间的故事,还坦言自己只为肿瘤哭过一次。她的乐观和勇气激励了成千上万的人,电影则秉承了她的这一精神。
Bai Baihe, 31, is wonderful as Xiong in the film and excellently delivers an uplifting and optimistic performance. When Xiong says goodbye to her loved ones, Bai's acting is at its peak. We can feel Xiong's helplessness and deep love for life.
31岁的演员白百合绝妙地演绎了熊顿这个角色,很好地表现了她开朗、乐观的样子。在熊顿和亲人朋友告别的这场戏中更是演技大爆发,让观众对熊顿的一丝无助和对生命的热爱感同身受。
Looked at as a commercial film, Go Away, Mr. Tumor is far from perfect, having no clear climax and a fragmented storyline. But it pays an inspiring and emotional tribute to the cartoonist and helps audiences better understand the meaning of life through laughter and tears.
若是以商业片的视角评价《滚蛋吧,肿瘤君》,它还远达不到完美。影片没有明确的高潮,情节也过于碎片化,不够连贯。但它是对漫画家熊顿的真情致敬,也让观众在欢笑与泪水中更好地理解生命的真谛。