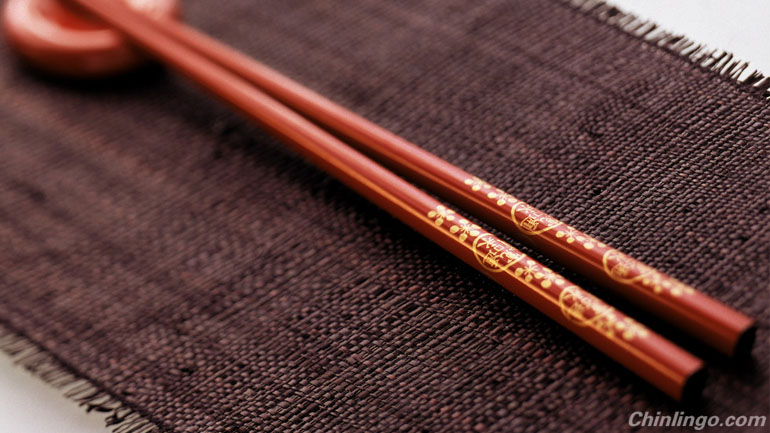 Chinese people use chopsticks (筷子-kuài zi) to have meals rather than a knife (刀-dāo) and fork (叉-chā), which were embodiments of uncivilized society in ancient China. For thousands of years, Chinese people have been using chopsticks for eating as if they were their own hands.

中国人吃饭的时候不用刀和叉,古代人说刀和叉象征着野蛮,所以中国人用筷子吃饭,使用筷子就像使用自己的双手那样灵活。
"筷子 (kuài zi)" originates from China, from over 3,000 years ago, but no one knows how they were invented. Some believe that the ancient people had broken off branches to pick up hot food to create the earliest chopsticks. The reason why we call them "筷子 (kuài zi)" because it is quicker (快-kuài) to finish meals with chopsticks. Moreover, chopsticks are generally made of bamboo, so the people put "⺮" (a Chinese radical that means "bamboo") over "(快-kuài)" (which means "be quick") and that's where the phrase "筷子 (kuài zi)" comes from.
筷子最早起源于中国,已经有三千多年的历史了,但是没有人知道它是怎么被发明出来的。有人认为,古代人吃饭的时候,因为食物太烫了,就折断树枝用来夹食物,于是就出现了最早的筷子。之所以叫它"筷子"是因为用它吃饭更"快",而且一般筷子都是用竹子做的,所以,人们在"快"字上面加了一个竹字头,就有了"筷子"这个名字。
However, if we think twice, we can conclude that chopsticks are not necessary for finishing meals more quickly. In addition, using chopsticks isn't easy, because it may take a long time to practice. The truth is, the ancients used spoons before the invention of chopsticks. Chopsticks gained popularity due to their delicacy and convenience.
但是,如果我们仔细想一想,如果人们发明筷子是为了让吃饭更快,那筷子肯定不是必须的。而且,使用筷子不是一件容易的事情,需要花很长时间练习。的确,古代人最早使用的餐具是勺子,筷子是后来才出现的。但是筷子是那么精巧和方便,就赢得了人们的喜爱。
Chopsticks are usually made of bamboo or other wood, while some are made of some special materials. In ancient times, chopsticks made of metal (such as iron, copper and silver) were widely used by the nobility. Later, disposable chopsticks, which can be discarded after one-time use, were invented. However, the disposable chopsticks are a waste of natural resource and poor in quality.
普通的筷子都是用竹子或者木头做的,不过也有用其他材料做的筷子,古代贵族用的就是金属筷子,有铁筷子、铜筷子、银筷子等等。后来有人发明了一次性的筷子,就是用了一次就可以扔掉的筷子,但这种筷子很浪费,而且质量不好。
Using chopsticks requires some etiquette in China. First of all, you can't point at others with your chopsticks at the table. Second, you should keep your chopsticks clean. It's considered bad manners to put back the food you just picked up, or touch everything with chopsticks. In some restaurants, shared chopsticks are available, but you should never put the shared chopsticks in your mouth. Finally, never insert your chopsticks in a bowl of rice vertically, because it looks like a tomb! Usually, inserting chopsticks in a bowl of rice or noodles can be seen in an ancestral worship, originally coming from the custom of burning incense at gravesites.
使用筷子的时候还要注意一些礼节。首先,不能在餐桌上用筷子对着别人;其次,要保持卫生,不能把夹起来的食物重新放回去,或者在盘里面挑来挑去。有些餐厅里面有公筷,专门用来夹菜的筷子,但你绝对不能把它们塞进嘴里;最后,不能把筷子插在饭碗里,因为这看起来就像一个坟墓!通常在祭祖时,人们会把筷子插入一碗饭或面里,源于人们在墓地烧香的传统。