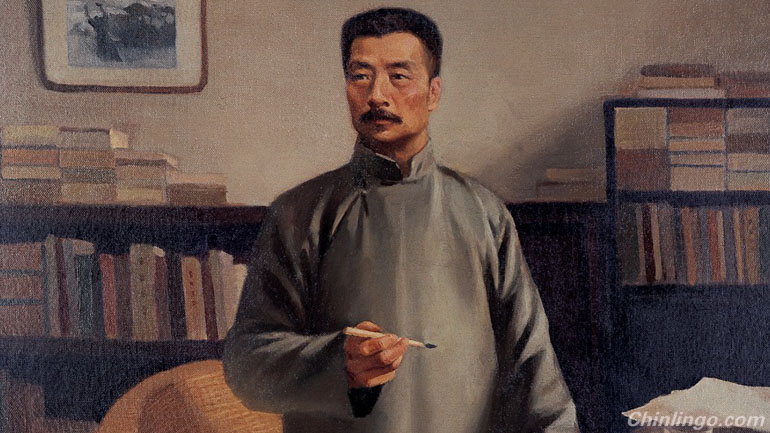 One of the most recognized names in Chinese literature is definitely Lu Xun (鲁迅-lǔ xùn). For many years, Lu's work has been used as the teaching materials for Chinese students. In China, almost everyone knows Lu Xun.
说到中国文学,人们首先想到的就是鲁迅。很多年来,鲁迅的作品一直出现在中国学生的教科书上。鲁迅在中国几乎无人不知、无人不晓。
Lu's original name was Zhou Shuren (周树人-zhōu shù rén), and he used Lu Xun as his pen name. Lu was born in Shaoxing, Zhejiang in 1881. At the end of 19th century, China was undergoing chaos. The influence of Western empires and corruption of Qing government make people long for democracy. When Lu was young, he was very impressed by new things while embracing the spirit of being curious and scientifically skeptical. Seeing his father's death, Lu began to doubt the traditional Chinese medical treatment. He went to Japan to learn modern medicine, hoping to save people's lives with his own effort. On one occasion, Lu watched a documentary about the Russo-Japanese War. In this documentary, Chinese worked as the spies for the Russians and got executed by shooting next to a group of Chinese standing aside and watching it.. That was the moment when Lu changed his mind and decided to alter the thought of Chinese people with his writings.
鲁迅的真名叫周树人,鲁迅是他的笔名。鲁迅生于1881年的浙江绍兴。十九世纪末,中国社会非常混乱:西方帝国入侵,清政府渐渐走向灭亡,人们希望实现民主。年轻的鲁迅喜欢新事物,充满了怀疑精神。他父亲去世的时候,鲁迅对中医产生了严重的怀疑。于是,他去日本学习现代医学,希望用自己的双手治病救人。有一次,他观看一部关于日俄战争的纪录片。中国人给俄国人做侦探,要被日军枪毙,却有一群中国人在旁边观看。就在这个时候,鲁迅改变了自己的想法,决定用文学改变中国人的思想。
In 1918, Lu released his novel Diary of a Madman (狂人日记-kuáng rén rì jì), which was a short story, consisting of 13 entries. The protagonist in this short story notices people around him were "吃人 (literal meaning: eating people)". Behind this story was the idea of the madman who sees reality more clearly than those around him. The "madman" sees "cannibalism" both in his family and the village around him. Actually, "吃人" in this novel refers to the decayed feudalism and the ignorance of people, while the madman turns out to be the good man. Diary of a Madman used vernacular Chinese that was easy to understand and read, instead of classical Chinese, which used to be the written language in ancient China. The story was read as an ironic attack on traditional Chinese culture and a call for a new culture.
1918年,鲁迅发表了小说《狂人日记》。小说很短,是十三篇日记。小说主角发现身边的人都在"吃人",他很害怕,结果被人当成了疯子。实际上,"吃人"的是腐朽的封建主义和人们的愚昧,而那个狂人则是一个善良的人。《狂人日记》使用容易理解的白话文,而不是文言文,也就是古代的书面语。该小说对中国传统文化带来讽刺性的冲击,也是对新文化的号召。
Lu wrote another work of fiction Kong Yiji (孔乙己- kǒng yǐ jǐ). Kong Yiji was a person who only knew studying, aiming for a position in the government by passing the mandatory Imperial Examination. He fails because the books Kong reads are only full of knowledge useful to pass the exam but could not provide food. He loses his dignity and always gets mocked by others. Kong even tries to steal books, but gets beaten and gets his legs broken. Lu satirized the society at that time with this poor character. Some scholars have suggested that Lu Xun wrote the story to explain the problems with the 'feudal society', where people could waste their entire life trying to pass meaningless examinations and where people were selfish and completely indifferent to the plight of others.
紧接着,鲁迅又写了小说《孔乙己》。孔乙己是一个只知道读书的人,他的目标就是通过考试当官,但他失败了。他读的书只能用来考试,却无法给他带来食物。他没有了尊严,人们嘲笑他。他还去偷书,结果被人打断了腿。鲁迅通过这个可怜的人讽刺了当时的社会。
After a few years Lu released a story called The True Story of Ah Q (阿Q正传 – Ā Q Zhèngzhuàn). Ah Q is a man from the rural peasant class with little education and no definite occupation who even didn't know how to write his name. He was poor, but never tried to improve. For survival, he paralyzed his spirit without thinking anything whenever he encountered suffering or misfortune. Lu's True Story of Ah Q criticized the problems in the character of Chinese people, and exposes Ah Q's extreme faults as symptomatic of the Chinese national character of his time.
几年后,鲁迅又发表了小说《阿Q正传》。阿Q很穷,也不知道自己的名字怎么写。他很可怜,却不努力。为了求生,每当他遭到不幸的时候,就在精神上麻痹自己,什么都不去想。鲁迅写《阿Q正传》,讽刺了中国人的性格问题,也通过阿Q的极端错误来揭露当时的中国民族性。
Later Lu wrote more proses, novellas and essays, criticizing more directly the various issues in China at that time. In addition, Lu has translated much foreign literature and introduced new thoughts to China. Lu Xun believed that the purpose of literature was to transform the minds of and enlighten fellow Chinese. He followed the concept of wen yi zai dao (文以载道, Pinyin: Wényì Zàidào, "literature as a vehicle for moral message").
后来,鲁迅写了很多散文和杂文,更加直接地批评当时中国的各种问题。除此之外,鲁迅也翻译了很多外国的文学作品,把各种新思想介绍到中国。鲁迅遵循"文以载道"的思想,他认为,文学的使命是改变思想、启蒙同胞。
Until today, Lu Xun is still regarded as the most important writer, ideologist and revolutionist in China.
直到今天,人们依然认为鲁迅是中国最重要的作家、思想家和革命家。