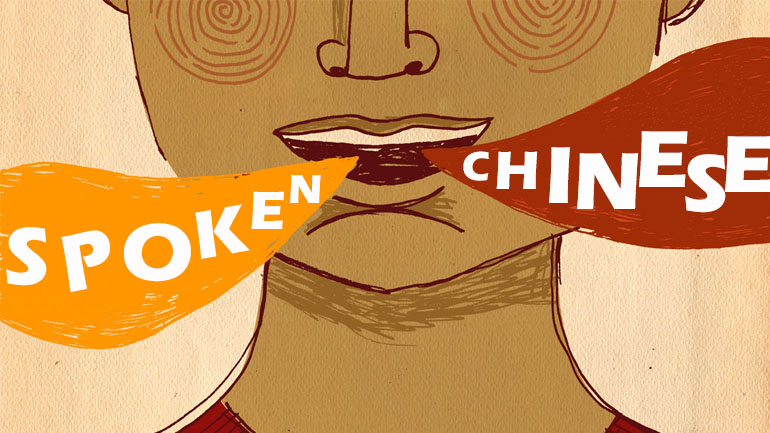 Understanding spoken Chinese can be surprisingly hard. This is the opposite to what most new learners think, but once you have got basic pronunciation down, listening is usually a bigger problem than speaking. There are many reasons for this, but the most important one is related to control. When you speak Chinese you can decide what you want to say. Naturally, you will say things you know how to say and stay away from things don't.
要听懂中文口语的确会出奇的难。这和大多数新手学习者的想法完全不同,不过一旦你掌握了基本的发音,听力便成了比说还要困难的问题。原因很多,但最主要的原因是在于掌控力。你说中文的时候,可以自己想好说什么。自然地,你会根据自己会说的方式去说,而避免说那些不会的。
So what should you do if you want to improve your listening ability? Here are a number of common problems. In general, practice makes perfect. Most of the problems listed here can be overcome simply by practicing more.
那么要想提高听力的话,该怎么做呢?以下是一些常见的问题。一般而言,熟能生巧。以下列出的问题可以通过多加练习来克服。
Three common problems with listening ability in Chinese
中文听力常见三大问题
Problem #1 – Listening speed. This problem is very common and it means that it simply takes too much time from when you hear a sound until you have correctly recalled its meaning. This means that you will lag behind the speaker, because the person speaking won't slow down just because it takes you a few seconds to figure out what a specific word means. If this happens often, you're likely to fail to understand that someone says even if you know all the words.
问题1:听力速度。这个问题很常见,其实这仅仅反映了你从听到第一个声音到完全正确回忆起它的意思所用的时间过长。这意味着你跟不上说话者的节奏,说话者不会因为你需要几秒钟思考某个具体字词的意思而放慢速度。这时常发生,即使你懂所用的字词,你也很可能无法理解那个人说的是什么。
Problem #2 – Phonological awareness. If you want to be able to understand spoken words, you need to be able to correctly distinguish the different sounds in Mandarin. If you can't do this, it doesn't matter if you know ten thousand words, you still won't understand what people are saying. This of course includes tones. If you find this hard, research suggests that you should try to listen to many different native speakers, don't just listen to your teacher.
问题2:语音意识。要想理解好中文口语,你需要能正确区分中文里不同的发声。如果做不到,即使你懂得上千字词也没用,你还是听不懂大家在说什么。这其中当然包括声调。要是你觉得很困难,有研究表明你应该试着多听听当地中国人说话,而不要只是听老师说。
Problem #3 – Vocabulary. This isn't actually related to listening directly, but it's still so common. Students often complain that they don't understand what people are saying to them. When they ask them to slow down or write things down, they still don't understand. This isn't a listening problem! It's not because your listening is poor, it's because you don't know enough words. Expand your vocabulary by reading and listening more, using text or audio that is at or slightly above your current level.
问题3:词汇。这其实和听力没有直接关系,但是这个问题还是比较常见的。学生经常抱怨他们听不懂大家对他们说了什么。当学生们让他们讲得慢一点或者写下所说的,学生们还是不懂。这不是听力有问题!这不是因为你听力比较差,而是因为你没掌握足够的词汇。多读、多听,拓宽词汇量,可以利用一些稍高于你水平的文本材料和音频。
Apart from these three important aspects, there are many other factors that come into play when you try to understand spoken Chinese. Context plays a very important role and if you know little about what someone is talking about or who they are, it will be even harder to understand what they're saying. Therefore, don't feel disappointed if you don't understand random sentences said to you, that's perfectly normal. You should strive to understand sentences said within context, because that's the kind of listening ability you really need.
除了以上三个重要方面,还有一些其他因素关乎你对中文口语的理解。语境很重要,要是你对某人所说的或者他们的身份了解甚少的话,就更难理解他们要说什么。因此,要是不能理解别人对你说的话,别灰心,这是非常正常的事。你可以努力在语境下理解好语句,这才是你真正需要的听力技能。