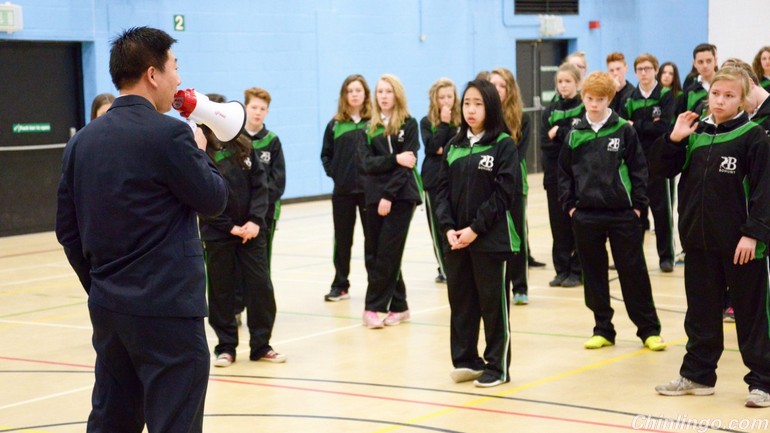 A BBC documentary broadcast in the UK this week followed the experiences of English pupils as their classes were taken over by Chinese teachers – and has caused a major debate in social media back in China.
英国广播公司(BBC)近日播放了一部描述中国教师对英国学生进行"中国式教学"实验的纪录片——在中国的社交媒体上引发了一场热议。
The film, called "Our Kids Tough Enough? Chinese School," toyed with the national stereotypes of both nations. Could the relatively mollycoddled British students handle the rigour and discipline demanded by the strict Chinese teachers? For four weeks, they began their days earlier at 07:00, cleaned their own classrooms and had lessons focused around note taking and repetition.
这部纪录片名为《我们的孩子足够坚强吗?中式学校》,围绕两国的教学模式而展开。相对于中国学生,较调皮的英国学生能受得了严厉的中国教师的严苛和纪律吗?在为期四周的时间里,他们每天7点早起,打扫自己的教室,上课重点就是死记硬背。
News of the documentary was picked up by Chinese social media users, and a hashtag which translates as #ChineseTeachersInBritishEducation started trending on Sina Weibo, China's answer to Twitter. Posts using the phrase have been viewed more than four million times on the network, as the questions raised sparked a lively debate about China's own education system.
中国社交媒体的用户注意到了这部纪录片,一个"中国老师在英国教学"的标签在新浪微博上开始火了起来。由于这一问题激起了一场对中国自身教育体制的热烈讨论,使用这个短语的帖子在网上被浏览了400多万次。
Many joining the discussion were fascinated to find out how the British system worked, and used it to criticise their own approach to education.
许多加入这场讨论的中国网民都一心想弄清楚英国教育机制是如何运行的,并借此批评本国的教育制度。
"Foreign education teaches children to live happily and teaches independent thought… it fosters creativity," read one comment. That focus on creativity appeared again and again in the discussion. "China's education is just cramming… it is solely performance-based," the comment continued. "For years nothing has changed. Students [in China] are taught like robots," wrote another.
一条网评说,国外教育教孩子们快乐生活,教他们独立思考……培养他们的创造性。在这场讨论中,注重创造性再三地被提到。这条评论还说:"中国的教育就是填鸭式教学……只看学习成绩。"另一条网评说,多年来,什么都没改变。(中国的)学生们就像机器人。
The same criticism was levelled at the country's higher education system. "China's university education system is really weak, most teachers only pay attention to their script," one comment read.
批评的矛头同样指向中国的高教体制。一条评论说:"中国的大学教育真的很差,大多数老师只是照本宣科。"
But others saw the value in the Chinese approach, and thought the environment in British classrooms was unruly. "How would you feel if you were a teacher, faced with a crowd of students who don't follow lectures, put their feet on the table, and sit eating or applying makeup?" said one Weibo user.
不过,另外有一些人看到了中国教育方法的价值,认为英国的课堂环境混乱,学生太任性。一个微博用户评论说:"如果你是老师,面对一群不认真听课、脚翘桌上、坐着吃东西或化妆的学生,你会有何感受?"