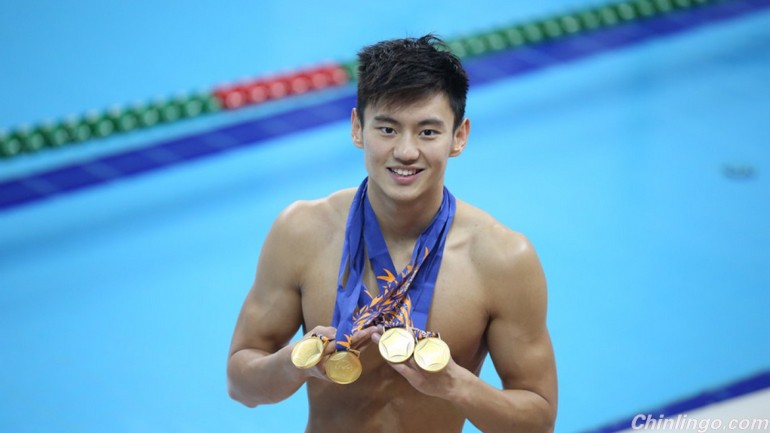 There's a new athletic darling crowding China's Internet these days: swimmer Ning Zetao.
中国网民现在有了新的体育界宠儿:泳将宁泽涛。
On Thursday, Ning won gold in the 100-meter freestyle at the 2015 FINA Swimming World Championships in Kazan, Russia. His 47.84-second swim made him the first Asian to win a medal in the 100-free at the championships.
8月6日,宁泽涛在俄罗斯喀山举行的国际泳联世界锦标赛上赢得了男子100米自由泳冠军。他47秒84的成绩使其成为在该赛事上首位夺得100米自由泳冠军的亚洲人。
Another impressive metric: The hashtag "Ning Zetao makes history" on China's Weibo social-media network racked up more than 66 million readers, according to the service.
另一个让人震惊的数字是,据新浪微博统计"宁泽涛创造历史"这一话题的转引量高达6600万次。
The 22-year-old from Zhengzhou in Henan province is filling up some of the celebrity sports space left by Li Na, China's tennis superstar who retired last year after winning the Australian Open, and who gave birth to a baby girl in June. Ning, a lieutenant in the Chinese navy, quickly became a popular figure on Weibo, attracting a swath of ogling admirers.
今年22岁的宁泽涛来自河南省郑州市,他正在填补自李娜退役后中国体育界明星的空白——中国网球名将李娜去年赢得澳大利亚网球公开赛后退役,今年6月生下一名女孩。而身为海军中尉的宁泽涛迅速成为微博红人,让无数粉丝心动。
One of CCTV's host wrote on his verified account, "he is the husband in everyone's dream." Referring to the Facebook-like social-media function of the popular social-media app WeChat, he added, "all women went crazy overnight, and pictures of all angles of his abdominal muscles swept my WeChat Moments."
中国中央电视台一名主持人在其实名认证的新浪微博上写道:"真正的国民老公诞生了……一夜之间女同胞们都疯了,朋友圈里被各种角度的腹肌刷屏了。"
Another user wrote, "He could have lived on his good-looking face and body, but instead he chose to live on his talent and hard work. A thumb's up!"
另有网友写道,他"明明可以靠脸和身材,偏偏要靠才华和努力。好样的"。
The swimmer – whose chubby cheeks have led him to be called xiaobaozi, meaning "little steamed stuffed bun," by admirers and even by himself on his social-media accounts – has become an object of intense speculation online.
因为脸颊圆润而被粉丝昵称为"小包子"的宁泽涛已引发了网友们的种种猜测。
On Friday, two topics with Ning's name made the top 10 of Weibo's hot-search list: "Ning Zetao's Girlfriend" and "Ning Zetao and Son Yeon-jae" – the latter a Korean gymnast whom expressed her admiration for Ning on a talk show last year, after the Chinese swimmer came into the spotlight at the Incheon Asian Games. Some users speculated whether Ning and Son were together, though others were quick to point out Chinese military marriage rules forbade military personnel from marrying foreigners.
8月7日,两条与宁泽涛有关的话题成为新浪微博的十大热搜词条:"宁泽涛女朋友"和"宁泽涛孙妍在"——孙妍在是一名韩国体操运动员,去年宁泽涛在仁川亚运会上表现瞩目后,孙妍在曾在脱口秀节目上表达了对这名中国泳将的爱慕之情。有些网友怀疑宁泽涛和孙妍在是否为情侣,而其他网友很快表示中国军队规定军人不得与外国人结婚。
By 2:30 pm, there were more than 100,000 web users who posted selfies, alongside the "Ning Zetao's Girlfriend" hashtag, claiming they were Ning's girlfriend. Photos of Ning's six-pack abs were widely circulated, along with comments saying it would be best if he remained shirtless.
到8月7日下午2:30分,超过10万名网友上传自拍照并附"宁泽涛女朋友"的话题符号,声称自己是宁泽涛的女友。而宁泽涛六块腹肌的照片也被广泛转发,有网友评论说如果他能一直不穿上衣就好了。
"We call handsome boys little fresh meat," wrote another Weibo user, invoking a common piece of Chinese slang. "But for special ones like Ning, he should be called little fresh fish."
"一般的帅哥我们称之为小鲜肉,宁泽涛这种不一般的帅哥应该叫做小鲜鱼,"新浪微博的用户这样写道。