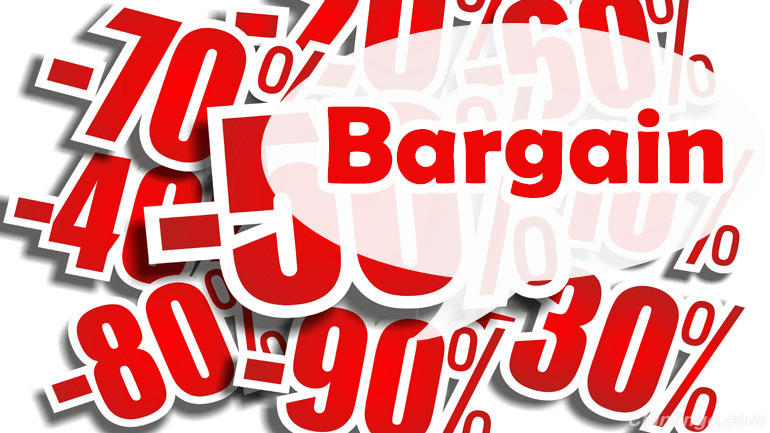 "To bargain" in Chinese is "砍价(kǎn jià)", or "讲价(jiǎng jià)", "杀价(shā jià)" and "讨价还价(tǎo jià huán jià)". It refers to a buyer and a seller negotiating the price over during the purchase. Some foreigners might wonder when to bargain while they are shopping in China, and how to get the things they like with the lowest price possible. Let us introduce some basics of the art of bargaining in China.
砍价,也叫讲价、杀价、讨价还价。意思是在买东西的时候,买家和店主之间商量价格的过程。有外国朋友问:在中国买东西的时候,什么时候可以砍价?怎样才能以最便宜的价格买到自己喜欢的东西呢?本文给大家讲一讲砍价的艺术。
You can only bargain in some places. At the shopping malls or supermarkets, normally you have to buy things with the marked price and can't bargain. However, at some smaller stores or markets, you can. The merchants will raise the price higher in order to make profits here. In this situation, you might stand to lose money if you don't bargain with them.
在有些地方买东西,你可以砍价,在有些地方则不行。在大商场或者超市买东西,一般都要按照标明的价格来购买,不能砍价。而在一些小商店或者市场买东西,就可以砍价。在这些地方,商家为了赚钱,把价格抬得比较高。这时,如果你不砍价,你可能吃亏。所以,为了不吃亏,你就要砍价。
But how to bargain?
那么,如何砍价呢?
Let's say you want to buy clothes. You can ask the owner, "How much for this piece of clothing?" The owner might offer you a price like 200 yuan. Then you have to think whether you find the price reasonable or not. If the owner offers a price you find too high, you must bargain. You might say, "That is too expensive!" or "Can it be cheaper?" Then, name your own price. Half of the price they offer is usually much closer to the real cost. You can say, "How about 100 yuan?" Of course, you will deal with different prices in different cities and different locations.
例如,在看中一件衣服后,你可以问店主:"这件衣服多少钱?"店主会给你一个价格,比如:200元。这时你要想一想,这个价格合理么?如果店主的出价比较高,你就要和他砍价。你可以说:"这个太贵了","可不可以便宜点?"然后提出你自己的价格。你可以提出一半的价格,这个价格比较接近成本。你说:"100卖不卖?"当然,在不同的城市或地点,出价的情况都不太一样。
You must keep in mind that you should not show you like the clothes. Instead, complain about the flaws. In this way, the owner will think that you might know something, and they will consider selling it at a cheaper price. Then the owner will lower the price a bit and might say, "How about 180 yuan, just for you?" Next, you can raise yours a bit too: "This piece is worth no more than 120 yuan." Finally, the bargaining will end up with a middle price, and you might get the clothes for 150 yuan. But if the owner does not agree to lower his original price, you can just pretend to leave without buying it. Then the owner might feel bad and sell it to you anyway for a cheaper price.
你要记住,不要表现出对这件衣服很喜爱,反而还要指出这件衣服的缺点。这样,店主就觉得你比较内行,就会把商品便宜卖掉。之后,店主就会稍稍降低他的价格,"180元,卖给你,怎么样?"然后你也可以稍稍提高你的出价,"这件衣服最多120元。"这样,你们最后就会商量出一个中间的价格。你可能花150元就把这件衣服买下。但如果店主不同意再降价,你还可以假装不买了,准备离开。这时店主觉得可惜,就有可能把商品便宜卖给你。
Do not get nervous during bargaining. The more bargaining you do, the more experience you will get.
在砍价的时候,不要紧张。砍得多了,你就会觉得越来越有经验。