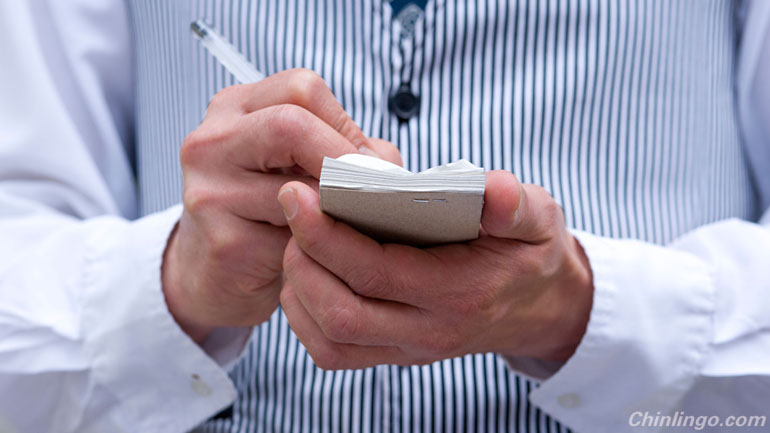 Get a menu
拿到菜单
Go to your favorite restaurant with a Chinese-only menu. Get a copy of the menu. It may only have a menu on a wall, in which case you'll need your digital camera. They may not want to part with one of their menus, but if you pay them something, they'll usually do it. If you're a bold charmer, you might also be able to get them to lend you their menu while you get it photocopied down the street.
去一个你最喜欢但只有中文菜单的餐厅,拿一份菜单。有些餐厅的菜单可能是在墙上的,这时就需要你的数码相机或手机了。他们可能不想给你,但如果你給他们一点钱,那他们通常就会给你的。但如果你魅力十足,他们可能会把菜单借给你去街边的打印店复印一张。
Tip: a typed menu will save you a lot of grief.
小窍门:一份打印的菜单会为你减少很多后续的麻烦。
Type up the menu
抄菜单
Now here's the kicker. You're gonna love it. You have to look up every word and every character you don't know and transcribe them. It may be possible to get an electronic copy of the menu, but honestly, that's not really going to help you. Suffer for your menu. This step will take you some time, but it's the most crucial.
接下来这一招是杀手锏,你一定会喜欢。首先要查出你所有你不认识的字词并且写下来。也许你可以找到菜单的电子文档,但坦白地说,这对你的帮助不大。抄写菜单是会比较痛苦并且要花一些时间,但这是非常关键的!
Learn the menu
学习菜单
This is not the part where I advocate rote memorization. If you've done step 2, at this point you will have some vague idea of what most things on the menu are. This will make you very happy, but you're not done! For every dish you're not totally clear on, you either have to ask what it is, or, if you don't have the language skills for that yet, order it. Another option is pointing to what other people in the restaurant are eating and asking the staff to identify it on your copy of the menu while you make notes. If you're smart, you'll usually be going to the restaurant when there aren't many other customers so that the staff will be more patient and accommodating to your wacky laowai menu antics.
这可不是要提倡死记硬背。做完第2步以后,你会对菜单上的菜名有些大致的了解。这一点会让你挺开心的,但这还没完。这时候你还没完全搞懂每道菜到底是什么,所以你要去问别人,或者对那些中文沟通水平不够的人,就直接去点菜吧。还有一种方法,就是去问服务员其他人吃的什么,并让服务员告诉你是菜单上的哪道菜,你再备注在自己的菜单复印件上。如果你够机智,你应该会挑顾客不是很多的餐厅,这样服务员就会更有耐心、更愿意去帮助一个奇怪的老外回答一些关于菜单的滑稽的问题。
Translate the menu
翻译中文菜单
This may seem unnecessary, but it really helps. Translate the entire menu into English. Now, this may be kind of tough to do. Chinese dish names, at times, seem to crafted precisely to defy translation. Advice: Be descriptive, and have fun. So maybe 鱼香 literally means "fish fragrant" and it often gets translated that way, but it's not even fish, and that translation sucks! Go "have fun" route and translate it triumphantly as "fishilicious".
这一步看似没什么必要,可是却很有帮助。把整个中文菜单都翻译成英文,这样做或许有点困难。感觉中文的菜名有时候完全不能直译。建议:翻译字面意思,同时乐在其中。比如,"鱼香"的字面意思是"fish fragrant",一般菜单也是这样翻译的。可实际上并不是鱼,这样翻译的话太糟糕了!遵循"乐在其中"的原则,把它翻译为"fishilicious"。
Share the menu
分享菜单
This one is optional. Print out copies of your bilingual menu and share it with the restaurant. Typically, they will absolutely love you for this, because it means they can use it in the restaurant to try to attract the "big foreign money." You can share it with your fellow foreign students or co-workers. New arrivals to China were especially grateful for this.
这一步可有可无。把你的双语菜单打印出来,分享给餐厅。一般来说,他们会非常喜欢你这样做的!因为他们可以用它去赚外国人的钱。你也可以和你的外国同学们或同事们分享。初来乍到的外国人会对你感激不尽的。