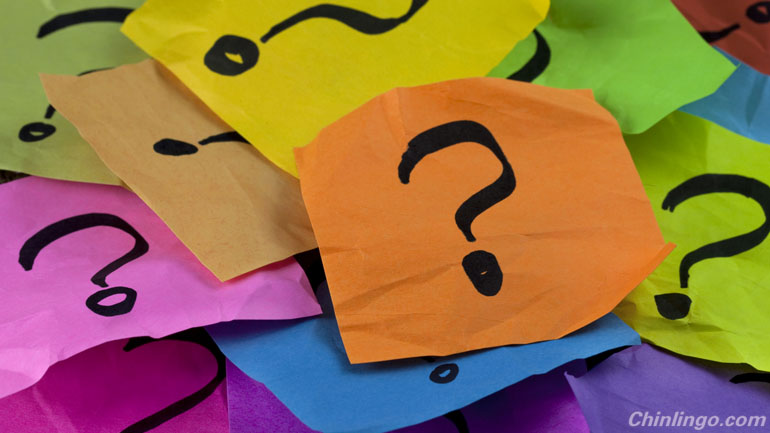 While 听不懂 is a useful phrase that any beginner needs to learn, it can't help in all situations. What someone is communicating with that 听不懂 is essentially, "I don't understand anything you are saying," when in fact it is only part of what is said that gives him trouble.
"听不懂"这个词虽然是每个初学者都需要学的较为实用的短语,但并不意味着这句话在任何情况下都适用。当某人说"听不懂"的时候,等于是在说"你说的话我一个字都听不懂",而实际上他真正没听懂的只有一小部分。
There's a solution to this problem. When you don't understand, you can communicate what you don't understand better. Sometimes the person talking is drunk, or old, or young, or suffering from a speech impediment, or mumbling. None of that is your fault, but you do have to deal with it.
遇到这种情况有一个解决办法。当听不懂时,你可以更好地表达具体哪里听不懂。有时说话人是喝醉了的人、口齿不清的老人或小孩、先天言语障碍或者爱咕哝的人。这些情况下你听不懂并不是你的原因,但你必须想办法去解决这类问题。
Here are some options for when you're ready to go beyond 听不懂:
要是你已经不想再用"听不懂"这个表达了,这里有一些选择:
什么?我没听清楚。-What? I didn't hear clearly.
This one is good partly because it's not the 听不懂, which immediately clues the listener into the fact that you may, in fact, know more Chinese than just a handful of phrases from a phrasebook. Also, claiming that you didn't hear clearly kind of implies that if you had heard clearly, you may have understood. Give yourself a little credit. People frequently don't speak clearly.
某种程度上这一表达还不错,因为它和"听不懂"不一样,这个表达立马就会让听的人感觉你的汉语水平不仅限于词汇书上学来的那几个词。同时,这一表达的另一层意思是"如果我刚刚能听得清楚点儿,也许我就明白了"。给自己一点信心!人们说话的时候常常不是很清楚的。
我没明白你的意思。-I didn't understand what you mean.
Be clear, this is not the same as 听不懂. This sentence may be used by native speakers when they understood every word, but the sentence doesn't make sense to them or the speaker's meaning is unclear. So this one is perfect for those situations when you understood every word but don't know what the person means.
要先明白,这句话和"听不懂"意思是不一样的。中国人在用这句话时,很有可能对一段话的每一个词都理解,但不是很理解这段话想要传达的意思或者说的人意思表达不清楚。所以,当你理解每句话的字面意思,但还是不明白对方想表达什么的时候,这个表达就非常适宜。
你在说谁?-Who are you talking about?
This one only makes sense if you're reasonably sure the person is talking about somebody, but you're not clear who. Obviously, this can really backfire if they weren't talking about any person, but most things people say involve some person, so there's a little room for error here.
当你确信对方谈到了某人而又不确定是谁的时候,这句话就派上用场了。当然了,如果对方没谈到某人,这句话就会适得其反了。但是大多数的聊天内容都会涉及到某些人,所以你也不用过于担心会说错。
你的意思是…… So you mean…
Sometimes your best bet is to just guess what the person means. Don't underestimate the usefulness of this strategy! I've seen beginners with 5% comprehension totally guess what a speaker means, while an intermediate learner stands next to them with 60% comprehension, dumbfounded. The difference is paying attention to context. One of the advantages of guessing the speaker's meaning is that you're kind of "showing your cards." You're giving the person an idea of your vocabulary and listening comprehension level. And sometimes the words you use are enough to help them modify what they said originally into a form you can understand.
有时最有效的方法就是去猜对方要表达的意思。千万别低估这一方法的有效性。我就看到过有的初学者在只听懂了会话内容5%的情况下,就能猜到对方要表达什么意思,而一个中级水平的学习者,尽管他能听懂60%的会话内容,却可能会一脸茫然。二者的区别就在于对上下文的理解。这样去猜对方意思的好处之一是可以让对方清楚你真实的汉语水平能力,让别人知道你的词汇量和听力理解水平。有时你使用的词汇就足够能让对方明白如何把他们要说的话用你能听懂的方式表达出来。
There are a lot of others you could use too, and probably all of them are better than 听不懂. You just have to put yourself out there a little. Don't shut people out with your non-comprehension. They'll help you if you let them.
还有很多其他的表达方式可以用,所有的方式可能都比"听不懂"效果要好。你只需要跨出一小步,别因自己不理解而把所有人关在心门之外。只要你打开心门,你就会发现很多人都可以帮到你。