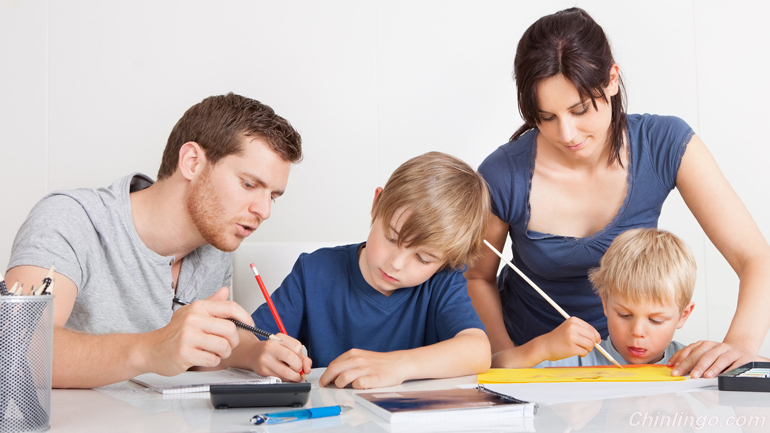 Learning any language is a multi-faceted process that demands patience and effort, yet is rewarding in so many ways. If you're committed to the idea of learning Chinese alongside your children, you'll be able to share this special experience with them and reap the benefits of knowing the language throughout life. The long-term rewards of learning Chinese will add to the richness of your children's lives and give them the opportunity to explore a beautiful culture and make new friends.
学习一门语言是一个多方位的过程,需要耐心和努力,不过收获也颇丰。如果你已经决定与孩子一起学习中文的话,那么你将可以和他们一起分享这段经历,并且收获一生习得这门语言的益处。学习中文的长期收获将会丰富你孩子的生活,给予他们探索一个美妙文化以及结交新朋友的机会。
One of the ways to help your children embrace learning Chinese is by making the process fun whenever possible. Here are 3 tips for incorporating Chinese into your family's routine in unique ways:
帮助孩子学习中文的一个方法就是尽可能让整个过程充满趣味。以下是3个将中文学习融入家庭日常的独特方法:
1) Schedule a movie night
安排一个电影之夜
Spice up your family's next movie night by choosing a popular Chinese film to watch. Younger kids will enjoy animated films like 2014's smash hit "Meet the Pegasus." Teens and adults will be glued to the screen for one of China's recent intense fantasy films like "The Monkey King" or the critically acclaimed drama, "So Young."
通过观看流行中国影片让下一次的家庭电影之夜活跃起来。小孩子们可以开心享受动画电影,比如2014年大红的"喜羊羊与灰太狼之飞马奇遇记"。青少年或者成人可以专注观看中国最近大热的魔幻电影,如"大闹天宫"或者广受好评的影片"致青春"。
2) Play board games
玩桌游
Does your family get together for a Family Game Night on a weekly or monthly basis? You can spice things up by adding a new Chinese game to the mix and inviting your children to learn about its history. "Go" is an ancient strategy game that dates back some 4,000 years. You can buy a low-cost set online and watch a few instructional videos to help you get things started. You can also try some games your kids might already be familiar with, like Monopoly, that are printed in Chinese.
你家是一周一次还是一个月一次组织成员参与家庭游戏之夜?你可以加点中文游戏来活跃气氛,让你的孩子可以学点相关的历史。围棋是一项有着4000多年历史的古老策略游戏。你可以在网上低价买到一整套(围棋),然后看些说明视频帮助自己熟悉游戏。你也可以试试一些孩子们已经熟悉的游戏,比如中文版的"大富翁"。
3) Plan a Chinese meal.
安排一顿中餐
If your family is used to ordering Chinese takeout, they will be shocked at the huge variety of Chinese dishes they've never heard of or tried before. Look up recipe ideas online, create a shopping list, and then have a fun outing to your local Asian supermarket. Let your kids pick out some snacks–perfect for movie and game nights–in addition to getting the essentials for your homemade Chinese meal.
要是你的家庭尝试过订中餐外卖的话,那一定会被大量没听过或没尝过的各式各样的中国菜品震惊到。上网查看一些菜谱,拟份购物清单,然后就去附近的亚洲超市开心购物吧。让你的孩子自己挑选一些适合看电影和玩游戏时消遣的零食,另外别忘了买些在家做中餐的所需的必备材料。