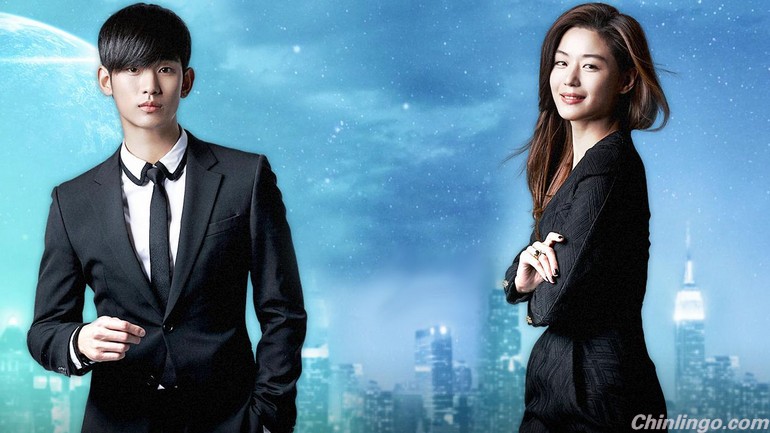 China's obsession with a South Korean television show about a 400-year-old Harvard-educated alien who falls in love with an arrogant actress reached such a frenzy last year that online streaming companies here began racing to snap up licensing rights for other South Korean television programs, inflating their prices almost tenfold.
一部讲述受过哈佛教育的400岁外星人爱上傲慢女演员的韩国电视剧,在中国引发痴迷的热潮,导致中国在线流媒体公司开始竞相抢购其他韩国电视节目的播映权,令价格翻了几乎十倍。
Then China's entertainment regulators stepped in, imposing greater limits on foreign television content as part of a broader campaign to rein in China's fast-growing market for online video, which has become a popular alternative to Chinese broadcast television. (According to official statistics, there were 433 million viewers of online video — TV shows included — in China by the end of 2014, making it the largest streaming market in the world.) Many in the online video industry in China suspect the new guidelines were issued at least partly because of the popularity of "My Love From Another Star."
中国娱乐监管机构随后着手对外国电视内容施加了更大的限制,并且采取了更广泛的措施来约束中国的网络视频市场。这个市场正在快速增长,已成为了电视台节目的一个广受欢迎的替代选择。(中国官方统计数据显示,在2014年底,包括电视节目在内的网上视频共获得4.33亿观众,使其成为全球最大的市场)。中国网络视频业的很多业内人士都觉得,新准则的出台至少部分上是《来自星星的你》引发的。
Faced with the limits, popular streaming websites like Sohu, iQiyi and Youku want to develop their own Korean-inspired content to sate the country's appetite for the programming, part of a broader fascination with Korean popular culture. That has meant trying to tap into South Korea's secret sauce — the magic formula that has turned the country into a pop-culture juggernaut that churns out viral exports like the singer and rapper Psy, the singer Rain and hits like "My Love From Another Star."
面对这些限制,搜狐、爱奇艺和优酷等人气流媒体网站想要推出自己制作的韩国风格内容,以满足国人对这类节目的需求,因为韩国流行文化在中国引发了广泛迷恋。这意味着尝试利用韩国的秘密武器,一个让韩国变成流行文化大国的神奇配方:大量打造出在国外广受欢迎的艺人和节目,比如说唱歌手Psy、歌手Rain,以及《来自星星的你》这样的热播剧。
"We share the same culture and cherish similar social values," said Sophie Yu, director of international communications for iQiyi, the online video streaming website affiliated with the search giant Baidu. "So Korean content naturally is easy to be understood and accepted by the Chinese audience."
"我们有着共同的文化,珍惜类似的社会价值观,因此韩国的节目很容易被中国观众理解和接受。"爱奇艺的国际传讯总监索菲·于(Sophie Yu)说。爱奇艺是搜索巨头百度旗下的一个流媒体视频网站。
For Chinese companies, part of the strategy includes making Chinese versions of popular South Korean fare, particularly variety and reality shows. Some of the hottest Chinese programs, like Zhejiang Television's game-variety show "Running Man" and Hunan Television's reality show "Where Are We Going, Dad?," were based on South Korean formats. Nearly all of China's top online video websites have signed agreements with South Korean television stations and production companies to co-produce television shows tailored for Chinese audiences.
对于中国企业,这个战略的部分内容是制作人气韩国节目的中国版本,尤其是综艺和真人秀节目。中国当前最火爆的一些电视节目,如浙江电视台的游戏综艺节目《奔跑吧兄弟》,湖南电视台的真人秀节目《爸爸去哪儿》,都是以韩国节目为模版制作的。中国几乎所有的顶级在线视频网站都已与韩国电视台及制作公司签订了协议,联合制作专门针对中国观众的电视节目。
But after the success of "My Love From Another Star," Chinese companies are setting their sights higher. Millions of viewers in China last year tuned in to watch the 21-episode mini-series, which originally aired on the Seoul Broadcasting System, a leading South Korean network.
但《来自星星的你》大获成功后,中国公司把目光投向了更高的地方。去年,数以百万计的中国观众收看了这部21集的韩剧,它最初是在知名韩国电视台首尔放送(Seoul Broadcasting System)播出的。
The show ignited a nationwide frenzy. Fans were hospitalized for binge-eating fried chicken and beer (the star actress's favorite food on the show), and even the first lady of China, Peng Liyuan, became swept up in the fever. She was quoted by the state-run People's Daily commenting on the physical resemblance between the lead actor, an extraterrestrial heartthrob with a mop of jet-black hair, and her husband, President Xi Jinping, in his younger years.
该剧集引发了全国性的狂热。因为暴食炸鸡和啤酒(该剧中的女演员最喜欢的食物),一些粉丝进了医院,甚至第一夫人彭丽媛也未能免俗。该剧男主角是一个来自外星的万人迷,头发乌黑浓密,官方媒体《人民日报》援引彭丽媛的评论说,她丈夫习近平年轻时与这名男主角的外形有些相似。
The target audience for dramas like "Star," as is it known, consists mostly of women in their teens to early 40s who prefer to watch shows known as naocanju, or "brain-dead dramas," instead of popular series from the United States, like "Game of Thrones" and "House of Cards."
《来自星星的你》这类电视剧的目标受众主要是十几岁到四十岁出头的女性。相比于《权力的游戏》和《纸牌屋》等热播美剧,她们更喜欢看这种被称为"脑残剧"的节目。
Maggie Xiong, senior director of international acquisitions at Youku, the streaming service, said the show "brought Korean content to the mainstream." It was streamed more than 2.5 billion times in the first three months after its premiere in December 2013.
流媒体服务优酷网的国际采购高级主管熊淑琴表示,这部剧"将韩国内容带给了主流观众"。该剧在2013年12月首播,前三个月的观看量超过25亿次。
" 'My Love From Another Star' was a very exceptional show, just like 'Friends' in the 1990s and early 2000s," said Grace Guan, who manages Sohu's Korean content strategy. "We would all love to make a show like that, but there are so many elements involved."
"《来自星星的你》是一部非常棒的电视剧,就像20世纪90年代及21世纪初的《老友记》(Friends)一样,"搜狐韩国内容策略负责人关咏说。"我们当然希望能做出这样的剧,但这涉及很多要素。"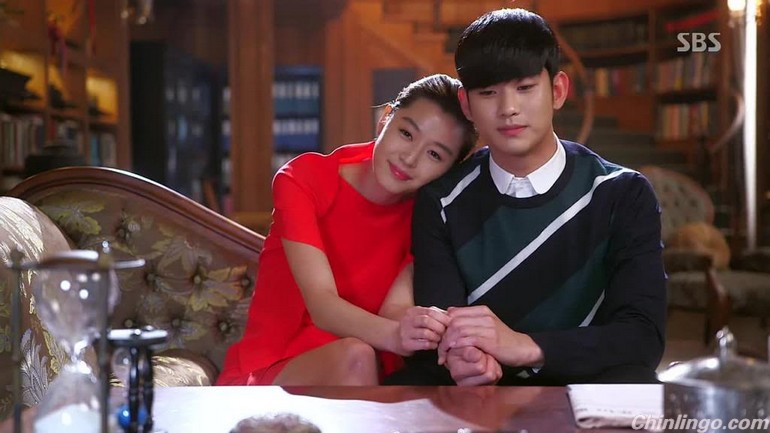 For years, entertainment industry observers in China have sought to explain Korean television's foothold in China. They say it comes down to packaging.
多年来,中国的娱乐行业观察人士试图解释韩国电视业占据中国市场的原因。他们称,归根结底在于包装。
"The Koreans continue to do well because of the details," said Fan Xiaojing, a Chinese journalist and long-term analyst of the Korean entertainment industry. "China just can't capture the romance."
"韩国人一直能做的比较好是因为他们注重细节,"中国记者、长期关注韩国娱乐业的分析师范消静说。"中国就是无法捕捉到那种浪漫。"
Unlike in China, where experts say up to 70 percent of a production's budget can be spent on actors' salaries, both Korean and Chinese producers say that Korean shows tend to spend more on production sets and screenwriters, avoiding fake props, brands and backdrops in favor of the real things. And since in Korea shows are broadcast soon after they are filmed, scriptwriters and directors can get feedback quickly, allowing them to make tweaks according to audience demands.
专家称,中国多达70%的制作预算都花在演员身上,韩国和中国的制片人都表示,与中国不同,韩国的节目往往在制作布景及编剧方面花费更多资金,避免假道具、品牌及背景布幕,使用真材实料。由于韩国的电视剧在拍摄完毕后立即播放,编剧和导演很快就能得到反馈,使得他们能够根据观众的要求做出调整。
Actors in Korea are also groomed from a young age and taught how to walk and dress, said Ms. Guan, who previously worked at an artists' management agency in Seoul. They are taken in for plastic surgery, and as part of their training are instructed on how to "let just one teardrop fall."
之前曾在首尔一家艺人经纪公司工作的关女士表示,韩国的演员也是从很小开始培养的,他们学习如何走路、穿衣。他们接受整容手术,作为训练的一部分,他们还要学习如何"只流下一滴眼泪"。
The Chinese are catching on, producers on both sides say, as they also learn what content resonates most with Chinese audiences. According to producers, the show must be fast-paced, and if it is a drama, it should be a love story.
中韩两国的制片人都表示,中国人正在迎头赶上,他们也在了解什么内容最能让中国观众产生共鸣。这些制片人表示,节目必须是快节奏的,如果是电视剧的话,应该是爱情故事。
"Chinese people think the good dramas are ones with nonrealistic themes," said Ma Xue, a cultural critic and producer. "All involve a Cinderella who falls in love with a prince."
"中国人觉得,好电视剧就是那些讲非现实主题的,"文化评论人、制片人马雪说。"讲的都是灰姑娘与王子恋爱的故事。"
As for love, the expression of it is usually restrained. In "Star," when the alien character, Do Min-Joon, and the star actress, Cheon Song-yi, even so much as kiss, Do Min-Joon falls violently ill.
而爱的表达通常是克制的。在《来自星星的你》中,外星人都敏俊和女明星千颂伊即便是接吻,都敏俊都会出现严重的不适。
According to the new regulations, which were issued in September, foreign television shows cannot constitute more than 30 percent of TV content on Chinese online video-streaming sites. In addition, all foreign television shows must be reviewed by censors before they can be streamed.
根据去年9月公布的新规定,中国各流媒体网站提供的外国电视节目内容不能超过其总量的30%。除此之外,所有外国节目在上线播出前,必须经过审查机构的审查。
Korean production companies are still finding ways to take advantage of the fast-growing online market in China. HBEntertainment is partnering with a Chinese company to produce two new dramas similar to "Star" specifically for the Chinese market, one in Chinese and one in Korean with subtitles.
韩国的制作公司仍在想办法利用中国快速发展的网络市场。 HB娱乐公司正在与一家中国公司合作,特别针对中国市场制作两部与《来自星星的你》类似的新剧,一部是中文的,一部是韩语的,但都会加上字幕。
"China is a big part of our strategy now," said Bomi Moon, head of the Korean company HB Entertainment, which recently opened a Beijing office. "Many Chinese companies want to work with Korean partners because we're good at writing scripts."
"中国现在是我们的战略的重要组成部分,"韩国HB娱乐公司负责人文普美说。"很多中国公司都希望与韩国公司合作,因为我们擅长写剧本。"该公司最近北京开设了办公室。
Whether this will result in a show as popular as "Star" has prompted much debate in China. During the annual session of the National People's Congress last year, some members spent a full morning panel discussion bemoaning that China could not have made "Star."
他们能否制作一部像《来自星星的你》一样受欢迎的电视剧,在中国引发了很多争论。在去年全国人民代表大会召开度会议期间,一些人大代表花了一上午的时间开展小组讨论,叹息中国没能制作出《来自星星的你》。
One high ranking Chinese politician, Wang Qishan, said he watched the show. "Actually, I have been wondering why Korean dramas have such a strong foothold in China," he said, according to The Beijing News. "After watching I finally understood — Korean dramas are ahead of us."
中国高层政治人士王岐山表示他看了这部电视剧。据《新京报》报道,"其实我就考虑一个问题,韩剧为什么占领了中国?"王岐山说。"看半天我发现我明白了,韩剧走在咱们前头。"