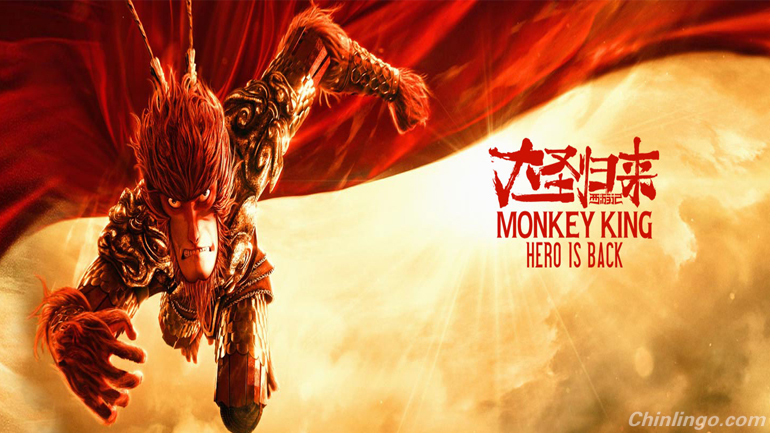 "Monkey King: Hero is Back", the 3D animated adaption of the classical epic "A Journey to the West" that premiered Friday, has wooed both fans and industry players in China, with many heralding it as one of the best Chinese animations in history.
The film has not only achieved phenomenal financial success, grossing more than 136 million yuan in just four days after release, but has also stoked the fires of creativity and started conversations on the future of Chinese animation.
"They said I was dead, those who are fond of the new and tired of the old. They would like to see me dead. Are you one of them?" This slogan, used on the movie's poster, struck a chord among Chinese viewers.
The Monkey King is a household name in China, most, if not all, people were told his stories as they were growing up or have watched TV adaptions of his adventures.
In his shining armor and scarlet cape, he is probably the first legendary hero most Chinese know. Seemingly omnipotent, he accompanies his master, Monk Tang, on a pilgrimage to India, defeating monsters along the way.
The movie was an eight-year labor of love for director Tian Xiaopeng. He spent more than 100 million yuan to ensure it had the highest quality 3D effects, while weaving elements of Chinese culture throughout th movie in its images, music, dialogue and colors.
"It is a story about love and courage, with the character battling to see which one can help him retrieve his lost dream," the director reflected.
Tian said he had been inspired to make the movie by his son, who was two at that time. He said he saw how fascinated he was with foreign heros such as Batman, and he felt a pang of guilt.
"I had to do something. He needed Chinese legendary heroes," he said."The Monkey King is a hero from the East. He is unruly and tragic, but persistent and unyielding."
In the movie, the Monkey King is no longer an invincible superhero, but a frustrated guy who has lost his magic powers and life goals. After he meets Monk Tang, who in the film is re-imagined as a boy, he finally finds something that needs protecting, and this sets him on a new path in life.
The film's portrayal of protagonist, struggling with the trappings of day-to-day life resonates with many ordinary Chinese who have outgrown their belief in stories and legends, and face similar frustrations in life.
Cinemas have scheduled up to seven screenings of the movie a day, and are reporting sales of at least half the tickets for each show, often more.
"This is the only movie I had high expectations of. And I wasn't let down," said Ou Xuting, 30, who watched it on Monday. She admitted that she was so excited that she even shed tears.
"The Monkey King is part of our culture," she said. "When he was fighting and Chinese instruments or Beijing Opera songs were playing, I felt so proud."
"China is not short of good stories, but so many have been turned into films by foreigners," she added.
Xing Xiaofeng, 53, who is in the insurance business, said she had come to see the film after reading rave reviews on the Internet.
"Eight years is a long time on just one project," she said. "I can see his efforts paid off. This is, by far, the best Chinese animation ever. I hope that this the beginning and we see more excellent Chinese animation films in the near future."
Renowned online film critic Taotaotaofilm, who has close to 472,000 followers on Sina Weibo and writes for "Movie View" magazine, told Xinhua that the animation had reignited people's passion of Chinese culture.
"We have had great animations in the 1980s," he said. "But, although Chinese filmmakers learned from Hollywood, they gradually lost the essence of their culture."
He did say, however, that the film was far from perfect, with sometimes abrupt plot turns, and, although this was a great example of the future path of the Chinese cartoon industry, there was still a long way to go.
Nonetheless, as the Monkey King said in the movie: "If you are courageous enough and persist, one day, you will achieve that goal."