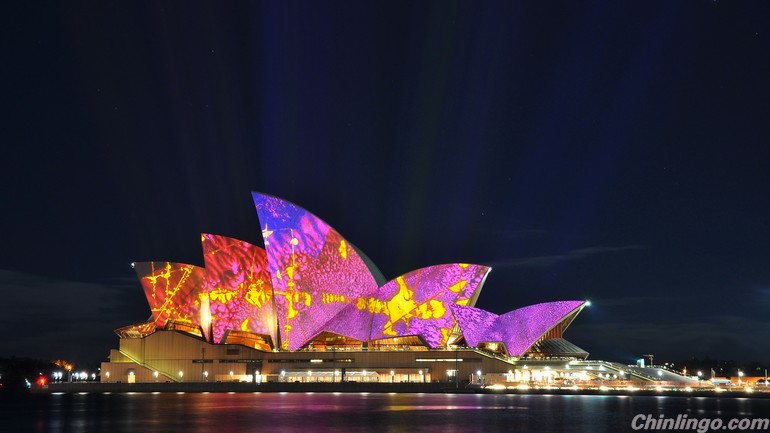 The increasing importance of the lucrative Chinese market to Australia's tourism industry has become even clearer, with new figures showing the 2.7 per cent growth in inbound arrivals in May can be attributed solely to an increase in Chinese visitors.
有利可图的中国市场对澳大利亚旅游业的重要性日增这一事实已变得愈发清晰,新数据显示,5月入境人数增加2.7%,而这只能归功于中国游客数量增加。
The Australian Bureau of Statistics overseas arrivals and departures figures released on Tuesday show 483,000 short-term international visitors arrived in May, including a 29 per cent rise in Chinese visitors to 62,300. But the overall growth rate of 2.7 per cent was the slowest since a 1 per cent decline in international tourists reported in January.
澳大利亚统计局7月7日发布的外国人出入境数据显示,5月,有48.3万短期国际游客抵达澳大利亚,其中中国游客数量增加29%至6.23万。但是,2.7%这一整体增长率是1月国际游客数量减少1%以来最低的。
The additional 14,000 Chinese tourists in May outstripped the 12,900 rise in tourists from all nations combined, although notably the 2014 figures had been boosted by arrivals for series of large global conferences such as the World Congress of Cardiology. May is traditionally one of the weakest months for inbound tourism.
5月增加的1.4万中国游客超过了其他所有国家增加游客数量的总和(1.29万)。值得注意的是,2014年的数据因召开世界心脏病学大会等一系列大型国际会议而增加。5月传统上是入境旅游的淡季之一。
"We continue to see impressive numbers out of China, our fastest-growing and most valuable international market which is undoubtedly the engine room of inbound growth at the moment," Tourism Australia managing director John O'Sullivan said.
澳大利亚旅游局总经理约翰·奥沙利文说:"我们继续看到,中国游客的数量给人留下深刻印象,中国是我们增长最快、最具价值的外国市场,目前无疑已成为入境人数增加的发动机。"
The national tourism marketer has been undertaking several initiatives to boost Chinese tourism such as building an elite network of travel agents in China who are specially trained to sell tour packages to high-yielding clients. In addition, Chinese airlines have been boosting capacity to Australia after an expanded bilateral air services agreement was signed in January.
澳大利亚旅游局这一全国旅游业推广机构一直在主动采取行动、推动中国人到澳大利亚旅游,例如,在中国建立一个由经过专门培训、向高回报客户出售包价旅行产品的旅行代理人组成的高端网络。还有,在1月签署一项新的双边航空服务协议后,中国各航空公司也在增强向澳大利亚的运力。
In the 12 months to May, short-term arrivals have risen by 6 per cent, which Tourism and Transport Forum chief executive Margy Osmond said was similar to the average growth rate over the past three years.
在今年5月前的12个月中,短期入境人数增加6%,旅游和交通论坛首席执行官玛吉·奥斯蒙德说,这与过去3年的平均增幅差不多。
"We also saw more than 920,000 Chinese visit Australia over the year to May," she said. "If the past six months are anything to go by we should crack 1 million Chinese visitors some time this year."
她说:"我们还看到,在今年5月前的1年中,92万多中国人到访澳大利亚。如果根据6个月来的情况判断,到今年某一时间点,中国游客数量将突破100万。"