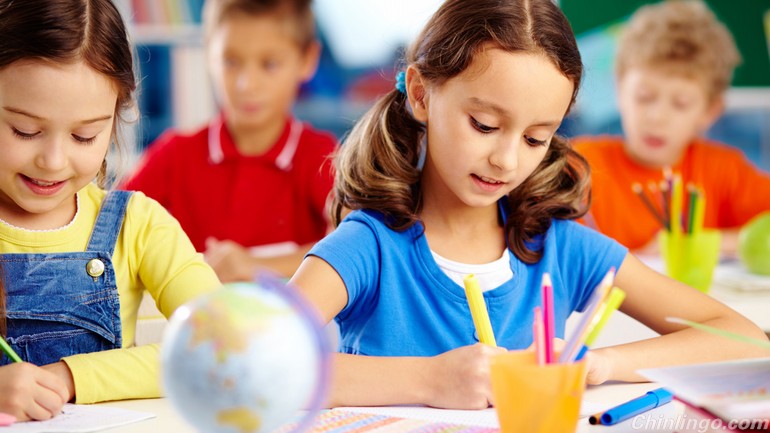 Most people have at least some extra free time during the summer. Some of that time should of course be used for recharging the batteries, but try to keep learning Chinese even if you're no longer enrolled in a course.
大部分人在暑期至少都有比较多的空闲时间。这些时间当然应该用来充电,但是即使不在课堂上,你也要试着继续学习中文。
This article will suggest a few things you can do to learn Chinese during the summer vacation.
本文将介绍暑期学习中文建议做的一些事情。
Cultivate your interest
培养兴趣
Focus your learning on things you really enjoy. They don't need to be directly related to languages, so watching films in Chinese with English subtitles is fine, it's much better than not watching the film at all. If you're not into film, focus on whatever you find interesting but usually don't have time to do. The important thing is that it's fun and that it's related to Chinese. Only study related material if you feel up to it.
集中学习感兴趣的事情。这些事情无需直接关联语言学习,因此看点带英文字幕的中文电影也是可以的,至少比什么都不看还好。要是对电影不感兴趣,那么就留意那些自己觉得有趣的但通常没时间做的事情。关键一点就是事情有趣而且和中文有关。仅仅在自己想要的时候才去学习相关材料。
Review what you learned
复习已学过的
Chinese isn't like other subjects where you can study one area and then leave it. When studying languages, every step builds on the previous steps, so going back and strengthening the foundations is a good idea. Do you really know the stuff you learnt during the spring?
中文不像其他科目一样可以学了一部分然后不了了之。学习语言的时候,每个步骤都是建立在之前的步骤之上的,所以回过头去巩固基础是个很棒的方法。你真的清楚知道自己春天的时候所学的东西么?
There were certainly some bits you skipped because you didn't have time or no-one to ask at that time. You might also have taken notes about related areas you'd like to explore. The summer vacation is a great opportunity to do this!
因为没时间或者当时没人可求助的缘由,你肯定跳过了一些学习点,或许你还做了一些自己想要探索的相关领域的笔记。这个暑期就是最好的学习机会了!
Preview what you will learn
预习将要学习的内容
Previewing is underrated, especially in language learning. Many students don't think it's necessary to prepare much for class since the teacher will explain most things anyway, but if you have previewed properly, you'll be able to make much more of the teacher's explanations and you will also be able to ask the right questions. Of course, in more intensive programs, students are required to have previewed chapters ahead of time and the teacher won't go through the basics, but this is still an exception. Looking at what you're going to do in class next semester is a good idea, but don't overdo it.
预习的作用被低估了,尤其是在语言学习的时候。很多学生认为课堂预习没什么必要,因为老师还是会讲解大部分的内容,但是如果做了适当的预习,那么你将会理解更多老师所讲解的内容,并且可以提出正确的问题。当然了,对于更高强度的课程,学生会被要求事先预习某些章节,而且老师不会讲解那些基础的内容,但这还是属于例外的情况。看一眼下学期要学习的东西的确是个好方法,但是不要做得太过火。
Broaden you knowledge
拓展知识面
Many courses and textbooks have the common flaw that they get to more advanced material too quickly. They only show you one path through a number of topics, such as sports, food or entertainment. In the sports chapter, they might focus on basketball, but there are many other sports that might be equally. The best way to broaden your knowledge at a beginner level is to get more than one textbook or get a graded reader. More advanced students should try to read and listen more, but choose material which isn't too hard.
很多课程和课本都有一个共同的缺点:过渡到高级水平太快。它们仅仅只是告诉你一系列的话题,例如运动、食物或者娱乐。在运动章节,它们或许集中在讲篮球,但是还有一些其他的运动项目也同样重要。对于初学者来说,最好的拓展知识面的方法就是使用多本参考书或者使用高级阅读书籍。水平较高的学生应该试着多读多听,不过注意选择难度不是很高的材料。
Travel to China
到中国旅行
This requires a lot more effort, but can also be exciting, getting away from home for a few weeks and experience a different country and culture. If you feel up to it, you can of course focus on language while you're in China, but just travelling around will be great if you've spent a lot of time in the classroom.
这需要做出很多努力,但是十分让人兴奋,可以远离家乡数周去体验一个不同的国度和文化。要是自己可以胜任的话,在中国的时候你当然也可以留意下语言,不过要是之前总是呆在课堂里而现在只是到处走走也是很好的体验。