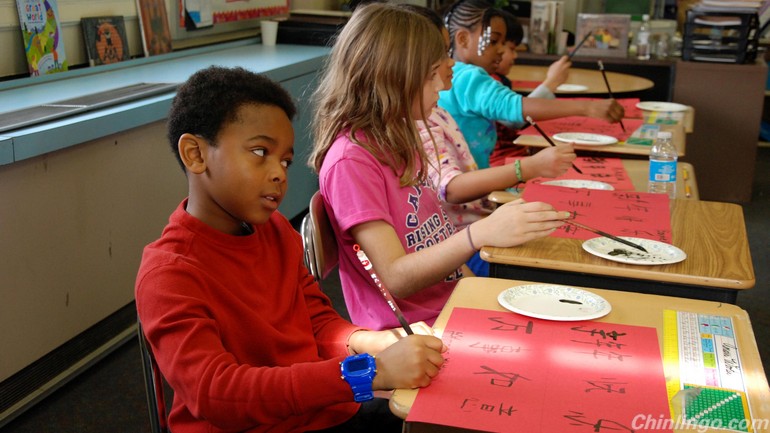 Fast development of cooperation between China and Brazil has ushered in new opportunities for members of a young generation in the South American country to develop their careers in China, and has encouraged them to learn Chinese.
中巴两国合作的快速发展给南美国家的年轻一代开拓了新的契机,使得他们可以在中国发展事业,同时还鼓励了他们学习中文。
"I want to work in Shanghai," said 25-year-old Enrique.
25岁的恩科里说:"我想去上海工作。"
"I fell in love with that city at the first sight. It's so modern, and even more beautiful than Sao Paulo. The dream of working there has driven me to learn Chinese," he said.
他说,"第一眼我就爱上这座城市了。它很现代化,甚至比圣保罗还美丽。能够到那工作的梦想给了我学习中文的动力。"
Enrique was firstly impressed by the charm of Chinese culture and the language at the age of 17. In the following trip to Shanghai, he was "deeply amazed" by the modernization of the city.
17岁的时候,恩科里最开始是被中国文化和语言的魅力深深震撼。接下来的上海之旅,他深深叹服这座城市的现代化。
"I made up my mind to learn Chinese well then. I believe I will have more opportunities in Shanghai than in Brazil," he said.
他说,"之后我下定决心学好中文,我相信自己在上海会比在巴西有更多的机会。"
China is Brazil's biggest trade partner, with the trade volume between the two countries reaching 77.96 billion U.S. dollars in 2014, according to China's Ministry of Commerce.
中国是巴西最大的交易伙伴,据中国商业部,2014年两国之间的交易量达779.6亿美元。
To the young generation in Brazil, China means new opportunities, and the Chinese language serves as a bridge.
对于巴西的年轻一代而言,中国意味着新的机会,而中文起着桥梁的作用。
Enrique is now learning Chinese in the Confucius Institute of Paulista State University, the first and the biggest among the eight Confucius Institutes in Brazil.
恩科里目前在保利斯塔州立大学的孔子学院学习中文,这是巴西八所孔子学院里的第一所学院、也是最大的学院。
Enrique has been learning Chinese systematically in the institute for three and a half years, during which he took Chinese lessons while working hard as a sales representative to fund his way through university.
恩科里已经在学院里花了3年半时间系统地学习了中文,这期间他一边上中文课一边努力做好销售代表的工作以支撑大学生活。
To Enrique, the most annoying thing is that it's hard to find a partner to practice oral Chinese. In addition to learning pronunciation on online video websites, most of the time, he practiced by talking to himself.
对于恩科里来说,最恼人的就是很难找到伙伴一起练习中文口语。另外,除了利用在线视频网站学习发音,他大部分时间都是自己和自己说话进行练习。
In May, 2015, Enrique got the finished first place in the "Chinese Bridge" Chinese Proficiency Competition in Brazil and won a chance to compete in the final round in Beijing.
2015年5月份,恩科里获得了"汉语桥大学生中文比赛"巴西赛区的第一名,得到了参加北京决赛的资格。
If he does well in the final, he will have a chance to study in Nankai University.
如果决赛中能够取得好成绩,他将获得南开大学的入学机会。
"I will try my best," he said, "In the future I want to work for famous IT giants in China like Baidu or Alibaba."
"我会尽力做好,"他说,"将来我想到中国出名的IT巨头企业工作,比如百度或者阿里巴巴。"
Enrique's love for the Chinese culture and the goal to work in China are not rare in Brazil.
像恩科里这样热爱中国文化、怀抱到中国工作的梦想的人在巴西并不罕见。
Rafael, 27, has already fulfilled his Chinese dream, by winning a chance to study in Nankai University through the "Chinese Bridge" program and then working in Baidu as an intern.
拉斐尔,27岁,他实现了自己的中国梦,通过汉语桥比赛他获得了南开大学的入学机会,之后进入百度实习。
After he finished studies in Nankai University, Rafael was recruited by Baidu's branch in Brazil because of his excellent Chinese. He has grown up into a manager with a decent salary.
结束南开大学的学习之后,拉斐尔凭其优秀的中文能力被百度巴西分公司聘用,如今已经晋升经理,收入颇丰。
"Chinese Bridge has changed my life and learning Chinese has brought me more opportunities," Rafael said.
拉斐尔说,"汉语桥改变了我的生活,而学习中文给我带来了更多的机遇。"