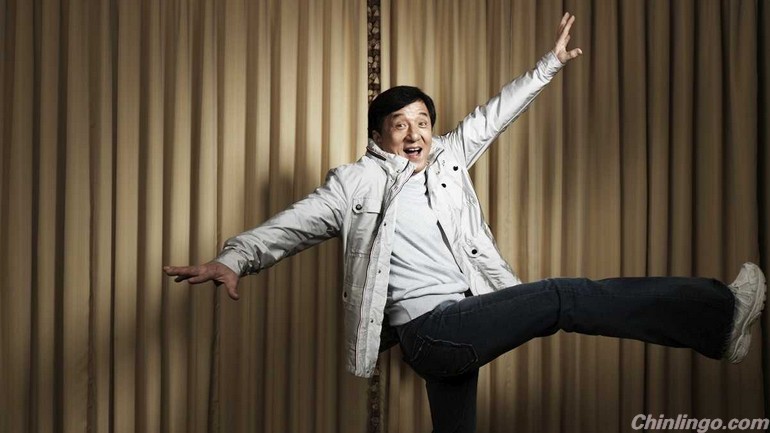 Ensconced in one of the most expensive suites in Beverly Hills, at the Montage Hotel, action movie star Jackie Chan seemingly wants to talk about how frugal he is. Decked out in a Jackie Chan-branded shirt emblazoned with his trademark dragon logo, he leads me into the master bathroom of his hotel suite and removes a worn bar of soap from a plastic bag, explaining that he took it from his room at the MGM Grand in Macau instead of wastefully discarding it: "This soap follows me around the world."
安坐在蒙太奇酒店堪称比佛利山庄最昂贵的一间套房里,动作影星成龙似乎想要谈论自己多么节俭。身穿一件印有他的"龍"字商标的成龙品牌衬衫,他领我走进他酒店套房的主卧卫生间,从一个塑料袋里拿出一块用过的香皂,解释说这是他从之前在澳门美高梅酒店入住的房间里带来的,而没有浪费地丢弃它:"这块肥皂跟着我环游世界。"
Chan's intended message is that he's a conservationist–he's lately been recording scads of public service announcements aimed at discouraging Chinese consumers from buying products made from poached tigers and rhinos. But the real metaphor within this bar of soap is how it–and, more specifically, Chan–straddles the U.S. and China.
成龙想要传达的信息是,他是一个环保主义者——他最近一直在录制许多公益广告,旨在劝阻中国消费者不要购买由被偷猎的老虎和犀牛制成的产品。但在这块香皂里蕴含的真正象征意义是,它——更具体地说就是成龙——如何跨越中美两国。
Once ubiquitous in Hollywood, Chan hasn't had an American live action hit in five years. Yet he's earned an estimated $50 million over the past 12 months, more than any actor in the world besides Robert Downey Jr. and enough to land him the No. 38 spot in the FORBES Celebrity 100, right behind Tiger Woods.
成龙曾在好莱坞红极一时,但是近五年来他还没有主演过一部卖座的美国实景电影。然而据福布斯估算,他在过去12个月里的收入达到5,000万美元,比世界上除小罗伯特·唐尼之外的任何其他男演员都要多,足以让他在2015福布斯全球名人榜上排在第38位,紧跟在泰格·伍兹之后。
What gives? He's one of a select few with a true grasp of the fundamentals of the film business on both sides of the Pacific–and he's using that knowledge, at age 61, to cut shrewd deals.
那他是怎么挣到这些钱的呢?他是少数几位真正了解太平洋两岸电影行业基本规则的人之一——而已经年入花甲的他正在利用这种知识,进行精明的交易。
Take the film Dragon Blade. Never heard of it? Makes sense: It hasn't been released in the U.S. yet, despite the presence of well-known costars Adrien Brody and John Cusack. But it was a huge deal in China–grossing $120 million–and Chan, the film's lead, cut himself a back-end deal that likely made him more than $10 million. Later this year he'll star opposite Johnny Knoxville in Skiptrace, an East-West coproduction that has potential in both the U.S. and China–and which Chan owns an outsize chunk of, based on his roles as actor and investor.
以电影《天将雄师》为例。从来没有听说过?可以理解:这部电影还没有在美国上映,虽然其中有著名演员阿德里安·布罗迪和约翰·库萨克联袂主演。但这部电影在中国非常火爆——票房收入达1.2亿美元,而这部电影的主角成龙为自己敲定了提成协议,这很可能会让他赚到上千万美元。今年晚些时候,他将在东西方合拍、在中美市场上都有潜力的电影《绝地逃亡》中与约翰尼·诺克斯维尔演对手戏,而由于成龙在这部电影中既是主演又是投资者,他拥有这部电影超大份额的权益。
Meanwhile, he controls enough brand extensions to make Jay Z jealous–yes, Chan-branded merchandise, no small business when you're the best-known martial artist since Bruce Lee–and also a Segway dealership and a cinema chain that bears his name. Between all the acting and all the owning, FORBES estimates Chan has amassed a net worth of some $350 million. Chan and his team declined to comment on specific figures.
与此同时,他还手握足以让说唱天王Jay Z眼红的品牌延伸(是的,成龙品牌商品,如果你是自李小龙以来最著名的武打影星,那么这绝不是小生意),一家自平衡车赛格威经销商,以及一家以他的名字命名的连锁影院。将所有这些演出收入和产业权益加总在一起,《福布斯》估计成龙已经积聚到大约3.5亿美元的净资产。成龙和他的团队拒绝就具体数字予以置评。
"Jackie Chan is basically the Mickey Mouse of Chinese culture, a celebrity who is so omnipresent that his name has become shorthand," says Grady Hendrix, cofounder of the New York Asian Film Festival.
"成龙基本上相当于中国文化里的米老鼠,一个无处不在以至于名字成为简称的名人。"纽约亚洲电影节联合创始人格雷迪·亨德里克斯如是说。
It's an increasingly powerful position. Chinese cinemas have grown at a nearly 33% rate over the past five years, generating just shy of $5 billion in 2014; in February China's monthly box office receipts actually surpassed those in the U.S. As a result Hollywood is turning to coproductions with Chinese companies, with Tranformers: Age Of Extinction and Iron Man 3 among the most successful examples.
这是一个越来越有影响力的地位。过去五年以来,中国影院票房收入以将近年均33%的速度增长,2014年接近50亿美元;今年2月,中国的单月票房收入实际上超过了美国。因此,好莱坞正在转向与中国公司合作制片,其中《变形金刚4:绝迹重生》和《钢铁侠3》就是最成功的代表作。
All of which puts Jackie Chan right in the middle–a man known to his adoring countrymen as "Big Brother." Without irony.
这一切让成龙左右逢源——崇拜他的同胞们称他为"大哥。"这其中没有讽刺意味。
Starting with 1995′s Rumble in the Bronx, Chan became a household name in America, too. With 1998′s Rush Hour, costarring Chris Tucker, he became a global star–that movie had the most successful opening weekend for a comedy in history up to that point, eventually grossing $140 million in the U.S. and another $100 million abroad. Though such a domestic-international split is typical these days, it was much rarer at the time. Recalls Chan: "The American box office was the whole-world box office." Adds director Brett Ratner, "Jackie Chan is the greatest export China has."
从1995年的《红番区》开始,成龙成了在美国也家喻户晓的明星。在1998年与克里斯·塔克合演《尖峰时刻》之后,他成了国际影星。那部电影成为当时美国历史上首映周末票房最高的喜剧片,最终在美国斩获1.4亿美元的票房收入,另外在美国以外地区获得1亿美元的票房收入。虽然如今这样的票房成绩已经很普遍,但在当时非常少有。成龙回忆说:"当时美国票房就是整个世界的票房"。导演布莱特·拉特纳补充说:"成龙是中国最伟大的出口产品。"
He found a willing ally in the Chinese authorities, who recruited him to be an ambassador for the 2008 Olympics, and Chan soon moved his operations from Hong Kong to Beijing. Once domiciled there, he found himself at the epicenter of the burgeoning Chinese film industry–and the government that controls it.
他在大陆政府里中找到了乐意与之携手的盟友,他们聘请他担任2008年北京奥运会的形象大使,而成龙很快就把自己的业务重心从香港迁往北京。在那里定居之后,他就发现自己身处中国蓬勃发展的中国电影业以及控制该行业的政府的中心。
There are about 20,000 movie screens in China, roughly half the number as in the U.S., despite having more than four times as many people. "If they had 45,000 screens," says Ratner, "with their population a movie opening in China could do $500 million in a weekend."
目前中国大陆拥有大约20,000块电影屏幕,大致是美国电影屏幕总数的一半,而中国人口是美国人口的四倍。"如果他们拥有45,000块电影屏幕,"拉特纳说,"再考虑到他们的人口,那么一部电影在首映周末就可以创造5亿美元的票房收入。
Chan is already cashing in on that math. Five years ago he and a partner built the Jackie Chan Yaolai International Cinema, a 17-screen multiplex in Beijing that now sells 50,000 tickets on big weekend days. That success led to a 50/50 joint venture to create 37 more theaters bearing Chan's name, each with a stand selling the actor's merchandise.
这道算术题已经为成龙带来的真金白银。五年前,他和一位合伙人在北京开设了一家有17间影厅的电影院——耀莱成龙国际影城,现在这座影城在有大片上映的周末能卖出5万张电影票。这一成功促使双方成立了一家持股各半的合资企业,目标是再开设37家成龙冠名的影院,每家都设有销售成龙品牌商品的专柜。
Chan is also expanding his J.C. Stunt Team into a film-services company that matches American studios with bilingual crew members in China, from stunt coordinators to assistant directors. "I slowly want to build a William Morris," he says.
此外,成龙还在把他的成龙特技队扩大成一家电影服务公司,为美国制片公司在中国提供双语剧务人员——从特技协调员到副导演。他说:"我慢慢地想要建立一家像威廉莫里斯经纪公司这样的娱乐经纪公司。"
In the meantime, he'll keep betting on Chinese films and American coproductions. "Now, I'm not only the actor. … I invest," he says, and while he won't confirm our estimate of his earnings for this year, he's happy to speculate on future projects with the confidence of a casino owner who knows the odds are stacked in his favor. "I might lose $10 million," he says. "But if I win, probably $90 million."
与此同时,他将继续投资于中国电影以及与美国合作制片业务。他说:"现在,我不只是演员。……我还投资。"虽然他不会确认我们对他今年收入的估算,但他乐于像赌场老板知道赔率对自己有利那样满怀信心地推测未来的投资项目。他说:"我可能会损失1,000万美元,但如果我赢了,那么我很可能会赚到9,000万美元。"