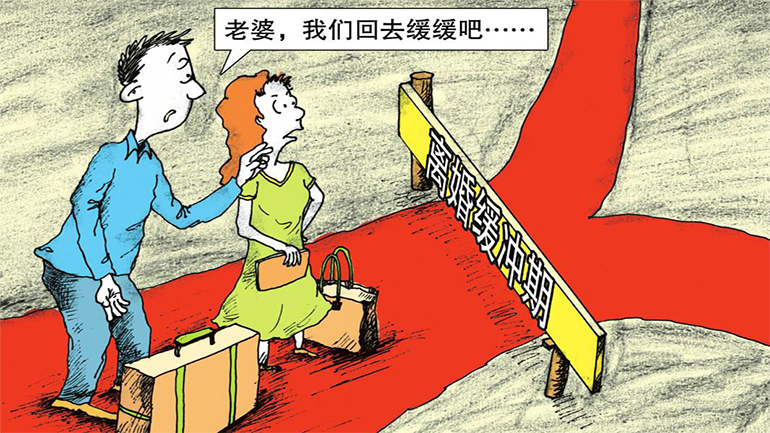 Things have changed dramatically nowadays. Thanks to improved economic conditions, people seek marriage for personal happiness. The post-80s generation no longer needs to be as tolerant as their parents have been before. The open modern society gives people more freedom and choices. Compared with their parents, the post-80s generation is less awe-stricken by traditions. They are also the first generation of China's single children with no siblings, so they pay more attention to personal self-satisfaction. It is no surprise that the divorce rate keeps rising.

而在今天,社会发生变化,经济条件改善后,人们的生存需求也已得到满足,婚姻存在的重要理由转变为追求个人幸福。"80后"夫妻不会像以前那样选择"隐忍"、不再信奉"好离不如赖凑合"。现代开放的社会给人更多选择自由,加上"80后"比他们的前辈更少对传统的敬畏,更强调个人情感的诉求。他们又是独生子女第一代,更强调自我满足,事业稍有所成,情感波动较多,离婚率高并不奇怪。
Parents involvement becomes the "pushing hands"
三、父母越来越多地介入到"80后"的婚姻中,成了他们婚姻的"幕后黑手"
As the single child of Chinese families, the post-80s child grew up under their parents' meticulous care and protection. They cannot live without parents helping in almost every big decision or effort; from buying a house and a car, getting married or taking care of their grandchildren, the parents are always here. The relationships between the post-80s children and their parents is extremely close, both emotional and economical. Therefore parents get more involved in the marriage of their post-80s daughters and sons, becoming the third party in their marriage.
80后独生子女,从小在父母的呵护下长大。结婚时买房买车,婚后带小孩,几乎每件事都需要父母的帮助。在经济与心理的双重依赖下,80后独生子女与父母间的羁绊格外紧密。于是,父母越来越多地参与到80后的婚姻中来,成为80后婚姻的"第三者"。
Lacking education of what it means to love, they have to try it out in marriage for the first time
四、缺乏情感经验、婚姻教育,"80后"只能在婚姻中试错
Han Han, the famous post-80s born writer, once described the marriage and love of Chinese characteristics in this way: "the special condition in China is that, most parents don't allow their children to fall in love during school, and even in universities. But soon after the graduation from universities, all the parents hope that a talented and rich guy or sweet girl who owns a house will appear and is willing to marry their daughter or son.
"80后"作家韩寒曾这样描述中国年轻人的婚恋现状,"中国的特殊情况是,很多家长不允许学生谈恋爱,甚至在大学都有很多家长反对恋爱。但等到大学一毕业,所有家长都希望马上从天上掉下来一个各方面都很优秀,而且最好有一套房子的人和自己的儿女恋爱,而且要结婚。
In addition, the growing period is also one of social transition. Different from the parents who prefer compromise in marriage, the post-80s are greatly influenced by the egoist values and attitudes towards romance and marriage. The co-existence of two sets of values by two different individuals and conflicts between two differing ideals and the reality put them in an awkward position.
此外,"80后"的成长期恰逢社会转型期,"以自我感受为主"的婚恋价值观给他们带来很大的影响,而如前文所述,他们父辈的婚恋观又是"凑合"型。于是,正如中国社会科学院社会学研究所研究员李春玲说,"两种观念的并存、纠缠与渐变,口号与实践的矛盾与断裂,内在地撕裂着这一代人,使他们总处于一个尴尬且自我矛盾的境地。"只能在婚姻中试错。
For the post-80s "divorce fanatics", divorce is a price to pay for becoming a grown-up. There will come a day when people born after 1980 will understand the true meaning of marriage, and learn to treasure it.
对80后"离婚狂"来说,离婚是他们成长的代价。总有一天他们会明白婚姻的真正意义,并学会珍惜婚姻。