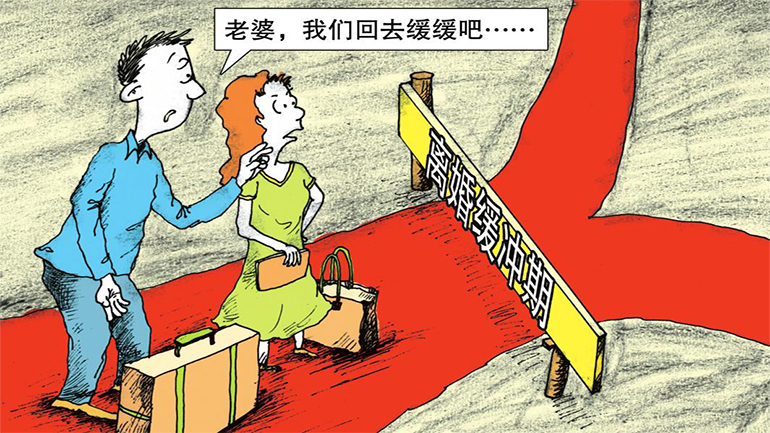 On June 25, when the former Olympic champion hurdler Liu Xiang, one of China's best-known athletes, announced a divorce after a nine-month marriage to actress Ge Tian, it again caused heated debate on the upsurge in divorce among the post-80s in China.
6月25日,刘翔在微博承认已与葛天离婚。刘翔与葛天,从2014年5月恋爱,同年9月结婚,这段广受关注的婚姻仅维持了9个月。离婚的消息一经曝出,再度引发人们对"80后"离婚成潮现象的热议。
The post-1980s generation refers to the single child born between 1980 to 1989 in Mainland China, after the implementation of the One-child policy. They are one of the symbols of China's economic reform and opening up to the world. They have a highly receptive attitude towards new things, including sex. Due to various reasons, this post 80s generation is fueling the country's rising divorce rate. The rising divorce rate in the post-80s is not only reflected in statistical data, but in the prevailing impact on the people too. According to a survey conducted by China Youth Daily, 44.7% of the subjects explain that those planning a divorce are the post-80s kids. Some even say that this generation is a generation of divorce fanatics, others say: "for the post-80s, if they are not already divorced, then they are probably on their way there… We are increasingly surrounded by post-80s divorcees, or by those who have expressed their wish to get a divorce".
80后是指中国大陆执行计划生育计划后于1980-1989年间出生的独生子女。他们是中国改革开放的象征之一。他们善于接受新事物,包括性。如今,由于各种原因,80后已成为中国不断攀升的离婚潮的主力。"80后"的高离婚率不仅显示在统计数据中,甚至成了人们的切身感受。中国青年报曾经的一项调查显示,44.7%的人感觉周围离婚的人多集中在"80后"。"人人都是离婚狂","'80后'不是离婚了,就是在去离婚的路上。"
Among the divorced post-80s generation, the phenomenon of "flash divorce" is extremely prominent. More than 50% of the divorced couples announced a divorce 5 years after marriage. Liu Xiang's marriage only lasted 289 days, and the divorce was described as one done in a "flying man's speed". However, a faster flash divorce is not uncommon at all. A couple from Zhejiang, got married at 10:50 on Dec. 4, 2008, but divorced 3 hours later. According to Professor Wu Changzhen from China University of Political Science and Law, 25 minutes is so far the most short-lived marriage Wu has ever known.
"闪离"现象突出,过半夫妻5年内分手,最快的"闪离"仅25分钟刘翔与葛天的婚姻,从2014年9月8日到2015年6月25日,一共维持了289天,被形容为以"飞人速度"离婚。事实上,更神速的说散就散也不少见。浙江宁波的一对小夫妻两人于2008年12月4日上午十点五十结婚,3个小时以后两个人办理了离婚。而据中国政法大学巫昌祯教授所说,他知道的"80后"青年"闪婚闪离"的最快速度是25 分钟。
Why are the post-80s people immature in their marriage decisions and easy to get divorced? There are four main reasons.
为什么80后婚姻这么不稳定,他们轻易离婚原因何在呢?主要原因有四点。
They divorce in the peak of their lives
一、他们本就处于离婚高潮期
The post-80s generation, now aged between 26 to 35, have become the backbone force of the Chinese society and are undergoing challenges in their marriage. On the contrary, the post-90s generation are mostly single, while the post-60s and post-70s have undergone a tide of divorces now hoping all the more that the family keep stable.
80后成为离婚主体的原因很简单:这个从26岁至35岁的人群,本来就已经成为当代社会的中坚力量,也正经历婚姻阶段的初始考验。90后还没有进入结婚潮,而60后、70后已经过了离婚高潮期,更希望家庭趋于稳定保守。
Freedom to get divorced is seen as progress in civilization, the post-80s population feel they don't need to be as tolerant in their marriage as their parents were.
二、离婚自由是一种文明进步,"80后"无需像父辈那样百忍成钢
It's undeniable that marriage can improve one's happiness. But when the marriage really fails to keep going, reluctance will result in greater harm to both parties. According to Mr. Fei Xiaotong, the famous sociologist, the divorce rate in the past was relatively low, but the biggest reason is the idea of family being so important in traditional China. People got married not for their own happiness, but for the benefits of the whole family. Men got married to make their wives raise children and take care of their parents. Meanwhile, most women were uneducated, and they had to depend on their husbands economically. In other words, it wasn't that the women didn't want to divorce, but they had to tolerate the imperfection in their marriage to live on. The post-80s generation resents the restrictions that marriage places upon them in terms of their "right to love", and will sacrifice everything for "love" – if a marriage is no longer satisfying and "love" comes along, marriage will then have to make way for love.
不可否认,婚姻能够让人的幸福更有保障,但当婚姻实在难以继续,勉强维系只会造成更大的伤害。而过去离婚率之所以低,按照著名社会学家费孝通先生的说法,一个很大的原因在于家庭主义时代,婚姻存在的目标是并不是为了个人幸福而存在,而是实现家庭集体利益,男性娶妻主要是为了生孩子传递香火、侍奉双亲。同时大部分女性未受过教育,在经济上依赖于他们丈夫,如果离婚不能依靠自己而活下去。换言之,过去离婚率低,不是当事人不想离,是想离离不了。80后讨厌婚姻带给他们对追求爱的权利的的束缚,而且不惜一切代价追求爱情。婚姻与爱不能并存时,只能让婚姻为爱让步。