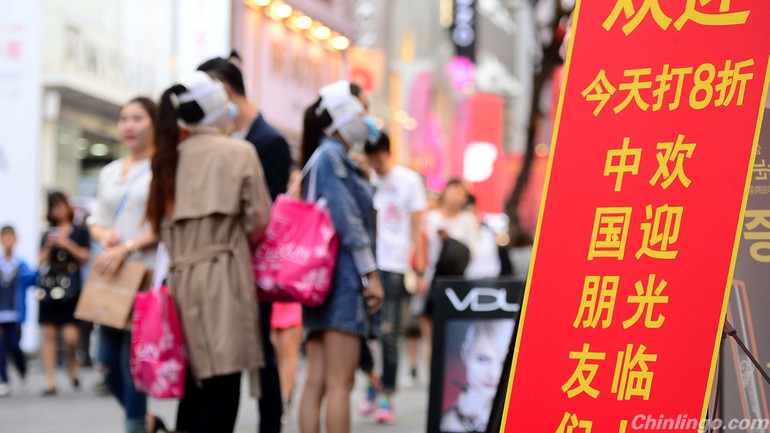 The Chinese are traveling abroad in numbers never seen before, and it's felt strongly in South Korea, which finds itself scrambling to keep up with an estimated 4 million Chinese tourists a year.
中国境外游数量创历史新高,对此韩国感受颇深。为了更好地接待每年约400万人次的中国游客,韩国人正在争分夺秒。
In Myeongdong, Seoul's bustling, pedestrian-only main street for shopping, the common sounds you hear — besides blaring pop music from storefronts — are of a language foreign to Koreans: Mandarin Chinese.
走在韩国明洞商业步行街,除了商店播放的流行音乐,人们听到最多的语言是中文。
A number of Chinese tourists say they're from Hangzhou, in southeastern China, and that they came to Korea for one main reason: shoppong.
一批来自杭州的游客说他们来韩国旅游的目的只有一个,那就是购物。
In 2014, Chinese residents visited South Korea more than any other foreign country. And they are spending in huge numbers anywhere they go. The World Bank's numbers show Chinese travelers spent $100 billion overseas in 2012, doubling what they spent just two years before that.
2014年韩国超过其他国家,成为最受中国游客欢迎的出境游目的地。另外,中国人所到之处必撒金血拼。世界银行统计数据显示,2012年中国游客海外购物花销达1000亿美元,是2010年的两倍。
South Korean businesses want those tourism dollars, so companies here, particularly makeup companies, are sending their salesfolk back to school. Hagwons, or private cram schools, are filling up with skin care salespeople, whose bosses are paying for them to learn how to cater to Chinese customers through language.
韩国企业自然不愿放弃从游客身上捞金的大好机会,不少公司、尤其是化妆品公司派员工回学校进修。现在,私立语言补习班的学生中有一大部分是护肤品销售人员,老板出钱送员工学习中文,以便更好地为中国顾客服务。
Soh Bor-am teaches eight one-hour classes of Mandarin per day.
苏博岩是一名中文老师,每天要给学生上8节课,每节课1小时。
"My mother used to say that even if you're selling hoddok, which is a kind of cake in Namdaemun markets, you have to know how to sell it in Chinese. And I find it very surprising that no matter which level of society you're in, no matter what your job is, you're expected to know this language," Soh says.
她说:"我妈曾说过,就算在南大门市场卖小吃,你也要学会如何卖给中国人。我惊讶地发现无论你生活在社会哪个阶层,无论你从事什么样的工作,学会中文总是有帮助的。"