Don't get me wrong, pinyin is a must for early Chinese language learning. You can use pinyin to communicate in basic Chinese much faster than if you had to rely on characters.
不要误会我的意思,拼音的确是开始学中文的必要条件。你完全可以在基本的中文交流里使用拼音,并且比依靠中文字词还来得快速。
However, the fact that pinyin looks like English causes confusion. Furthermore, the fact that some of the letters carry the same sound as English whilst others do not add more complexity.
但是,外形与英文的相似却常带来困惑。另外,一些拼音字母的发音与英文一样,而其他拼音字母发音差别也不大。
For example the pinyin b- is basically the same as the English b- sound. The pinyin c- though sounds nothing like our letter "c" and instead would be more closely approximated as a hissed "ts" sound. There's no real consistency so the best approach to take is to assume that pinyin is nothing like English and try to break all associations with the English alphabet.
比如,拼音里的"b-"和英文里"b-"发音几乎一样。拼音里的"c-"尽管和英文里的字母"c"发音完全不同但却接近"ts"的嘶嘶声。因为没有真正意义上的完全一致,所以最好的方法是把拼音和英文区分开来,试着解除拼音与英文字母间的联系。
Otherwise you'll end up with a large number of underlying mispronunciations like the very common mistakes of 很 hěn sounding like the English "hen" (as in female chicken hen).
不这样的话,你就只会让自己处于大量发音不正确的境地,例如常见的"很"字的发音错误,你可能会发出英文中"hen"(母鸡的意思)的音。
To break associations use native recordings whenever reading a word in pinyin. Try to never read pinyin without also hearing it being said.
为了达到解除中英之间的混淆的目的,可以在读拼音的时候利用当地的录音设备记录下来。不要仅仅只是读拼音而不去听读出来的效果。
If you are still at an early stage take a decent amount of time to work on pinyin.
如果你还是刚开始学中文的话,就多用点时间研究拼音。
Get into good habits early by using a pinyin course that has a lot of native recordings and that carefully explains how to explain the different sounds.
尽早利用拼音教程来养成良好的习惯,拼音教程会提供大量的中文原声录音、并对如何辨析不同的发音进行详细的讲解。
If possible sit down with a native speaker and have them run through the pinyin system with you.
有条件的话,坐下来和当地的中国人好好过一下拼音系统。
Here is a pinyin chart that you can use for this practice.
以下是一张可以用来练习的拼音表格。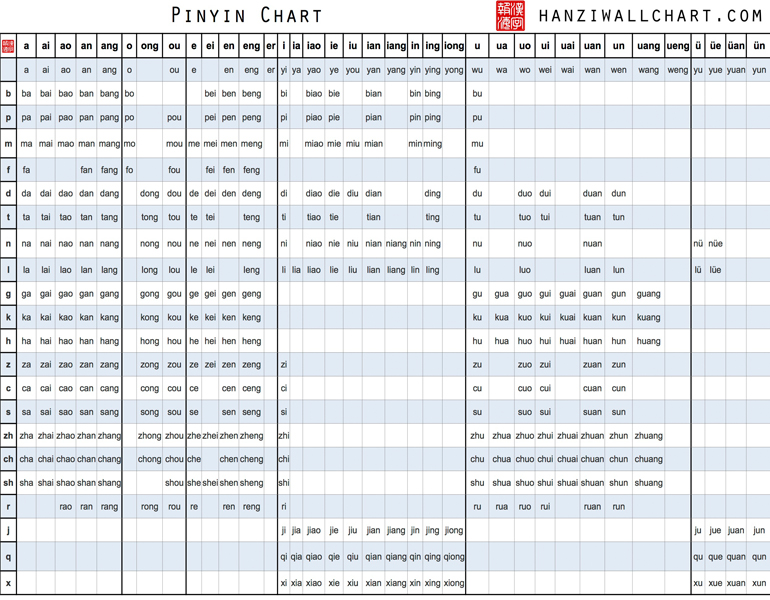 The basic process is to listen to them and repeat until you get it right. This is the feedback loop of all language learning.
基本的学习过程就是听,然后一直重复听直到自己完全掌握。这是所有语言学习最基本的反馈环。