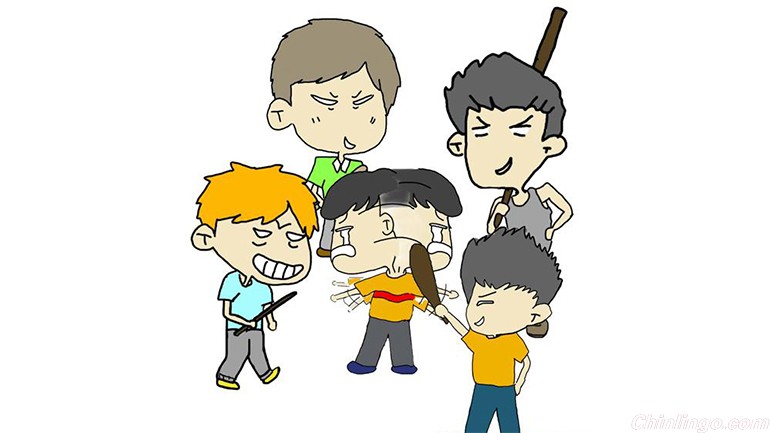 Recently, a case in Los Angeles where several Chinese students kidnapped and tortured a female Chinese student has sparked heated debate in China.
近日,数名中国留学生在洛杉矶绑架、折磨女同胞案在国内引起热议。
Six Chinese students, including the main suspects Zhai Yunyao and her boyfriend Zhang Xinlei, went on trial in Los Angeles in June for abducting and torturing Liu Yiran, another Chinese female student. They accused her of cheating on a friend of Zhai's. Four accomplices are still at large, three of whom are minors. They have either escaped outside California or to China.
6月3日,六名中国留学生,包括主要嫌疑人翟云姚及其男友张鑫磊,因绑架、折磨另一中国女生刘怡然出庭受审。此前,刘被指欺骗翟的朋友。另外四名同犯仍然在逃,其中三人还是未成年人。他们要么已逃往外州,要么逃回中国。
Liu said on the court trial that during the time she was kidnapped, the suspects punched her and stripped her of all clothes. One of them burned her nipples with a cigarette butt.
刘出庭时指出,在她被绑架期间,嫌疑人曾暴打她,并脱光她的衣服。其中一位还用烟头烧她的乳头。
The court has set a record-high bail of $3 million for each of the accused. This case comes close on the heels of a scandal in which one of the defendant's parents is under arrest after being accused of bribing a witness.
法院给每位被告人开出300万美金的罚单,创下历史记录。而随后发生的一件事令人谛笑皆非,其中一名被告的家长因贿赂证人被抓,再次上演中国家长试图"花钱摆平"不成、反而搬起石头砸自己脚的丑闻。
The case has caused public concerns in China, with netizens wondering about the roots of such a brutal attack. Some blamed the girls' parents for the crime, accusing them of failing to provide proper guidance.
该案件在国内引起关注。网友甚至对该案追根溯源。有人认为该女孩的父母有责任,认为他们未给子女恰当的教导。
"These students have received higher education overseas, and are supposed to understand the law and respect others. But this case has just reflected that that they are only selfish young people lacking compassion," a Chinese netizen wrote.
一位中国网友写道:"这些学生在国外受到更高的教育,理应懂法并尊重他人。但该案反映这些人只是一群自私、缺乏同情心的年轻人"。
However, Zhai has never thought such behavior, which is not considered outrageous at all in China, would send her to jail for life in the United States! Zhai used to think that, if she tortured peers in China, she would be blamed and mostly get away with it unscathed. On the contrary, the case is serious for the brutality exhibited and the number of involved suspects. It is among more vicious criminal cases in the U.S. recently. Ironically, the case which sent shock waves through China and the U.S. was caused by jealousy.
而翟某从未想过竟然闯了一个可能"终身监禁"的大祸,认为这要是在国内,顶多被教训一顿。恰恰相反,该案性质之恶劣,手段之残忍,涉案人数之多,所犯罪行性质之严重,在美国刑事案件中实属罕见。令人啼笑皆非的是,这场轰动中美两国的、几名留学生被告有可能面临终身监禁的惊天大案,竟然是因为男女之间的争风吃醋而引起的。
Actually, due to the lack of supervision, Chinese students often make the headlines overseas. The case did stir public concerns in China. In recent years, with the rising number of Chinese younger students that plan to study in the U.S., Chinese parents should consider how to supervise and educate their children who study abroad, as the children will start living alone once they start their studies.
因为缺乏监管,中国留学生在美国的"麻烦事"在媒体中并不鲜见。此案被披露之后,低龄学子出国读书,应如何监护和教育引发社会思考。近年来,留学美国的中国学生数量日益增加,并且越来越呈现低龄化的趋势,多数孩子从此开启了人生中的海外"单过"模式。而中国家长真的需要反思。
Except parents, Chinese legal system too should learn a lesson from this case. Up until May this year, there were a total of 17 campus violence cases, with most suspects being middle school students. As most assaulters in the above mentioned cases are under 16 years old, no punishment was ascertained, let alone the criminal responsibility. According to China's laws, no detention is assigned for the young people aged 14 to 16 years old, as well as for those aged 16 to18 that violate the law for the first time. Therefore, it's not a matter of loosened enforcement of the local security offices, but a kind of helplessness caused by different standards of abiding by the law.
除了家长,中国法制也应反思。截至5月份,今年已有17起校园暴力事件,且中学生是主力。施暴人大部分是16岁以下的孩子,别说追究刑事责任,就算是治安处罚,也基本是没有的,因为按照相关法律,"已满十四周岁不满十六周岁的;已满十六周岁不满十八周岁,初次违反治安管理"都不执行行政拘留处罚。所以,不是公安机关执法不严的问题,而是对待这类型的事件,着实没有太好的办法。
To a certain degree, we owe thanks to the U.S. in this case, as they help us to sanction these lawless bullies that Chinese laws failed in. However, China should start depending on its own laws, as more serious campus cases are pending. But when will Chinese laws take action and legislate the laws required to sanction this kind of inhumane behavior?
有人说中国的法律教育不了这帮"无法无天"的"小霸王",所幸美国法律帮忙了。可中国国内还有那么多更恶劣的校园侮辱,还得靠本国法律来。这时候,只能呼吁、呼吁、再呼吁,中国的法律什么时候能够对校园侮辱行为有所作为?