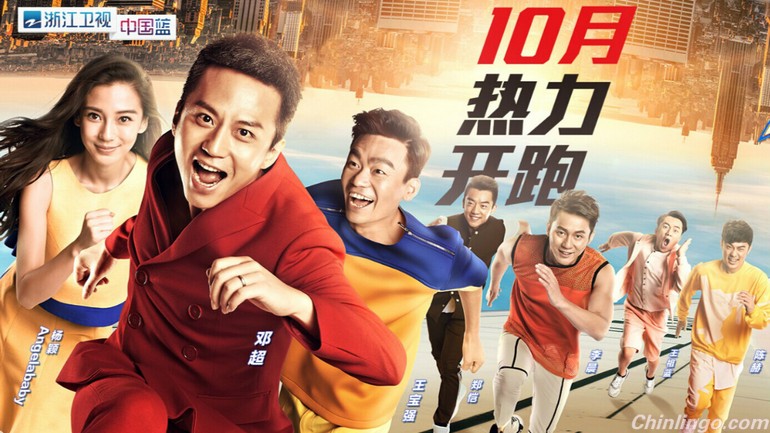 Reality TV shows are raising the bar for celebrities. Being skilled in singing, dancing, or cooking is not enough anymore. Celebs have to be agile, strong and fast to handle physical challenges. Just look at the hottest shows right now.
真人秀节目给明星提出了更高的要求。单纯的擅长唱歌跳舞或厨艺精湛已经远远不够了。明星还必须要机智灵活、矫健敏捷,能应对各种体能挑战才行。看看现在最热的节目便一目了然。
This past May saw the return of Zhejiang TV's "Running Man". After a fierce fight against reality show "Divas Hit the Road", the second season of "Running Man" had a safe lead, pulling in an average of 4.7 percent of viewers across all ages, according to statistics from CSM Media Research.
五月份浙江卫视的《奔跑吧兄弟》强势回归。在与《花儿与少年》经过一番明争暗斗之后,第二季《跑男》终于遥遥领先。据索福瑞媒介研究公司的数据显示,《跑男》吸引到了各年龄层平均4.7%的观众。
The chemistry between cast members, all big-name stars, keeps audiences coming back for more of Running Man each week. But the show's biggest attraction is watching contestants survive the cutthroat games.
《奔跑吧兄弟》中,大明星成员之间的化学反应每周都能把观众吸引过来。但是节目的最大看点还是各成员怎么完成各种刺激的游戏。
Another show adapted from South Korea, the Chinese version of Running Man retains many of its predecessor's gags, from simple squirt gun fighting to complicated obstacle courses. Producers build games around certain themes. For example, in the first episode of the show, the Running Man families and guests wore Saint Seiya costumes to complete a mission to "save Earth".
中国版的《奔跑吧兄弟》是又一档引自韩国的节目,它保留了原节目的许多搞笑桥段,既有简单的水枪战又有复杂的障碍赛。制片人根据不同的主题设定游戏。比如在节目的第一期中,跑男团和嘉宾穿上了圣斗士服装,要完成"拯救地球"的使命。
"Watching these outdoor action shows gives audiences the same pleasant satisfaction as watching adventure movies," Chang Jiang, lecturer at the School of Journalism and Communication at Renmin University of China, was quoted as saying by China Youth Daily.
《中国青年报》引用中国人民大学新闻传播学院讲师常江的话称:"这些户外活动节目能给观众带来类似冒险片的愉悦感受。"
Hunan TV also launched an action program that mainly tests competitors' physical strength called Takes a Real Man. Six male actors from different generations dress in military uniforms, train and live in barracks. Standing in the right form and 5-kilometer runs turn out to be bigger challenges than celebrities expect.
湖南卫视也推出了一个节目,主要考察参赛者的身体强度,那就是《真正男子汉》。不同年代出生的6名男演员身穿军装,在军营里接受训练和生活。对这些明星来说,整齐列队与5公里越野比想象中的更具挑战。
Disciplined to win
有纪律,才能赢
Compared with Running Man's lighthearted and funny atmosphere, Takes a Real Man appears to be more serious, attempting to test its contestants' endurance, willpower and bravery. Guest celebrities gradually improve their physiques and acquire a deeper understanding of discipline and responsibility.
与《跑男》那轻松活泼的氛围相比,《真正男子汉》似乎更严肃些,它旨在测试选手的耐力、毅力和勇气。明星嘉宾提高了身体素质,并且对纪律和责任有了更深刻的认识。
Sporty reality TV shows The Amazing Race and Real Hero are also coming soon.
运动真人秀《极速前进》和《真心英雄》也会很快回归。
Commentary on ifeng.com sums up this kind of TV's charm best: "Audiences thus see the illusion that celebrities who get sweaty or even muddy are but ordinary people like themselves. They might think: If celebrities can go through all this, of course I can survive my hardships."
凤凰网上的评论对这类电视节目的魅力做出了这样的总结:"观众看到明星或大汗淋漓或污泥满身的形象,会产生一种错觉,认为这些明星也跟自己一样是平凡人。观众可能会想,既然明星都能承受这些,我自己当然也能克服各种困难了。"