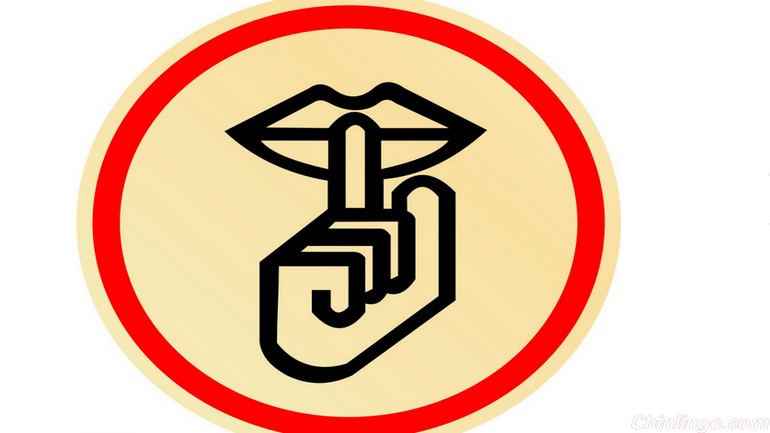 The title of this article is a little misleading. I know that you are going to talk about politics in China. Every foreign teacher does; it's inevitable. Your students will want to talk about politics during social talk. Your friends will want to talk about politics at dinner. You can talk about politics; it is not against the law. But before you 'tread those dangerous waters,' you need to be aware of some simple facts about how Chinese people view their political world.
文章的的标题可能有些令人费解,我知道当我们谈到中国时总免不了谈到政治,每个外教都是如此。你的学生会在闲谈时和你谈论中国的政治,你的朋友和你聚餐时也会谈到政治。你可以谈论政治,这并不违法,但在你谈论这一危险的话题之前,你需要了解中国人对本国政治看法的一些基本常识。

When your students discuss politics with you, most of them are not giving you an opinion that they have formed by themselves. They are repeating to you what they have been fed by the Chinese government/media their whole lives. Expect to hear the same political ideology repeated over and over again. Trying to get through their ideology is like attempting to drive a broom handle through a brick wall.
当你的学生和你谈论政治时,他们往往没有自己独立形成的政治观点。他们只是在不断的重复中国政府和媒体给他们灌输的那些论调。在一次又一次听到不断被重复的政治观点时,你就会明白,要想了解中国人政治理念就跟要让一把笤帚穿过一面砖墙一样难。

Chinese people see China as their 'mother.' A student explained to me recently that "we can only trust our Chinese government because it has taken such good care of us." She went on to tell me that without the government, the Chinese people would be completely destitute. She and other friends of mine talk about the Chinese government in a very 'caring and adoring' manner. In other words, if you are saying bad things about the Chinese government, it is as if you are insulting every single Chinese person's mother.
最近我的一个学生跟我说:"中国人把中国当成自己的母亲,中国政府为人民服务,我们没有理由不相信她。"接着,她还告诉我如果没有中国政府, 中国人现在仍一穷二白,她和我的其他朋友在谈到中国政府时总是流露出敬仰与•崇拜,如果你说中国政府的坏话,就好像你在说每个中国人的妈妈的坏话一样。

Any information that you provide for your friends or students that come from sources other than the Chinese government will be instantly rejected as a fabrication and distortion of the truth. Most people in China do not seek other sources of information because they are told that information from the 'West' cannot be trusted. You may be well armed with information from a variety of places
如果你向你的中国学生或朋友提供一些非中国政府提供的信息的话,他们就会觉得你所提供的这些信息都是对事实的捏造和扭曲,大多数中国人并不关心国外的信息,因为他们的教育告诉他们,西方国家的信息是不可信的。

Chinese people are easily offended by political comments directed at their government. When you are making negative statements about their government they will react as if the comments are being made about them. Whatever you do, make sure that you explain that your comments about their government do not reflect your feelings about the people.
如果你发表的评论是针对他们的政府的话,那么中国人会很容易被激怒,当你谈论中国政府的负面信息时,他们的反应就像你是在针对他们个人,无论你做什么,一定要记得解释你的批评只是针对中国政府,而不是针对中国人民。

It really is better to avoid discussing politics in your ESL classes because you never know who might be listening. Teachers have been reprimanded and even dismissed for talking about political issues such as Taiwan and Tibet. You would probably do well to avoid these topics altogether. It is wiser to discuss politics with close friends who can handle your opinion.
在英语课上最好不要谈到政治,因为你不知道谁在下面听你的课,那些谈论西藏和台湾等政治话题的教师会被惩罚或者解雇,你最好不要谈论这些话题,明智的选择是和那些可以容忍你不同政治观点的密友私下谈论这些政治话题。

Use common sense and always respect Chinese culture. If you have to make political comments to your friends or students, make sure that you do not make them in an inflammatory manner. Always listen to what they are saying and engage them in a conversation that leaves everyone feeling like they learned something afterwards. It is also important to always observe closely how your students and friends are reacting and be ready to change subjects if necessary. It is to be hoped that in the future the political discourse in China will be more open, but until then, you need to use a great measure of sensitivity when broaching the topic of politics and government in China.
运用常识并且尊重中国文化,当你不得不和你的朋友、学生谈论政治话题时,尽量采用他们可以接受的方式,耐心的倾听他们的观点,邀请他们参加讨论,让他们感觉到自己能从中学到些东西,注意察言观色也很重要,如果看到他们反映不对,赶紧转移话题。希望将来中国能在政治领域更加开放,但在那到来之前,你谈论中国政府的核心政治问题时还需小心翼翼。