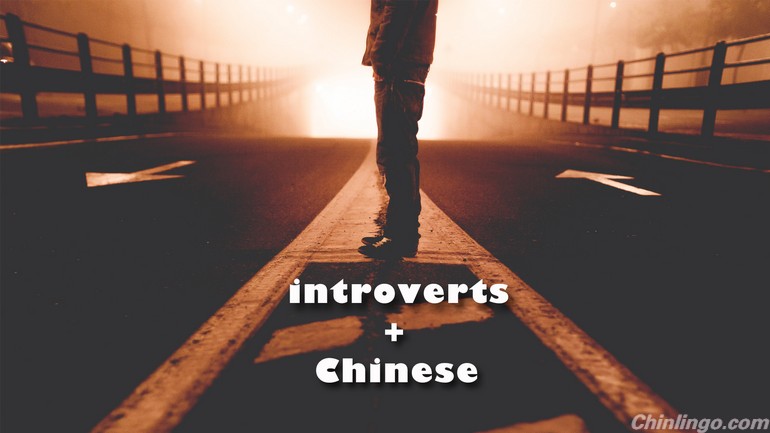 Sometimes conversational fluency feels like an extroverts-only club. Stories abound of Westerners who move to small Chinese towns and learn simply by striking up conversations with strangers and being comfortable with making fools of themselves.
有时候,交谈流利自如似乎是性格外向型人的独有特色。我们听说过很多这样的故事:西方人搬到中国的小城镇,通过和当地的陌生人交流对话来学习中文,即使当众出丑也乐此不疲。
As an introvert in China, I've struggled quite a bit. Even in my home country I'm uncomfortable making small-talk. In an unfamiliar place with an unfamiliar culture, I frequently feel like running for the hills on a Friday night, not going out to meet strangers.
作为一个生活在中国的内向的外国人,我挣扎了挺长时间。即使在我的祖国,我也会对闲话家常感到不自在。在一个陌生的地方面对陌生的文化,我宁愿周五晚上去爬山,也不愿出去见陌生人。
When it comes to making Chinese friends and improving my 口语(kouyu, spoken Chinese), my conviction is stronger than my shyness. The best way to learn a language is to internalize it and contextualize the way it's used, and there are lots of ways to do that without being the life of the Chinese bar scene.
当需要交中国朋友来提高我的中文口语的时候,我的信念战胜了我的羞怯。学习语言最好的方法就是深入到具体的语境中,揣摩意思并化为己用。即使没有在中国酒吧生活的经历,仍然有许多方式来实践它。
1. Don't fall into the flash card trap
不要掉入学习卡的陷阱
Language needs to be processed, not memorized. Early on when I was learning Chinese, I went through huge piles of flashcards for names of food, types of furniture, and genres of music. I barely remember those words now, because I never used them when I talked to people. Meanwhile, I couldn't say:
语言需要运用而不是记忆。在我刚开始学汉语的时候,我通过一大堆卡片来记忆食物名字、家具种类以及音乐流派。但是现在,我几乎都不记得这些词了,因为我跟别人交流的时候从来都不用它们。同时,我之前不会说:
– "How do you get there from here?" (从这里到那里怎么走? cóng zhèlǐ dào nàlǐ zěnme zǒu?)
– "Can I get a 20 RMB discount?" (可以便宜20元吗? kěyǐ piányí 20 yuán ma?)
Think about the things you need to say on a daily basis. Learn phrases first, and then learn different vocabulary that can be used in the same phrase or grammar structure. Three times using a word in conversation is better than thirty times of seeing it as a flashcard.
想想平日你需要说的。先学短语,然后再学其他可以用在相同短语或语法结构中的词汇。同一个汉字,在对话中使用3次比在学习卡上看30次效果要好得多。
2. Prepare vocabulary for new situations
为新情境准备词汇
Because I'm a bit shy, I like to mentally prepare for social situations before they happen. If I'm going out to a restaurant with a friend, I imagine the way to get there, what I might order, sometimes even a few conversation starters. When studying Chinese, I combined this "prepping" routine with vocabulary.
因为我有点害羞,所以我喜欢在社交场合之前做好心理准备。如果我要跟一位朋友去餐厅,我会先想好怎么去,点什么餐,有时甚至会想想开场白。学中文的时候,我会把词汇和这些前期准备结合在一起。
Going out to eat, I might look up a few dishes that I liked ahead of time. I'd review how to say "Pay the bill"(买单 mǎidān) or "We want two pots of green tea" (我们要两壶绿茶wǒmen yào liǎng hú lǜchá). This lets you immediately use vocabulary and associate it with a person or place, making it much easier to remember in context. Sometimes I even explain, out loud, what I'm going to do in Chinese.
出去吃饭时,我可能会提前查找一些我喜欢的菜,我会复习怎么说"(买单 mǎidān)"或者"(我们要两壶绿茶wǒmen yào liǎng hú lǜchá)"。这将帮助你立刻用上这些词汇,将其与某个人或地方联系起来,在语境中你会更容易记住它们。有时,我甚至会大声用中文解释我要做什么。
3. Find a language partner or one-on-one tutor
找个学中文的搭档或一对一的老师
Approaching a stranger in a crowd? Terrifying. Meeting one-on-one in a coffee shop or in a park? More do-able. Lots of Chinese people are keen to practice their English and are excited to make a foreign friend. Check online for classified ads in magazines like The Beijinger or City Weekend. Or put up a flier with your contact information at a place you already frequent. Tutors are a great option if you're willing to pay–you never have to worry about being boring or fumbling, because their job is to help you!
在人群里接触陌生人?有点吓人。在咖啡店或公园进行一对一会面?这倒是更可行些。许多中国人热衷于练英语口语,很乐意去结交外国朋友。上网查找《北京人》、《城市周末》这类杂志上的分类信息或者在你经常去的地方贴上附有你联系方式的传单。如果你愿意出钱的话,家庭老师是个很好的选择,你永远都不用担心无聊或自己笨嘴拙舌,因为他的职责就是帮助你。
4. Journal in Chinese
用中文写日记
Writing a journal lets you continue to use and process Chinese, even if you're not talking to anyone. My entries are pretty darn simple. "Today my friend and I walked in Shuangjing. I went to Carrefour. It was too crowded! I saw someone buy a big fish." Discover what parts of your day you can explain using only Chinese!
即使你不跟任何人对话,写日记也能帮你持续运用中文。我的日记非常简单:"今天,我和我的朋友逛了双井。我去了家乐福,那儿太拥挤了。我看到有个人买了一条大鱼!"从中你会发现你可以只用中文来说明一天中的哪些部分。
5.Find online chat buddies
上网找网友聊天
Many people are more comfortable talking online than face-to-face. Make a WeChat account and use "People Near By" to talk to random people. You can always block them if it's uncomfortable, and maybe you can make an online friend! Texting/typing in Chinese is much easier than writing, since you only have to recognize a character, not have it completely memorized. Make a Renren or Weibo account and find people with similar interests. Online classes are no replacement for conversation, but they can be a useful supplement.
许多人觉得面对面地交谈不如网上聊天来得舒服。注册一个微信帐号,查找"附近的人",和任意一个人聊天。如果聊得不爽还可以屏蔽他,你或许可以交到一个网友。打字比写字更简单,因为你只需要认识这个字而不需要完全记住它。注册一个人人网或微博的帐号,找一些和你兴趣相同的人。交谈是网上聊天无法替代的,但是可以作为一个有益的补充。
6. Connect Chinese to something you love to do
把中文和你喜欢的事情联系在一起
If you're passionate about learning languages, good for you! But maybe you came to China because you love kung fu movies, or simply love the scenery. If that's the case, go out and do what you love, and the vocab will follow. Don't make it just about the conversation or the language itself–make it about something you do enjoy.
如果你热爱学习语言,这将对你有好处。你来中国可能是因为你喜欢功夫电影,或只是因为喜欢中国的美景。如果是这样的话,走出去做你喜欢的事情,词汇量便会随之而来。不要只关注交谈和语言本身,把学中文和你喜欢的事情联系在一起。