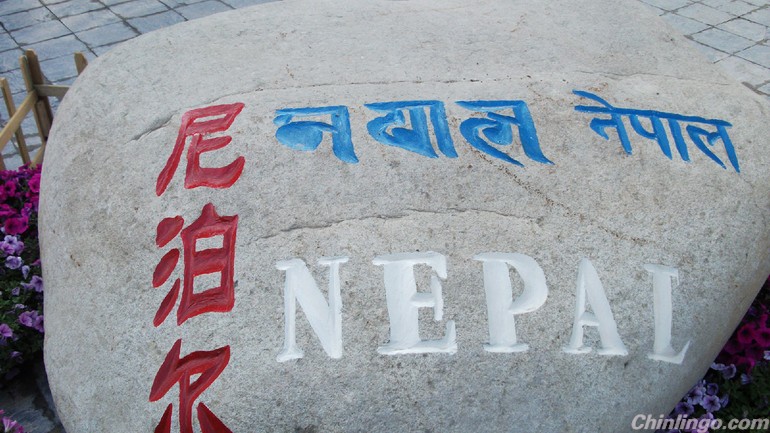 What makes you feel familiar while traveling in a foreign country? Imagine a place where you can use CNY and communicate in Chinese, and more importantly, you can be greeted by the local people with smiles, with price-marked goods in stores that give Chinese tourists 50% off. It is Nepal, a hot place for Chinese tourists.
去一个国家旅游,怎样才叫有亲切感?能够使用人民币,能通过汉语交流,更重要的是当地人无论老幼见到你招手微笑,各商铺里明码标价的商品,对中国游客优惠半价。这就是中国游客的圣地——尼泊尔。
You don't need to worry about the communication barrier in Nepal because Chinese is quite prevalent there. Liu, one member of our tour group, didn't get a visa at home and she had to apply for an arrival visa. After Liu arrived at the Katmandu International Airport, she immediately looked for a visa window, but nobody was there when she finally found one. Then Liu asked a nearby staff for help. She explained what happened to her in poor English, but surprisingly, the staff told her in standard Chinese that the visa officer was off duty, and suggested Liu to get her visa at another window. After everything was done, Liu chuckled to herself at the presence of Chinese language in Nepal.
去尼泊尔旅游,根本不用担心语言沟通困难,汉语在这里很"管用"。我们同行的一位刘姓游客没来得及在国内办签证,只好落地签。一到加德满都国际机场,刘女士就到处找签证窗口,好容易找到签证窗口,等了半天也不见人影,她便向旁边的一位尼泊尔工作人员询问。当她用磕磕绊绊的英语说了半天后,人家却用标准的汉语告诉她,签证官下班了,换另一个窗口办理。办完签证后,刘女士心里直乐,敢情汉语在尼泊尔也好使啊。
Chinese language is also quite prevalent in Nepal. Not only the workers at the airport, tour guides and hotel owners but the kids in the urban villages are able to greet Chinese tourists by saying "你好!" or "谢谢!". The peddlers in Nepal are the ones that speak the most fluent Chinese. They will welcome Chinese tourists by saying "进来看看,不买没关系,看看不要钱。"(Come in and take a look. Looking costs nothing.) or "这里都是批发价,老板也很帅。(Goods are cheap and the boss is handsome.)" That makes you feel like shopping back home,.
事实上,汉语在尼泊尔"普及率"相当高,不仅机场工作人员、导游、宾馆老板会说,就连深山里的娃娃,见了中国游客都会说:"你好!""谢谢!"当然,汉语说得最流利的还属那些商贩,见到中国游客就用汉语热情打招呼:"进来看看,不买没关系,看看不要钱。""这里都是批发价,老板也很帅。"让人感觉仿佛身处国内的批发市场。
CNY is well-accepted in Nepal. The hotel we stayed in was in an alley of Katmandu, with a lively morning market in front. A young man was selling fresh and cheap fruits from his bicycle. I picked up some apples but then I realized that I didn't have the local money. Noticing my awkwardness, the young man took out one dollar and one CNY, reminding me that both kind of money were accepted. A single peddler can accepting CNY indicates the great popularity of CNY in Nepal.
人民币在尼泊尔很"吃香"。我们的宾馆正位于加德满都的一条小巷里,一出门就是一个热闹的早市。我们看到一个推着自行车买新鲜水果的小伙儿,价格很便宜。我挑了几个苹果,可买完苹果才发现,自己手里根本没有当地货币。见我面露难色,小贩儿马上掏出一张美元,一张人民币,示意我这两种货币都可以使用。连小贩儿都收人民币,可见人民币在尼泊尔多有人气。
Nepal, a great agricultural country, is less developed in commerce without duty-free shops at all. All the shopping is done among the stalls in streets and lanes or the always mobile vendors. But the stalls or vendors are always marked with Chinese characters that read "便宜,收人民币。(Cheap. CNY accepted)"
尼泊尔是农业大国,商业欠发达,根本也没有什么免税店,购物都是在街头巷尾的小摊铺或流动小贩儿那里。但无论是摊铺还是流动小贩儿,都挂有一个小牌,上书汉字:"便宜,收人民币"。
Behind this common presenceof Chinese culture is the long-standing friendship between China and Nepal. Fa Hian, eminent monk of the Jin Dynasty and Xuanzang of the Tang Dynasty both arrived at Lumbini, the birth place of Buddha Sakyamuni; The Nepal princess got married with Srongtsen Gampo from Tibet; What's more, Anika, Nepal's famous craftsman came to China to supervise the building of the Beijing Baita Temple. All of these artists and craftsmen have witnessed the friendship between China and Nepal.
在中国"流行"元素的背后,是中国与尼泊尔两国友谊的源远流长。中尼之间有着上千年友好交往的历史。无论是晋代高僧法显、唐代高僧玄奘都曾到过佛祖释迦牟尼诞生地兰毗尼,还是尼泊尔公主与吐蕃赞普松赞干布联姻。更有元朝时,尼著名工艺家阿尼哥曾来华监造北京白塔寺。这些都成为中尼友谊的历史见证。