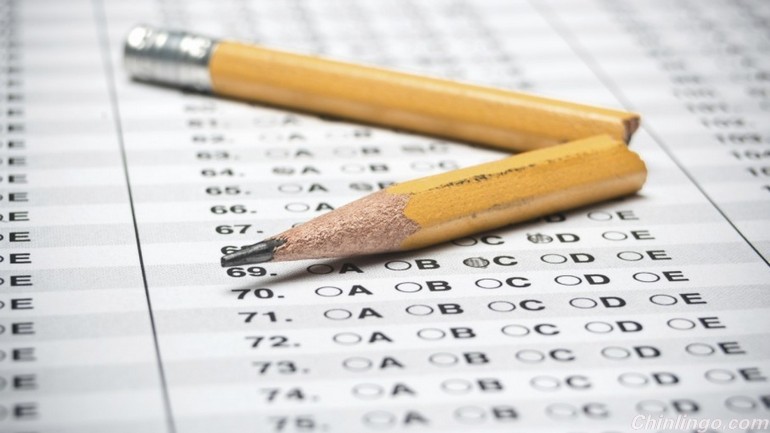 By reading this post, you will find some tips that will aid you in passing the HSK exam regardless of which level you are testing at.
阅读这篇文章后,无论是准备哪一级别的水平考试,你都可以获得一些有助于通过HSK的技巧。
1. Understand the HSK and be sure about which level you should take
充分了解HSK,确定自己的水平级别
Understand the purpose of the HSK and the basic outline of the test. Get an overview of what the HSK actually is and its Syllabus.
你需要了解HSK的考试目的以及基本的考试大纲,了解HSK的内容和教学大纲概况。
You should read the Bulletin of HSK Test(《汉语水平考试考生手册》)in order to understand what will be required in the examination. The Hanban is now offering a free self-evaluation software.
你应该好好研读《汉语水平考试考生手册》,以便了解考试要求。现在汉办已经开始为考生提供自我评估的软件。
The self-assessment tool includes abbreviated mock exams for all six levels of HSK and three HSKK levels. Use the immediate test results to gauge an appropriate exam level for your needs. Simply enter your name and an email address on the self-evaluation webpage to get started.
这个自我评估工具包含了6个级别的HSK和三个级别的KSKK的简化模拟考。你可以通过该即时测评结果来确定适合自己的水平级别。你只需在网页上输入名字和邮箱,便可以开始使用该自我评估软件了。
2. Make a comprehensive study plan
制定一份综合性学习计划
Once you are familiar with the structure of the test, it's time to create an all-encompassing study plan. This will give you a good idea of how you will prepare for the exam. The HSK exam generally focuses on speaking, writing, listening, and reading skills, as well as vocabulary and grammar.
熟悉考试框架之后,就该开始制定一份综合的学习计划了。这样做可以让自己清楚知道该如何备考。一般HSK主要测试口语、写作、听力和阅读能力,同时也包括了词汇和语法。
3. Drill the vocabulary and grammar
钻研你的词汇和语法
Vocabulary and grammar are a great foundation for your studies and cramming for the HSK. There are certain vocabulary lists for every level.
词汇和语法是你学习中文和填鸭式准备HSK的重要基础。每个水平都有相应的词汇要求量。
There are a few different study tools you can use to learn the vocabulary you will find on the test. For the synonyms in the HSK higher level vocabulary ,you may buy some book on synonyms for example 《汉语近义词学习手册》,it provides examples and explanations in both Chinese and English.
你会发现你可以通过一些不同的学习工具掌握好考试词汇。对于HSK高级水平的同义词,你可以考虑入手一本像《汉语近义词学习手册》这样关于同义词的书籍,书中会提供中英双语的例子和解释。
4. Do as many mock tests as possible
尽可能多地做模拟题
This is an excellent way to determine whether you are really ready to take the exam or not. Mock papers online are timed, which is helpful because it's more like the real exam, and you can't pause them. Additionally, you will receive a score after you're finished with the mock exam.
这是一个测试你是否真的准备好参加考试的绝佳方法。网上的模拟题是计时进行的,因为它更接近真实的考试,而且中途不能暂停,所以非常有帮助。此外,完成模拟题之后还可以知道自己的得分。
Finish as many exercises as possible, look over your answers and figure out the cause of your errors.
尽量多做习题,仔细检查答案,分析自己做错的原因。
5. Increase your listening ability daily
提高日常听力能力
To become a better listener, you should first relax. This will allow you to focus more intently when you take the exam. Read the questions on the exam to aid you in comprehending the section you are listening to.
为了更好掌握听力,首先你要放松心态,这样考试期间可以更加专心。阅读考试题目可以帮助你理解考试的部分。
Remember that the first sentence generally gives you the overall idea of the section you are listening.
记住,通常第一句话就可以给出你所听到的那部分的总体意思。
When you hear some word you don't know, don't spend a long time on it and just skip it instead. Very often, you'll find out what they mean later when you continue onto the listening.
当听到自己不懂的词的时候,别浪费时间,只管跳过。很多时候,你继续听下去之后就会知道它们的意思了。
6. Do your mock exams inside the official time limit
在正式考试时间内进行模拟训练
Reading quickly can give you a significantly better chance of doing well on the exam. If the official time limit is an hour and a half, try to finish your reading within 80 minutes when you take mock tests. By practicing finishing early, you can use the extra time as a buffer when you take the actual test, which will reduce your test anxiety and help you if you unexpectedly have trouble with the test.
快速阅读可以显著提高你的考试效果。要是正式考试时间限制是1.5小时,那么模拟训练的时候试着80分钟内读完材料。训练的时候提前完成,那么真正考试的时候你就有了剩余时间作为缓冲,这样可以减少焦虑,而且帮你攻克突发难题。
7. Set aside regular study time
定好日常学习时间
Study for two and a half hours daily. It doesn't matter when you study, as long as you do so daily, but many people find it helpful to study at the same time every day so they get in the habit of it and can easily go into "study mode." Maintain your concentration while studying by taking a short break when you start to feel mentally overloaded.
每天学习2个半小时。无所谓什么时候学,只要你能每天都做到。不过很多人发现每天同一个时间段学习会让他们养成习惯,可以迅速进入"学习状态"。学习时保持专注,在觉得精神接近负荷的时候可以中途短暂休息。
8. Attend a coaching class if you can
可以的话选择参加培训班
Attending a coaching class helps tremendously. The teacher will show you exactly what the HSK graders are looking for on each question, break down each section into different types of questions, explaining how you should approach each type. You'll find that with those strategies, you no longer need to overthink anything.
参加培训班帮助很大。培训老师会仔细介绍HSK考生对于每个题目想了解的地方,将每个部分分解成不同类型的问题,然后解释如何去应对每个题型。你会发现有了这些策略,自己无需再过度琢磨任何事。
9. Study in Moderation
适度学习
Too much studying can make you feel too bored to easily retain the material you're working on, and thereby drain your enthusiasm for learning Chinese. Make sure you exercise regularly so you will be more relaxed and your mind can take a break, which will ultimately improve your studying.
过度学习会使你很容易因产生厌倦情绪而无法记住正在学习的东西,从而耗尽你学中文的热情。请确保你能进行规律的训练,这样你的心态更放松,同时你的大脑可以得到休息,这些都将提高你的学习质量。
Taking HSK exam, it is a good way to get a proof of your Chinese skills, but also to encourage you to deepen your understanding of the language and continue to learn. Once you pass the HSK test, use it as a way to learn more.
参加HSK考试既是证明中文能力的好方式,也可以鼓励你自己加深对语言的了解并继续学习。要是你通过HSK考试了,记得好好利用它去学习更多的东西。